2016 Danish Pony Championships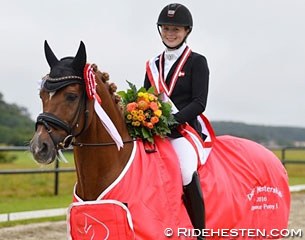 Louise Christensen, Denmark's double bronze medal winning rider at the 2016 European Pony Championships, secured the 2016 Danish national pony champion's title at the Hovgaard Riding club in Skårup, Denmark, on 2 - 4 September 2016. The silver went to Sara Aagaard Hyrm and the bronze was for Kristian Würtz Green.
The Danish pony team members did a good job at the 2016 Danish Pony Championships, which featured Nationals in three different categories based on the size of ponies. The tallest ponies in category 1 and one size smaller in category 2 competed at FEI Pony level. The smallest ponies (category 3) compete one level below FEI. The Danish pony team selectors usually make their pick for international representation from the category 1 ponies although once in a while, a smaller pony stands out.
Denmark's best scoring rider at the Europeans, Louise Fauerholm Christensen on the 13-year old Dutch Welsh pony Vegelin's Goya (by Verona's Bo Gi x Leuns Veld's Darling Boy - bred by Willem van Orchard) also reigned supreme at national level. The pair finished second in the team championship test (74.573%) but then slowly built up their lead by winning the individual test (74.878%) and the kur to music (78.100%). They totalled 27.551 points for gold.
Sara Aagaard Hyrm and the 14-year old German Riding pony stallion Der Harlekin B (by Golden Dancer x Dornik B - bred by Ludwig Stassen), won the team test (74.701%) and then placed second in the individual (74.309%) and third in the freestyle (75.400%). With 224.410 points the silver was theirs. Kristian Wurtz Green and the 9-year old Danish Sport Pony bred Lilo L (by Notre Bac x Manitu N) landed the bronze after scoring 74.060% (3rd), 73.293% (3rd) and 76.200% (3rd). They totalled 223.553 points. Sofie Hansen and the 9-year old palomino Steendiek's Prince of Glory (by Triple Tree's Prince Perfect x The Braes My Mobility - bred by Peter Böge) were quite far behind the podium place-getters slotting in fourth with 217.866 points. The duo still scored consistent marks over 70% with 71.496% 71.870% and 74.500%.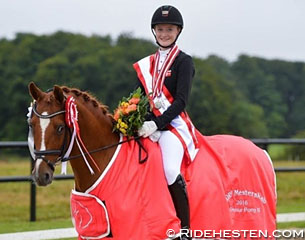 Sara Aagaard Hyrm and her second pony, the smaller 10-year old German bred FB Gangster (by Golden Moonlight x Dressman - bred by Hubert Fockenberg) won the gold category 2. She scored 72.735%, 73.496% and 76.125%. Alexander Yde Helgstrand and the 15-year old routinier Jumanji (by Jacobspeel's Rocky x Luzern - bred by Monika Börmann) made their first national championships count and earned silver with 71.966%, 71.585% and 73.575%. Caroline Falkenskov and the 10-year old Traeumer (by Trentino x Pour L'Amour) finished with bronze after scoring 70.214%, 70.284% and 72.475%.
Photos © Ridehesten
Results - 2016 Danish Pony Championships - Vilhelmsborg
Category 1 (top 10 only)
1. Louise Fauerholm Christensen - Vegelin's Goya - 74.878 -  78.100 --- 227.551
2. Sara Aagaard Hyrm- Der Harlekin B - 74.309 -  75.400 --- 224.41 
3. Kristian Würtz Green - Lilo L -  73.293 -  76.200 --- 223.553
4. Sofie K. Hansen - Prince of Glory - 71.870 -  74.500 --- 217.866
5. Maria Mejlgaard Jensen - Bjerregaards Mozart - 69.878 -  73.200 --- 215.001
6. Victoria Christine Hanssen  - Campari W - 68.415 -  71.400 --- 209.131
7.  Victoria Cecilie Bonefeld Dahl - Spartacus - 69.919 -  71.275 --- 209.057  
8.  Elisabeth Ulrich  - Dornick Son - 67.724 -  71.100 --- 207.969
9. Laura J. Rasmussen - Hedemand's Megare -   69.756 -  69.200 --- 207.93
10. Michaela Navrsted  - Gee Gee - 68.590 - 67.642 --- 71.375
Category 2 (top 10 only)
1. Sara Aagaard Hyrm- FB Gangster - 72.735 -  73.496 -  76.125 --- 222.356 
2. Alexander Yde Helgstrand- Jumanji - 71.966 -  71.585 -  73.575 --- 217.126
3. Caroline G. Falkenskov - Traeumer - 70.214 - 70.284 - 72.475 --- 212.973
4. Stine Sofie Albertsen - Vierous Reckless - 70.171 -  69.268 -   69.025 --- 208.464   
5. Silje Toftgaard Barnhoeve's Arthur - 69.573 -    68.415 - 69.150 --- 207.138 
6. Sophie Blume - Toftegaards Hurricane -  66.795 -   68.577 - 70.175 --- 205.547 
7.  Rebecca Holm Sylvest  - Dezima - 67.222 -   67.642 -  69.325 --- 204.189
8. Natasja Ellenina Fredskilde Laursen - Novochento - 67.863 -  67.683 -  68.375 --- 203.921
9. Gudrun-Kirstine Thuesen - Jean Le Penn - 68.248 -  66.098 -  68.725 --- 203.071
10. Frederikke Aagot Jabina - Dot Com - 67.906 -  66.829 -  68.275 --- 203.01
Related Links
Van Deurs Petersen Wins 2015 Danish Pony Championships
Sandra Aagaard Hyrm Wins 2014 Danish Pony Championships
Victoria Vallentin Wins 2012 Danish Pony Championships
Vallentin Wins 2011 Danish Pony Dressage Championships
Maya Jørgensen Wins 2010 Danish Pony Championship
Skodborg Merrald, Kasprzak, and Bendix, 2007 Danish Dressage Champions
Sofie Jeppesen Wins 2004 Danish FEI Pony Championship