Australian Dressage News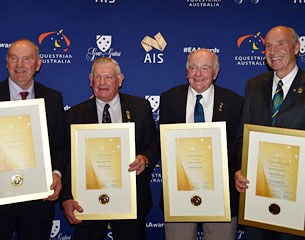 More than 220 leading members of the equestrian and sporting communities gathered in the Olympic Room of the Melbourne Cricket Grounds and National Sport Museum to celebrate the sport's highest achievers of 2015 as part of the Equestrian Australia Sport Achievement Awards on Friday 10 June 2016.
Equestrian greats and enthusiasts joined award finalists, their families and friends as well a host of industry members at the Rio themed occasion which was hosted by Olympic swimmer Nicole Livingstone.
As well as honouring the highest achievers within the sport of 2015, the annual awards dinner also paid tribute to the legends of the sport through a new round of Hall of Fame inductions.  
This year's recipients included Olympian John Fahey who represented Australia in Jumping at the 1964 and 1968 Olympic Games. Fahey's fourth place finish at the Tokyo Games remains the best Olympic Games result of an Australian Jumping rider and earned him a place in the Hall of Fame individual category.
"I was only 21 and had never been out of Australia before; I'd never been on a ship. We sailed to Tokyo – it was such an experience to go there and watch the international horses," said Fahey. "It's unbelievable to see how things have progressed in the sport over the last 50 years."
Fahey formed many lasting partnerships with horses over the years but it was his Olympic partner Bonvale which he ranked amongst his favourite.
"Dad bought him in 1959 for 550 pounds which was a lot of money in those days. And we got to the local show and I was only 15 but we wanted to see how good he was so we put him in the high jump. Well he clean jumped seven foot two. He wasn't a difficult horse, all he wanted to do was jump."
Olympian, coach and leading Eventing judge Barry Roycroft was honoured in the service to sport category, while Neale Lavis' silver medal winning horse from the Rome Olympics was this year's horse induction. The 1996 Atlanta Olympic Games Eventing team was inducted in the team's category.
FEI Best Athlete, Boyd Exell was awarded International Athlete of the Year for the fourth time, adding to his wins in this category in 2010, 2013 and 2014. Exell's four in hand team of horses - Demi, Conversano, Cselentano, Clinton Star, Bajnok and Lucky, who assisted Exell to a record breaking sixth FEI World Cup Driving title won the International Horse of the Year award.
The Australian International Three Day Event, which hosted the Equestrian Grand Final, bringing FEI World Cup Jumping and FEI Dressage to the event for the first time, was awarded AIS Event of the year.
2015 Equestrian Australia Sport Achievement Award Winners
Owner of the Year – Nicole Brown
Administrator of the Year – Tina Stafford
Domestic Horse of the Year – Cera Cassiago
Horse of the Year – Boyd Exell's four in hand team of Demi, Conversano, Cselentano, Clinton Star, Bajnok and Lucky
Club of the Year – Sydney Show Jumping Club
Coach of the Year – James Collin
Volunteer of the Year – Joy Charlton
Official of the Year – Suzanne Betts
Event of the Year – The Australian International Three Day Event
Young Athlete of the Year – Isabel English
International Athlete of the Year – Boyd Exell
Domestic Athlete of the Year – Brett Parbery
Hall of Fame Inductees
Individual Achievement Category: John Fahey
Service to Sport Category: Barry Roycroft
Outstanding Horse Category: Mirrabooka
Team's category: 1996 Atlanta Olympic Games Eventing Team
Related Links
Finalists Announced for 2015 Equestrian Australia Sport Achievement Awards
Victory Salute Inductee in the Equestrian Australia's Hall of Fame
Lyndal Oatley and Sandro Boy Nominated for 2012 Sport Achievement Awards
Nominations Announced for 2012 Equestrian Australia Sport Achievement Awards
Bev Edwards and CDI Sydney Honoured at Australian 2010 Sport Achievement Awards Night
Rachael Sanna and Jaybee Alabaster Named Australian Domestic Athlete and Horse of the Year