Australian Dressage News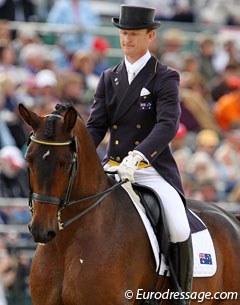 Paul Cargill, Chairman of Equestrian Australia, announced that five-time Eventing Olympian and Rome Team gold medallist, Bill Roycroft, lifelong members of the Jumping community, Bob and Joyce Brook, Australia's 1956 Eventing Team and champion dressage horse, Victory Salute will be inducted into Equestrian Australia's Hall of Fame
at a gala awards ceremony on Wednesday 2 May 2012.
As Equestrian Australia's 60th anniversary year draws to a close, Mr Cargill also announced Tom Luxton, Alec Creswick and Jim Barnes would also be inducted to stand alongside Samuel Horden as Equestrian Australia's four "Founding Fathers".
The nation's greatest contributors to the sport, past and present, are expected to gather at ANZ stadium in Sydney at Equestrian Australia's annual gala Sport Achievement Awards night to witness the recipients take their place alongside Equestrian's elite few.    "The Equestrian Australia Hall of Fame recognises the very best representatives of our sport from the grass roots to international level," said Mr Cargill.  "On behalf of our members and the greater equestrian community, we will be honouring the Hall of Fame inductees for their exceptional contributions to our sport.  Their feats and efforts demand our recognition even though in many cases they made their special contribution to our sport more than half a century ago.  Time does not diminish the need for us to remember them and credit them for their efforts.
Equestrian Australia's Sport Achievement Awards night is our sport's opportunity to recognise the achievements and efforts of its members in equestrian sport.  Australia's success in the international sporting arena has earned the country a reputation as one of the top equestrian nations in the world.  As well as honouring Australia's greatest equestrian achievers through the Hall of Fame, Equestrian's night of nights will also see its present high achievers acknowledged for their service to the sport.
This year's Equestrian Hall of Fame inductees are:  
Team award – 1956 Eventing Team
Members: Brian Crago, Wyatt Thompson, Ern Barker, David Wood, Franz Mairinger, Alec Creswick
Despite Melbourne named as the host nation of the 1956 Olympic Games, Australia's strict quarantine rules saw the Equestrian competition being held in Stockholm, thus forcing Australia's first-ever Olympic Equestrian  Team to travel abroad to compete.  The Eventing team had very little experience leading into the Games but through a willingness to learn and a real team spirit, they overcame their lack of international experience and, against all odds, surprised the world by finishing a proud fourth.
Individual award - Bill Roycroft
Bill Roycroft is one of only five Australians to have competed in five Olympic Games.  A WWII returned serviceman, Bill first represented Australia at 1960 Rome Games when he was 43-years-of-age and he went on to represent Australia at the Tokyo (1964), Mexico City (1968), Munich (1972) and Montreal (1976) Games, carrying the Australian flag at the 1968 Opening Ceremony.  The deed for which Bill is most remembered occurred at the 1960 Rome Olympics when, with a broken shoulder resulting from his cross country fall, he discharged himself from hospital to jump a clear jumping round, allowing the Australia team to win our first-ever Evening Team gold medal. 
Horse award - Victory Salute
Owned by Carolyn Lieutenant, Victory Salute together with Australian rider Brett Parbery achieved numerous milestones. The pair's highest achievement came at the 2010 World Equestrian Games when they placed ninth in the Grand Prix Freestyle. Victory Salute and Parbery are the record holders for the highest scores achieved by an Australian combination in international competition in all three Grand Prix competitions. Victory Salute also represented Australia at the 2008 Paralympic Games with Georgia Bruce winning two bronze medals.
Service to Sport award - Bob and Joyce Brook
As well as an outstanding Course Designer, Bob Brook was a well-respected administrator, National Selector and Chairman of Jumping NSW. He was also Chef d'Equipe for the hugely successful jumping team which toured Europe in 1987. Bob and his wife Joyce  built courses and judged both Jumping and Eventing competitions well into their eighties.  Since Bob's passing in October 2011, Joyce has continued to support horse events throughout the greater Sydney area.
Founding Fathers award – Tom Luxton, Alec Creswick and Jim Barnes
Equestrian Australia was founded in May 1951 by Samuel Horden, Tom Luxton, Alec Creswick and Jim Barnes.
Photo © Astrid Appels
Related Links
Nominations Announced for 2012 Equestrian Australia Sport Achievement Awards
Tickets on Sale for 2012 Equestrian Australia Awards Night