Australian Dressage News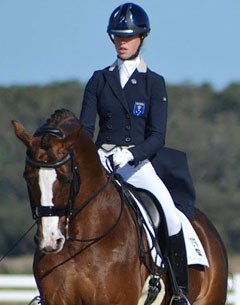 Equestrian Australia has revealed each of the 2015 Sport Achievement Awards Finalists, which will be awarded at a Gala Ceremony on Friday 10 June 2016 at the Melbourne Cricket Grounds and National Sport Museum.


As well as acknowledging the top performing athletes and horses of the past year, Equestrian Australia's Sport Achievement Awards also recognise the sport's most outstanding administrator, coach, official, owner, volunteer and event of the past 12 months.
Winners of the 2015 Sport Achievement Awards will be announced at a Gala Ceremony.
The 2015 Sport Achievement Awards Night Finalists are:
2015 Domestic Athlete of the Year
Brett Parbery (Dressage)
Lorraine Cairns (Driving)
Shane Rose (Eventing)
Chris Chugg (Jumping)
Emma Booth (Para-equestrian)
James Hocking (Vaulting)
2015 International Athlete of the Year
Lyndal Oatley (Dressage)
Boyd Exell (Driving)
Rebecca Jane Pinder (Endurance)
Chris Burton (Eventing)
Edwina Tops-Alexander (Jumping)
Team Zelos (Vaulting)
2015 Domestic Horse of the Year
DP Weltmieser (Dressage)
Victor (Driving)
CP Qualified (Eventing)
Cera Cassiago (Jumping)
Gronskovlunds Marquis (Para-equestrian)
Hunterview Sinatra (Vaulting)
2015 International Horse of the Year
Sandro Boy  (Dressage)
Conversano Cselentano, Clinton Star, Bajnok, Lucky and Demi (Driving)
Graf Liberty (Eventing)
Lintea Tequila (Jumping)
2015 Young Athlete of the Year
Tayla Desmet (Dressage)
Tahlia Franke (Endurance)
Isabel English (Eventing)
Nicole Bruggemann (Jumping)
Caitlin Radford (Para-equestrian)
McKeira Cumming (Vaulting)
2015 Event of the Year
Australian Interschool Championships
Glen Haven Park Sunshine Tour
The Australian International 3 Day Event
Equestrian Tasmania Dressage Championships
Dressage & Jumping with the Stars 
WA State Showjumping Championships & FEI World Cup Qualifier
2015 Club of the Year
Sydney Showjumping Club
Caboolture Dressage Group
Strathalbyn Showjumping Club
Dressage Tasmania
Sale & District Showjumping & Dressage Club
Perth Dressage Club
2015 Coach of the Year
James Collin
Tor Van Den Berg
Clive Reed
Josephine McFarane
Maree Tomkinson
David Dobson
2015 Official of the Year
Carolyn James
Des Hugues
Wendy Hunt
Suzanne Betts
Christine Wallis
Debra King
2015 Volunteer of the Year
Joy Charlton
Madonna & Colin Bell jointly
Jill Best
Jill Schwartz
Jodie Van Breugel & Judy Croagh jointly
Tracey Barber
2015 Owner of the Year
Shane Rose
Madonna Hedberg
Nicole Brown
2015 Administrator of the Year
Tina Stafford
Karen Herald
Anne Lindh
Jessica Van der Vlist
Deborah MacNicol & Sue McKay jointly
Related Links
Victory Salute Inductee in the Equestrian Australia's Hall of Fame
Lyndal Oatley and Sandro Boy Nominated for 2012 Sport Achievement Awards
Nominations Announced for 2012 Equestrian Australia Sport Achievement Awards
Bev Edwards and CDI Sydney Honoured at Australian 2010 Sport Achievement Awards Night
Rachael Sanna and Jaybee Alabaster Named Australian Domestic Athlete and Horse of the Year