New Zealand Dressage News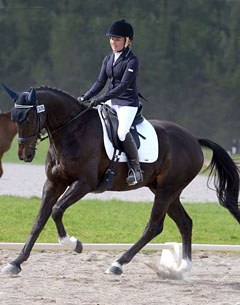 Dressage New Zealand, the official dressage leg of the New Zealand Equestrian Federation, has announced the combinations which have been selected for the Dressage NZ Squads 2016.
Squad submissing is part of the Dressage Performance Pathway with as ultimate goal the high performance squad at Grand Prix level.
Riders will be selected based on performance criteria met, soundness of horse and the commitment to self improvement and the commitment to be good team members, and the potential of the combination to progress to ESNZ High Performance Squads, and represent NZ.
The 2016 NZ Dressage Squads include:
ADVANCED         
Alex Matheson - Lingh 11
Greg Smith -  Avante Garde  
FUTURES         
Rochelle Speirs - Vollrath Latimer
Charmian Pearson-White - Wimborne Conniston 
John Thompson  - Kalimna Hotshot 
Nicola Maley  -  Astek Galahad 
Vanessa Way - NRM KH Arion  
YOUTH (U25)         
Anya Noble  - Airthrey Highlander
Kate Tobin -  I Like It 
Louise Ayres -  Playmate
Sarah Wadworth - Faemoss BW
Devon Raos -  Busuto
Tessa Van Bruggen-  Furst Jupp
Tessa Van Bruggen  -  Fortunato
Julie Flintoff -  Belladonna MH
Lauren Haig  - Grandioso BH
Mihi Sheperd  -   Hot Chocolate MH
Melissa Galloway -  Windemere Johanson W 
Melissa Galloway  -  Windermere J Obei W
Chelsea Callaghan -  Sisters 2 Etta J
PONY SQUAD         
Morgan Beere - Wembleybrook Sergio
Lily Jefferies  - Prima Magneto
Related Links
Exciting Combinations Added to New Zealand's 2016 High Performance Squads
Six New Zealand Riders Already Qualified for 2017 Pacific League World Cup Finals
John Thompson Wins the 2016 New Zealand Grand Prix Championships
Molly Lumb Wins 2016 New Zealand Young Riders Championships