New Zealand Dressage News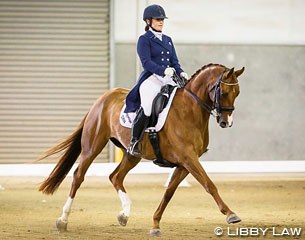 Rio hopefuls John Thompson and Julie Brougham spearhead the new New Zealand high performance dressage squads. Criteria for the high performance squad has been raised by 1% this year (to 68%) to reflect the increasing level of performance at top level in New Zealand.
Brougham (Ashhurst) aboard Vom Feinsten and Thompson (Hamilton) aboard Antonello are the only two combinations to have met the performance criteria of the High Performance Squad and both are working hard to try and secure the single berth available at the Rio Olympics.
Equestrian Sport New Zealand (ESNZ) High Performance Director Sarah Dalziell says the higher mark not only reflects the increasingly high scores being achieved in dressage but also better aligns with the Rio nomination criteria.
The federation also announcedthe High Performance Accelerator squad, which has more than doubled in size since the 2015 squad at the same time and now features nine combinations, with Wendi Williamson named on two of her mounts.
Dalziell says it's promising to see more combinations achieving the performance criteria required to be selected for the squad. The High Performance Accelerator Squad is targeted at supporting those tracking towards the 2018 World Equestrian Games and beyond.
The squads are:
High Performance
John Thompson (Hamilton) - Antonello (owned by Holly Leach)
Julie Brougham (Palmerston North) - Vom Feinsten (owned by David and Julie Brougham)
High Performance Accelerator
Wendi Williamson (Kumeu) - Dejavu MH (owned by Wendi Williamson) and Don Amour MH (owned by Wendi Williamson)
Abbie Deken (Taranaki) - KH Ambrose (owned by Abbie Deken)
Penny Castle (Ashhurst) - BL About Time (owned by Megan Hawkins)
Lucarne Dolley (Kumeu) - Devils Chocolate (owned by Lucarne Dolley)
Susan Tomlin (Palmerston North) - Dancealong (owned by Susan Tomlin)
Sheena Ross (Papakura) - Parkridge Disco SW (owned by Sterling Warmbloods Ltd)
Debbie Barke (Rotorua) - Lucrative SW (owned by Peter and Debbie Barke)
Photo © Libby Law
Related Links
Six New Zealand Riders Already Qualified for 2017 Pacific League World Cup Finals
New Zealand to Host 2016-2017 Pacific League World Cup Final
John Thompson Wins the 2016 New Zealand Grand Prix Championships
New Zealand's Julie Brougham Puts in Stirling Effort at 2015 Australian Championships
First New Zealand High Performance Dressage Squad Announced