WBFSH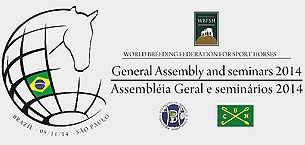 The Brazilian sports horse studbook, Associacao Brasileira de Criadores do Cavalo de Hipismo, has offered to host the annual meetings of the World Breeding Federation for Sport Horses in 2014. The meetings are held in Hotel Prodigy Grand Hotel & Suites Berrini in São Paulo on 8 - 12 November 2014.
The seminars and excursions will be held on 10 - 11 November and the General Assembly on 11 November 2014. Both before and after these two days there are organized bus trips to the Brasileiro de Hipismo Festival, a big CSI showjumping competition nearby and a guided tour around São Paulo.
Last year's new initiative with a workshop will be continued and the topic this year will be: "Breeding for high performance greatly damages leisure riding horse quality? Yes or No."
Seminar topics include "Modern techniques of assisted reproduction" by Dr. Marco Alvarenga, "Regenerative therapy for athletic horses" by Dra Marina Landim Alvarenga, and "Cloning and cytoplasmic insemination with bad semen" by DRA. Perla Fleury
Klaus Miesner will also be discussing the survey of horses competing in WBCYH in Verden, titled "How many of the competing horses are later active in top sport"
Related Links
Valegro and KWPN Top the 2014 WBFSH Dressage Breeding Ranking
De Niro Leads 2013 WBFSH Dressage Sire Ranking
2013 WBFSH Annual Meeting in Warsaw
Jan Pedersen Presents Actvity Report at 2012 WBFSH General Assembly