WBFSH Breeding News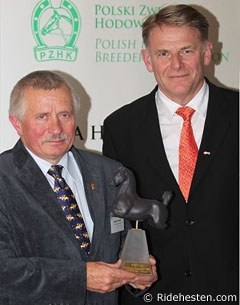 The 2013 World Breeding Federation for Sport Horses General Assembly and Seminar are taking place in Warsaw this year. The meetings have kicked off on 7 October 2013 with a seminar featuring several distinguished guest speakers.
The annual meeting was opened by Prof. Zbigniew Jaworski, President of the Polish Horse Breeders Association, and Mr Jan Pedersen, President of the WBFSH, before giving the floor to Ms Karina Christiansen, WBFSH, who chaired guest speakers Kathrin Stock from Germany talking about linear scoring.
Ms Lina Jönsson from Sweden presented a study on longevity and Mr Thomas Mark from Denmark updated the meeting's participants on the latest on genomic selection. All three speakers faced a room of very engaged participants asking questions in relation to the presentations.
 
In the afternoon Mr Jim Flanagan, Ireland, chaired a workshop where all participants were divided into groups in order to discuss whether the existing horse studbook structure would still be relevant in 10 years' time and why or why not. The discussion were very lively and the answers fairly evenly divided. In general people expressed a willingness to embrace change but also some uncertainty as to what the changes will be.
Chaired by Ms Anna Stojanowska Mr Jacek Lojek gave a presentation on the structural changes in Polish horse breeding from state to private ownership. Ms Dorota Lewczuk was today's last speaker giving an interesting presentation on kinematic parametres of free jumping, environmental and genetic effects.
Photo © Ridehesten
Related Links
Small Changes to Method of Calculating WBFSH/FEI Ranking
Korver and Nissen Re-elected on WBFSH Board
Jan Pedersen Presents Actvity Report at 2012 WBFSH General Assembly