KWPN Breeding News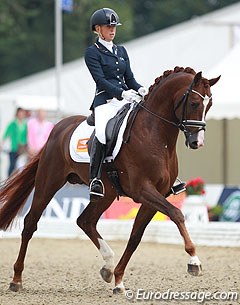 The 4-year old Fanita and the 5-year old Eye Catcher were the winners of the semi finals of the 2014 Pavo Cup held during the KWPN Horse days in Ermelo, The Netherlands, on 13 - 14 August 2014.
In the 4-year old division one of the first starters of the day, Fanita (by Vivaldi x Havidoff), took an early lead and could not be toppled from that number one spot. The judges' panel, including Arie Hamoen, Ton de Kok and Jan Wolfs, awarded Emmelie Scholtens and the bay full sister to KWPN performance test winner Desperado a winning 89 points.
Judge Hamoen was very pleased with the quality of the 4-year olds. "We saw a good group of horses that were all well presented and easy to judge. Fanita is a very charming mare with three very good basic gaits, which you need here to win. She has incredible presence and a very good hind leg usage."
Maria Brouwer and the gelding Fabregaz (by Bordeaux x Democraat) finished second in the semi finals with 85 points. European Young rider champion Anne Meulendijks ranked third on Rob van Puijenbroek's Ferrari (by Wynton x Contango) with 84.5 points. The pair tied with the German duo Frederic Wanders on the KWPN bred and German licensed Grey Flannell (by Gribaldi x Clavecimbel).
The highest placed license stallion in the 4-year old division was Ferdeaux, presented by Cora Verlouw. He earned 83.5 points and ranked sixth. Seventy-four 4-year old horses were judged in the semi-finals.
The 5-year old division featured 63 combinations and fresh 2014 World Young Horse Championship bronze medalist Eye Catcher (by Vivaldi x Partout) topped the leader board with a whopping 94.5 points. Marieke van der Putten and El Capone (by UB40 x OO Seven), who had to withdraw from Verden after failing the vet check, were second in Ermelo with 91.5 points. German Stefanie Wolf steered mare Erludine (by Jazz x Ferro) to a third place with 88.5 points.
The 26 highest placed 5-year olds are eligible to start in the first round of the Finals on Thursday 14 August 2014.
Photo © Astrid Appels
Results - 2014 Pavo Cup Finals - SEMI FINALS
4-year olds (top 15)
1. Emmelie Scholtens - Fanita (by Vivaldi x Havidoff) - 89
2. Maria Brouwer - Fabregaz (by Bordeaux x Democraat) - 85
3. Anne Meulendijks - Ferrari (by Wynton x Contango)  84.5
3. Frederic Wandres - Grey Flannell (by Gribaldi x Clavecimbel) - 84.5
5. Meerta Hekking - Fassada (by Johnson x Rhodium) - 84
6. Noortje Radstake - Fortuna G (by Ampere x Welt Hit II) - 83.5
6. Cora Verlouw - Ferdeaux (by Bordeaux x Ferro) - 83.5
6. Jennifer Sekreve - Ferrerro (by Rhodium x Olivi) - 83.5
9. Emmelie Scholtens - Fraulein Lita (by Jazz x Farrington) - 82.5
10. Kirsten Brouwer - Florence Sollenburg (by Vivaldi x Falco) - 82
10. Femke de Laat - Famorka (by Romanov x Jazz) - 82
10. Emmelie Scholtens - Fenix (by Vivaldi x Houston) - 82
10. Mirelle van Kemenade Witlox - Ferdinand (by Vivaldi x Havidoff) - 82
14. Leida Collins Strijk - Fellini (by Ampere x Jazz) - 81.5
15. Krista Lensing - Fabergee (by Vivaldi x Donnerhall) - 81
15. Jennifer Sekreve - Forty (by UB40 x Contango) - 81
15. Theo Hanzon - Fallatijn (by Vivaldi x Cabochon) - 81
5-year olds (top 15)
1. Kirsten Brouwer - Eye Catcher (by Vivaldi x Partout) - 94.5
2. Marieke van der Putten - El Capone (by UB40 x OO Seven) - 91.5
3. Stefanie Wolf - Erludine (by Jazz x Ferro) - 88.5
4. Emmelie Scholtens - Estoril (by Zhivago x Gribaldi) - 88
5. Bart Veeze - Eos Utopia (by Ampere x Negro) - 87.5
6. Benjamin Maljaars - Everdale (by Lord Leatherdale x Negro) - 87
7.  Marie Jose Timmermans - Emperial (by Florencio x Tango) - 86
8. Leonthien Vermulst - Lois Lane (by Furst Romancier x Royal Dance) - 85.5
9. Vai Bruntink - Ebony (by Painted Black x Jazz) - 85
10. Diederik van Silfhout - Expression (by Vivaldi x Vincent) - 84.5
11. Theo Hanzon - Elancourt (by Ampere x Stedinger) - 83.5
12. Theo Hanzon - Top's Eddieni (by Johnson x Negro) - 83.5
13. Minke van der Linden - Edmar D (by Jazz x Donnerhall) - 82.5
14. Nicky Snijder - Enrico (by San Remo x Jazz) - 82
15. Jennifer Sekreve - Easy Dancer (by Don Romantic x Fidermark) - 81.5
15. Lotje Schoots - Euripides (by Jazz x Riverman) - 81.5
Related Links
Eva Moller, Guest Judge Rider for 2014 Pavo Cup Finals
Everdale and Dancer Win 2013 Pavo Cup Finals
Desperado and Charmeur Win 2012 Pavo Cup Finals
Charmeur and Borencio Win 2011 Pavo Cup Finals
Borencio and Amazing Star Go All the Way and Take 2010 Pavo Cup Finals
TC Athene and Zhivago Win 2009 Pavo Cup Finals
Zuidenwind and Wynton Win 2008 Pavo Cup Finals
Westpoint and Vivaldi Win 2007 Pavo Cup Finals
Santano and Ucelli T Win 2006 Pavo Cup Finals
Uptown and Dreamcatcher Win 2005 Pavo Cup Finals
Florencio and Sandreo Win the 2004 Pavo Cup Finals
Special D and Robin Hood, 2003 Pavo Cup Winners
Rubels and Paster, 2001 Pavo Cup Champions
Natcho and Osmium Wins 2000 Pavo Cup Finals
Broere Stallions Dominate 1999 Pavo Cup Finals
Lucky Times and Mariena Win 1998 Pavo Cup Finals