Young Guns in Dressage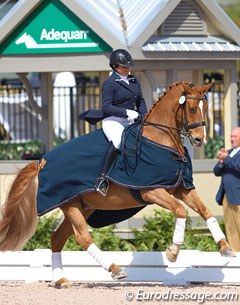 Making a clean sweep of the Florida Young Rider circuit in the winter and spring of 2014, Canadian Tanya Strasser is one of the most successful young riders ever to hit North America. After her outstanding success this year, she is now ranked number one and two in her country with Action Tyme and Deluxe Tyme and has just claimed team silver at the 2014 North American Young Riders Championships, which are running this weekend.
"The highlight of my career so far was being named Junior Equestrian of the Year 2013 and winning the Florida Youth Championships with Action Tyme at young riders level in February 2014," said the 18-year old.
The overall high-score circuit champion during the 2014 Global Dressage Festival in Wellington, Florida, Tanya also made another full sweep at the recent NAJYRC qualifier CDi 3* event in Palgrave, Canada. She has already set the 2014 North American Young Riders Championships on fire with an individual third ranking and a team silver medal.
"I definitely feel like Action Tyme and I are prepared for the week ahead. We have been having a wonderful season so far and have had wonderful opportunities such as being able to take advantage of the Florida winter circuit which I feel, has allowed us to fully prepare for this week as well as having the opportunity to work with my mom, Olympian Evi Strasser, the majority of the time," Tanya explained.
Tanya is fortunate to work with a number of horses at her mom's Good Tyme Stables, a training and sales facility with main headquarters in Ste-Adele, Quebec.
Her leading man, Action Tyme, is a 14-year old Oldenburg gelding (by Aktuell X Aleksander) who was trained and competed up to Grand Prix level by Evi. He is now Tanya's main young rider horse and the perfect schoolmaster.
"He is an absolute dream to ride. I willl more likely never meet a more willing and reliable equine partner who's main aim is to please! He has allowed me to grow a lot in my riding and has definitely allowed me the chance to achieve many of my goals and dreams," she said. "'It was with him that I placed 3rd at last year's North American Junior and Young Rider Championships. I am now aiming to head up into the U25 next year and depending on how things go, my main focus would more likely be to try to aim for the U25 at Aachen, which is another dream of mine!"
Her second horse, Dancing Tyme, is a 13-year old Oldenburg gelding (by Don Cardinale x Heraldik xx x Rubinstein). When Tanya rides him, she feels he is like a fairy as he never seems to touch the ground.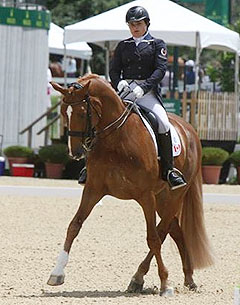 "He is so forward-moving that all you have to do is steer and you never have to think about the gas pedal! You can put all your trust into him and he has become a confident horse. He was the first horse that I had competed on the Canadian junior team at the 2011 NAJYRC) and then we moved up to Young Riders and were part of the 2012 bronze medal young rider team."
Tanya is also lucky to have the rides on Super Tyme, an 8-year old Oldenburg gelding (by Sir Donnerhall x Rubinstein), which Evi has  competed up to Prix St Georges level alongside Deluxe Tyme, a 10-year old Oldenburg gelding (by Dacaprio X Agent). "He is flashy and forward but not fresh or spooky which is a wonderful combination for me! We have been able to build an enjoyable bond with each other and look forward to seeing what the future holds for us," she added.
With her mom being a professional horse trainer who buys talented youngsters, trains them up the level and then sells them, Tanya has a plethora of horses to pick and choose from. There is also Finale Tyme, a 5-year old Oldenburg gelding (by Fidertanz x Landfriese), who is Tanya's young horse project  after her mum bought him as a 3-year old.
"He has turned out to be quite the avid learner and has a brain to die for. He really is a sweet horse and is super easy to handle. Of course I would love to keep him for the long haul but we will see what the future holds! For now I am enjoying the growing experience that we are having together," she said.
Tanya does not see the trainer-mother combination as particularly stressful but considers it very convenient.  "I think everything takes time so I really believe that it is important to allow the horse to grow and build up slowly. There is no point in rushing because we are looking to have them for the long haul," she said. " It is also important for the horse and the rider to have consistency in their training. I don't think it is in the best interest of the pair to be constantly switching training methods. Everyone has a different style and I believe you need to find what suits you and your horse the best and then stick with it and put the time into it so that you can continously improve!"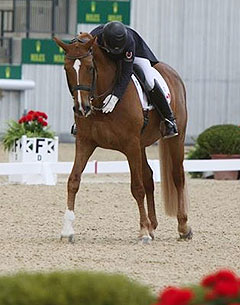 Tanya feels that the style of training obviously depends on which horse she is riding, but the one thing she makes a point of focusing on, no matter which level of horse she rides, is the basics.
"My mother always emphasized the importance of a proper basic foundation so it has become natural to me to include it as the majority of my training time. It helps build the overall fitness and strength of the horse. There is no point to do the "tricks" if you are unable to ride the moments in between! I am very lucky that I learnt that early on."
Unable to tell Eurodressage exactly what is behind her success this year, Tanya believes it is a culmination of a number of elements coming together at the same time.
"To begin with, I have had the opportunity to be able to compete and work with Action, who is simply the most reliable and honest horse you would ever meet. He is my one in a million. I have also had many fortunate opportunities as mentioned above which really allowed me to fully prepare to reach my goals.  I think everything has been an on-going process in my training to get me to where I am today and I couldn't be anymore grateful!"
While she would love to pursue a life dedicated to dressage, Tanya does have a plan B and is currently studying Commerce at a college in Montreal and works around her study schedule so that she can ride 6 days a week.
"It is definitely a challenge but it is something I want to do so it is worth it," she stated. "In the winters I try to schedule a reduced course load online so that I can compete during the florida winter circuit, which is what I have been doing the past few years. It takes discipline I believe to study on your own but Is definitely worth the struggles."
Young Guns Profile - Tanya Strasser
•    Date of Birth: 12 July 1995
•    Nationality: Canada
•    Place of Birth: Montreal, Quebec.Canada
•    Sign/Horoscope: Wood Pig/Cancer
•    Profession: Student/Equestrian
•    Hobbies: Horse Back riding, Skiing , travelling , Reading
•    Best personal quality: Genuine /loyal
•    Personal defect: Perfectionist which can sometimes lead to being impatient
•    Favourite book: City of Bones series
•    Favourite film: The Heat
•    Favourite actor: Sandra Bullock
•    Style of music: Indie, Top 40, Pop and occasionally country.
•    Favourite singer or band: at the moment Ellie Goulding/ Imagine Dragons ( this is ever changing!)
•    Favourite car: Audi R8
•    An unforgettable holiday: London 2012
•    Favourite food: My moms home made osso bucco!
Text by Sarah Warne - Photos © Astrid Appels - Sue Stickle
Related Links
Strasser-Shostak Wins Florida International Youth Dressage Championships at 2014 CDIO Wellington
Scores: 2014 CDI-W Palgrave
Canadian Dressage Athletes Shine at 2014 CDI-W Palgrave
Canadian Teams Selected for 2014 North American Junior/Young Riders Championships
Young Rider Tanya Strasser Shostak Named Dressage Canada Equestrian Athlete of The Month