2012-2013 KWPN Stallion Competition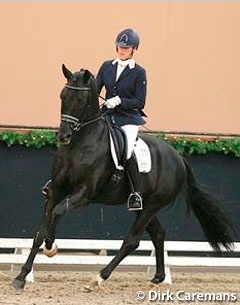 The 4-year old Dream Boy, the 5-year old Charmeur and the 6-year old Bordeaux won the fourth and final leg of the 2012-2013 KWPN Stallion Competition show circuit, of which the finals will be held at the 2013 KWPN Stallion Licensing in 's Hertogenbosch the first weekend of February 2013.
The final leg was held at the national indoor show in Zuidbroek on 2 January 2013 and the top performing horses of the four trials once again positioned themselves at the top of the ranking.
In the L-level division for 4-year olds Gerdine Maree and the black colt Dream Boy (by Vivaldi x Ferro) scored the winning mark of 92.5 points. He referred his biggest rivals, Emmelie Scholtens and Desperado (by Vivaldi x Havidoff) to a second place with 90 points. Diederik van Silfhout and the KWPN performance test winner Don Tango (by Contango x Jazz) finished third.
"Dream Boy is a very elegant, sharp Vivaldi offspring," said judge Gert van den Hoorn, who assessed the horses alongside Monique Peutz and Jan-Enne Kloosterboer. "He trots with each step from behind and we scored the trot 9.5. He also earned the same score for canter in which he shows much balance and hind leg usage. Desperado is also a very nice dressage horse with a striking conformation. The walk is ground covering, clear and relaxed. In trot he has nice front leg usage and in canter he is uphill with nice impulsion from behind."
Emmelie Scholtens and Charmeur (by Florencio x Jazz) have proven to be the unbeatable pair of the KWPN Stallion Competition, winning all four legs of the circuit. In Zuidbroek the duo scored 94.5 points to become a league of their own. Mirelle van Kemenade and the bay Cachet L (by Jazz x Ferro) were the runners up with 86 points, while Philip van Ommen and the chestnut Chagall D&R (by Jazz x De Niro) slotted in third with 79 points.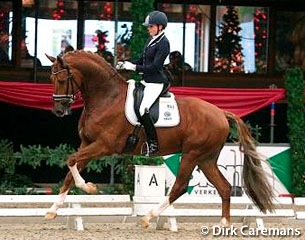 "Charmeur's walk shows much activity and is very clear, so we gave it a 9. His trot is fantastic, nothing but praise. He can collect, he can extend and continues to trot off the ground. Only one mark fits for that, a 10. The canter is also very good and uphill, so we gave it a 9.5," said Van den Hoorn.
German Eva Möller and KWPN licensing champion Bordeaux (by United x Gribaldi) won their third stallion competition in The Netherlands. In Zuidbroek the pair was on form and scored a total of 90.5 points. Kirsten Beckers and the bay stallion Bristol (by Jazz x Goodtimes) were second with 83 points, whie Lisanne der Nederlanden and the chestnut Breezer (by Johnson x Sultan) finished third with 81.5 points.
"Bordeaux showed a very good test with a high degree of difficulty," said judge Kloosterboer. "His walk was crystal clear in rhythm and we gave it a 9. The trot had much cadence, rhythm, technique and self-carriage so we scored it 9.5. In canter he has a good balance and much activity, an 8.5." Kloosterboer concluded that Bristol showed a "good test with a correct walk with much body usage. The trot could have been more expressive but he has a correct technique and self carriage. The canter has much balance and sufficient ground cover."
Source: KWPN
Photos © Dirk Caremans
Results - 2012-2013 KWPN Stallion Competition - Zuidbroek
L-level
1. Gerdine Maree - Dream Boy - 92.5
2. Emmelie Scholtens - Desperado - 90
3. Diederik van Silfhout - Don Tango -86
4. Emmelie Scholtens - Dorado - 84
5. Gerdine Maree - Dark Pleasure - 78.5
6. Astrid Langeberg - Didando - 74.5
M-level
1. Emmelie Scholtens - Charmeur - 94.5
2. Mirelle van Kemenade - Cachet L - 86
3. Philip van Ommen - Chagall D&R - 79
4. Diederik van Silfhout - Cover Story - 78
Tom Franckx - Charmingmood - DNS
Z-level
1. Eva Möller - Bordeaux - 90.5
2. Kirsten Beckers - Bristol - 83
3. Lisanne der Nederlanden - Breezer - 81.5
4. Astrid Langeberg - Bodyguard - 71.5
Related Links
Desperado, Charmeur, Bordeaux Win Third Leg 2012-2013 KWPN Stallion Competition
Desperado, Charmeur and Bristol Win Second Leg of 2012-2013 KWPN Stallion Competition
Dream Boy, Charmeur, Bordeaux Win First Leg of 2012-2013 KWPN Stallion Competition in Deurne