2012-2013 KWPN Stallion Competition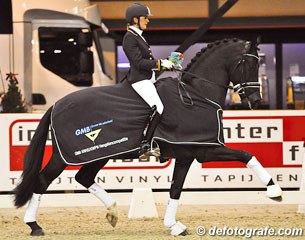 The 4-year old Desperado, the 5-year old Charmeur and the 6-year old Bristal came to the fore as winners of the second leg of the 2012-2013 KWPN Stallion Competition held in Enschede, The Netherlands, on 4 December 2012.
In the L-level division Emmelie Scholtens and the KWPN performance test winner Desperado (by Vivaldi x Havidoff) scored the top mark of 91.50% keeping their toughest rival Gerdine Maree on Dream Boy (by Vivaldi x Ferro) at bay with a minimal point difference of 0.5. Scholtens and the chestnut Dorado (by Krack C x Rousseau) finished third with 79 points.
Judge Toine Hoefs commented that "Desperado has much swing and the overall image is uphill. For walk and trot we gave him a 9, for canter a 9.5. Dream Boy is a horse with a lot of quality and good ability to collect and extend. Also in the small trot he kept the rhythm. He has much self carriage and cadence."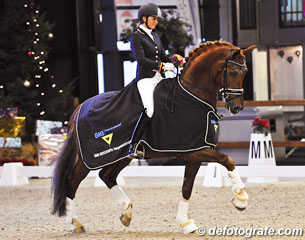 At M-level Emmelie Scholtens and the KWPN performance test winner Charmeur (by Florencio x Jazz) reigned supreme with 90 points. They stayed well ahead of Spanish Severo Jurado Lopez on Chippendale (by Lord Leatherdale x Negro) who totalled 85 points. Mirelle van Kemenade-Witlox and the bay Cachet L (by Jazz x Ferro) ranked third with 83 points.
"Charmeur showed a very good test and if the travers was even more expressive he would have got 10 for trot," said judge Hoefs. "Charmeur stands out with his beautiful self-carriage, very good leg usage and self carriage."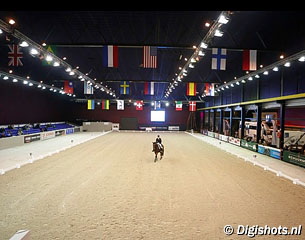 At Z-level the winners of the first leg in Deurne, Eva Möller and Bordeaux, were less fortunate as the bay KWPN licensing champion (by United x Gribaldi) bit his tongue and bled from the mouth. He was elimianted from the test. This left plenty of room for Kirsten Beckers to move into first place aboard the dark bay Bristol (by Jazz x Goodtimes). Lisanne der Nederlanden and Breezer (by Johnson x Sultan) were the runners up. Astrid Langeberg and Bodyguard (by Gribaldi x Negro) slotted in third.
"Bristol has a good, clear walk and trots with a nice front leg usage," said Hoefs. "The hindleg could have more strength. The same image we see in canter.
The series continues with its third leg in Roosendaal, The Netherlands, on 19 December 2012.
Source: KWPN
Photos © Leanjo de Koster - Esmee van Gijtenbeek
Results - 2012-2013 KWPN Stallion Competition - Enschede
L-level
1. Emmelie Scholtens  - Desperado - 91.5
2. Gerdine Maree - Dream Boy - 91.0
3. Emmelie Scholtens - Dorado - 79
4. Severo Jurado Lopez - Diego - 78.00
4. Diederik van Silfhout - Don Tango - 78.00
6. Astrid Langeberg - Didando - 77.5
7. Jana Freund - Dark Pleasure - 75.0
8. Jose van Haaren - Davinci - 64.0
M-level
1. Emmelie Scholtens - Charmeur - 90.00
2. Severo Jurado Lopez - Chippendale - 85.00
3. Mirelle van Kemenade - Cachet L - 83.00
4. Diederik van Silfhout - Cover Story - 71.00
5. Tom Franckx - Charmingmood - 69.00
Z-level
1. Kirsten Beckers - Bristol - 75.5
2. Lisanne der Nederlanden - Breezer - 75.00
3. Astrid Langeberg - Bodyguard - 68.50
Eva Moller - Bordeaux - ELI
Related Links
Dream Boy, Charmeur, Bordeaux Win First Leg of 2012-2013 KWPN Stallion Competition in Deurne
Desperado and Charmeur Win 2012 Pavo Cup Finals
Charmeur Not to Compete in 2011-2012 KWPN Stallion Competition