2012-2013 KWPN Stallion Competition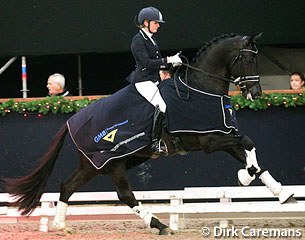 The 4-year old Desperado, the 5-year old Charmeur and the 6-year old Bordeaux were the winners of the third leg of the 2012-2013 KWPN Stallion Competition which took place on Wednesday 19 December 2012 at equestrian centre Den Goubergh in Roosendaal, The Netherlands.
In the 4-year old L-level division the duel has been between Desperado (by Vivaldi x Havidoff) and Dream Boy (by Vivaldi x Ferro) for the third time in a row.  Emmelie Scholtens' Desperado excelled with his model, self carriage and expressive way of moving, while Gerdine Maree's Dream Boy stood out with his trot and uphill canter. The former stallion, however, scored a 10 for canter and a 9.5. for walk and became the winner of the class.  Diederik van Silfhout and the KWPN performance test winner Don Tango (by Contango x Jazz) were third. The bay stallion executed a solid test but the walk was a bit restricted.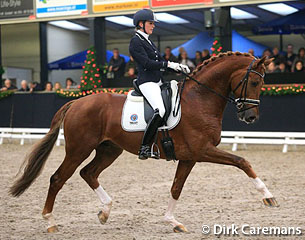 In the 5-year old M-level division Emmelie Scholtents and Charmeur (by Florencio x Jazz) remained unbeatable although the head judge, Mariette Sanders, had to inspect a reddish wound near the horse's heel at the end of the test. "We saw something red to his left front foot but after inspection it seemed to have been caused by trush and it was within the acceptable. We just wanted to know for sure," Sanders commented.  Charmeur was very strong in trot and canter, which both earned a 9.5. Mirelle van Kemenade-Witlox and Cachet L (by Jazz x Ferro) finished second. The bay stallion showed much suppleness and had a charming expression. His canter earned him 9. Spanish Severo Jurado Lopez and the bay Chippendale (by Lord Leatherdale x Negro) were third. This stallion has a phenomenal trot but continues to struggle with the walk. "In the collected walk the correctness of the rhythm should be a point of attention," Sanders stated.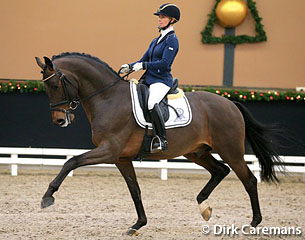 The 6-year old KWPN licensing champion Bordeaux (by United x Gribaldi) made a strong come back after being eliminated due to some blood at the previous show. In Roosendaal German Eva Möller and Bordeaux were back on form showing excellent ground cover, elasticity and power in the trot and canter. They scored a total of 87 points to win the class and never scored below 8.5. Kirsten Beckers and Bristol (by Jazz x Goodtimes) were second after a correct presentation. "Bristol can score higher if he shows a bit more body usage and suppleness," Sanders commented. Lisanne  der Nederlanden and the chestnut stallion Breezer (by Johnson x Sultan) slotted in third. The stallion was praised for his active hind leg which generated ground cover and power in canter. "Breezer has a lot of quality but can't always translate that in a constant image and a quiet contact with the bit. The canter is still quite green," said Sanders.
Photos © Dirk Caremans
Source: KWPN
Results - 2012-2013 KWPN Stallion Competition - Roosendaal
L-level
1. Emmelie Scholtens - Desperado - 92.5 pts
2. Gerdine Maree - Dream Boy -
3. Diederik van Silfhout - Don Tango - 84
4. Emmelie Scholtens - Dorado - 83
5. Gerdine Maree - Dark Pleasure - 76.5
6. Severo Jurado Lopez - Diego - 74
7. Astrid Langeberg - Didando - 72
8. Jose van Haaren - Davinci - 66
M-level
1. Emmelie Scholtens - Charmeur - 88.5
2. Mirelle van Kemenade - Cachet L - 82.5
3. Severo Jurado Lopez - Chippendale - 80
4. Diederik van Silfhout - Cover Story - 71.5
5. Philip van Ommen - Chagall D&R - 70.5
6. Tom Franckx - Charmingmood - 69
Z-level
1. Eva Möller - Bordeaux - 87
2. Kirsten Beckers - Bristol - 76.5
3. Lisanne der Nederlanden - Breezer - 75
4. Astrid Langeberg - Bodyguard - 68
Related Links
Desperado, Charmeur and Bristol Win Second Leg of 2012-2013 KWPN Stallion Competition
Dream Boy, Charmeur, Bordeaux Win First Leg of 2012-2013 KWPN Stallion Competition in Deurne