2023 CPEDI Hickstead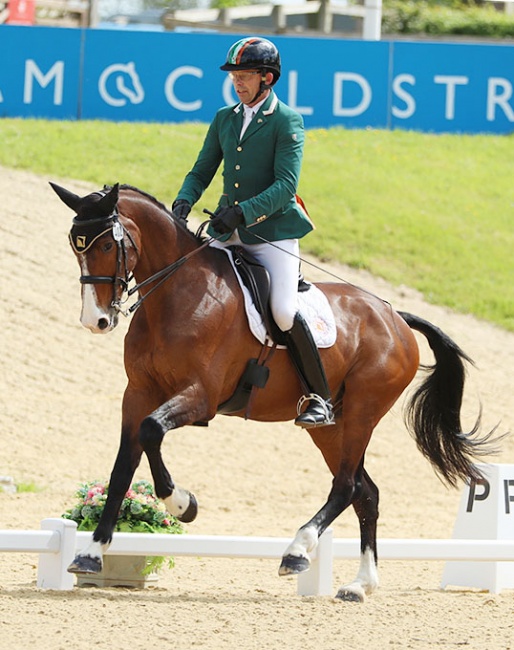 Former event rider Jonty Evans was among the Para-dressage winners at this week's CPEDI Hickstead on 9-14 May 2023.  His first international victory is the first step of a journey that he hopes will lead him to the Paralympic Games in the future.
With his top horse Cooley Rorkes Drift (known at home as Art), Jonty reached the top levels of eventing. The pair were ninth individually at the Rio Olympics in 2016, after which the horse's owner was offered a large sum of money for him. But Jonty was unwilling to lose the ride, and he set about crowdfunding to raise the money to buy him. A remarkable £500,000 was raised, with 6,800 people becoming Art's new 'owners'.  
The pair had just enjoyed their first international win at Belton, and they were in the lead at Tattersalls International Horse Trials in June 2018 when they had a crashing cross-county fall three fences from home, which left Jonty in a coma for seven weeks. He had to learn how to walk and talk again, but after a three-month stay in hospital and a lengthy rehabilitation, Jonty was able to return to riding a year after his accident.
The switch to para-dressage has allowed him to continue his special relationship with Art. The pair won their first competition in March of this year, and this week marked their CPEDI (international para-dressage) debut. They continued their run of success with wins in the 2* Para Intermediate Grade IV A and B tests, as well as the Grade IV Freestyle.
Cooley Rorkes Drift, who is now 17, has adapted brilliantly to his new career. "We arrived at the show and he pulled me down the ramp – he was so happy to be at a show again," said Jonty. "I don't think he minds that much about what he's doing. He loves going in dressage arena anyway, he always has done – he loves showing off."
Getting back out competing has been an important milestone for Jonty. "Getting used to doing all this again is part of the healing process, and the returning to normality process," he added.
Having completed his first two-star show, Jonty hopes to go to Hartpury to do the three-star competition there. Having represented Ireland at the Rio Olympics, he is now looking to the future and perhaps representing his country again at a Paralympic Games. "That would be amazing, and I can't tell you how emotional it would be for me to come down that centre line again on that horse," he said. 
-- Hickstead press release, Photo © Spidge
Related Link
Irish Eventing Olympian Jonty Evans Steps Into World of Para Dressage after Brain Injury