KWPN Online Auctions
The newly licensed, premium stallion Pride became the best seller of the 2023 KWPN Select Sale, the official auction following the annual stallion licensing in 's Hertogenbosch.
This year the KWPN Select Sale was a full online auction with bidding concluding on 6 February 2023, a few days after the licensing.
Licensed Colts
The best seller of the lot was premium stallion Pride (by Secret x Apache x Tango) who is out of Idol, the full sister of Grand Prix stallion Jovian. He sold for 200,000 euro to an online bidder sitting behind his computer in Germany. It is rumoured that the circle of Rothenberger bought the horse. This was confirmed in June 2023.
The second most expensive horse was Leunis van Lieren's grey licensed stallion Power Dutch (by Toto Jr x Double Dutch). A Dutch bidder bought the colt for 150,000 euro and horses.nl reported he has been bought back by the owner. 
The most expensive jumper colt was Charger Bleu SW (by Chacoon Blue x Heartbreaker) who sold for 95,000 euro to a Dutch buyer. However, in its press release KWPN stated that Popino Larus (by Gasphar x Voltaire) was the highest selling jumper for 85,000 euro, which could infer that Charger Blue SW was bought back by the owner.
A Swiss customer paid 48,000 euro for the licensed Palermo E (by Kjento x Bordeaux),
Staying in Holland are the licensed Pontiac VDT (by Total US x Ferro) for 48,000 euro, the licensed Puronn L (by Farrell x Rubin Royal) for 30,000 euro.
Non-Licensed Colts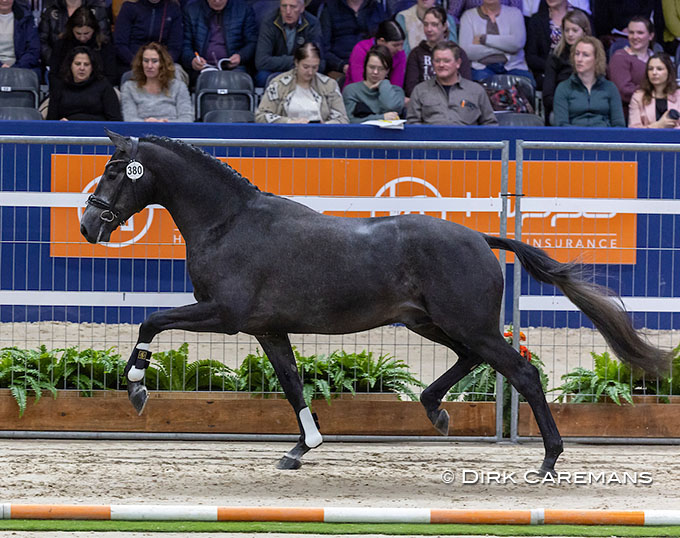 The most expensive non licensed dressage colt was Patton (by Totilas x Zack) who sold for 34,000 euro to the Czech Republic. Peter Pan (by King Karim x Florencio) goes to the U.S.A for 30,000 euro while an American secured  Prins JJ  (by Glamourdale x Sorento) for 26,000 euro. 
Five more non-licensed colts sold and four them stay in Holland: Percy Jackson (by Fifty Cent x Johnson) for 24,000, Precious Diamond van de Paulinehoeve (For Romance x Negro) for 19,000 euro, Pe'Le D (by Vivaldi x Donnerhall) for 18,000, and Penoza (by Painted Black x Etoile) for 16,000 euro.
Porsche Panamera JCS (by Kilian x Uphill) moves to Poland for 17,000 euro. 
Photos © Dirk Caremans
Related Links
Seven Colts Named Premium at the 2023 KWPN Stallion Licensing
2023 KWPN Select Sale: Premium Stallion out of Jovian's Full Sister
Previous Licensings
Four Premium Colts, Thirty-Nine Accepted at 2022 KWPN Stallion Licensing
Forty-Four Colts Licensed, Five Premium at the 2021 KWPN Stallion Licensing
Six Premium Colts at 2020 KWPN Stallion Licensing, Morricone VDT Auction Price Highlight
Le Formidable, Champion of the 2019 KWPN Stallion Licensing
Kremlin MD, Champion of the 2018 KWPN Stallion Licensing
Jameson, Champion of the 2017 KWPN Stallion Licensing 
Igor (aka Indian Rock), Champion of the 2016 KWPN Stallion Licensing 
Handsome O, Champion of the 2015 KWPN Stallion Licensing
Glamourdale, Champion of the 2014 KWPN Stallion Licensing
Fierce S (aka Franklin), Champion of the 2013 KWPN Stallion Licensing
Etoine, Champion of the 2012 KWPN Stallion Licensing
Diebrecht, Champion of the 2011 KWPN Stallion Licensing
Cover Story, Champion of the 2010 KWPN Stallion Licensing
Bordeaux, Champion of the 2009 KWPN Stallion Licensing
Ajong (aka Ampere), Champion of the 2008 KWPN Stallion Licensing
Zagreb (aka Blue Hors Zack), Champion of the 2007 KWPN Stallion Licensing 
Wamberto, Champion of the 2006 KWPN Stallion Licensing
Johnson, Champion of the 2005 KWPN Stallion Licensing
Ustinov and Uptown, 2004 KWPN Stallion Licensing Champions
Tornado, Champion of the 2003 KWPN Stallion Licensing
Symfonie, 2002 KWPN Licensing Champion
First KWPN Select Sale at 2001 KWPN Stallion Licensing
Paddo, 2000 KWPN Stallion Licensing Champion