F.O.C.U.S.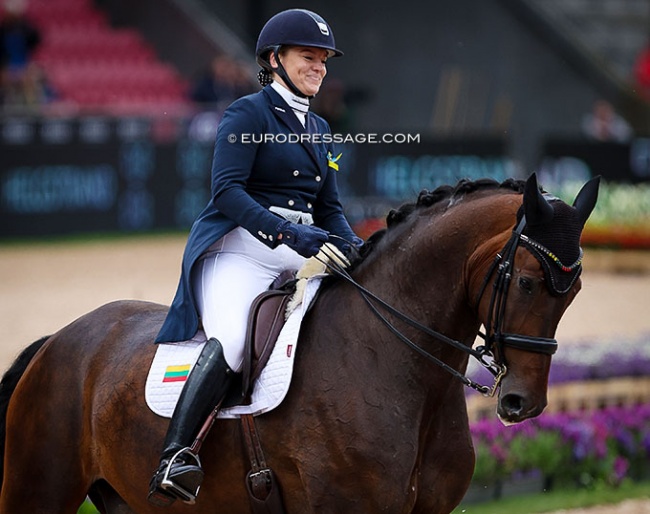 Justina Vanagaite has become Lithuania's trailblazer in international dressage sport as the country's first individual representative at a European Championships in 2021 and only their second at  a World Championships in 2022. Aboard the 9-year old Belgian warmblood gelding Nabab she moved into the spotlight this year by competing in 10 CDI's and winning 9 out of 19 classes entered in.
Like any ambitious rider, the big dream of the Olympics in Paris is looming large on the horizon. 
Loyal to Her Coach
The 32-year old Justina began riding horses at age 13, rolling into the sport through her stepfather who owned show jumpers at the time and took her to visit a stable. She was hooked and her love for horses and riding began to sprout. 
Her first trainer was Svetlana Snarskienė, whom she stayed loyal to ever since. 
"I owe so much to her enormous support throughout my whole riding career," Justine told Eurodressage. "Without her, everything I've achieved so far would be just a dream."
Based in Vilnius, Lithuania, Justina paved her way for a professional career in horses and set up her own business at a small yard where she keeps her own string, a few riding school horses, and some clients' horses. 
Belgian Bred, Lithuanian Discovery
Justina's career-starting horse is the Belgian warmblood Nabab.
Bred by renowned Belgian show jumping breeder Frans van Looveren from Brech (BEL), Nabab is by stallion Sir Donovan, who competed at the 2012 and 2013 World Young Horse Championships under Nick van Laer.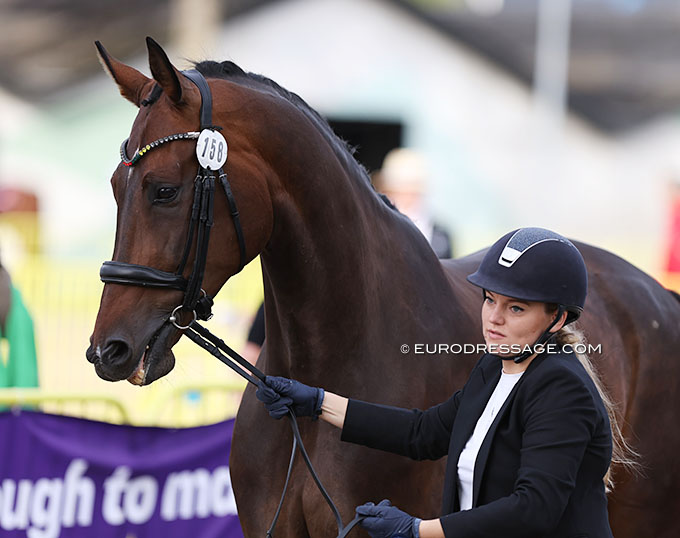 Nabab's dam is the Dutch warmblood mare Tamarinde (by Krack C x Weissgold). She also produced the BWP registered Picasso (by Lord Leatherdale), who sold via the 2018 Van Olst Sales to Hungarian Arie Yom-Tov and was shown by Dirk-Jan van de Water at the 2020 CDI Pilisjaszfalu. Picasso moved to Helgstrand Dressage and resold into Nuno Palma e Santos' stable. This year Picasso is competed in Germany by Antonia Christine Jacobsen.
Nabab ended up in Lithuania and was spotted by Justina as a 6-year old in 2019. 
"The beginning wasn't so easy and I definitely didn't think that he will be my "once-in-a-lifetime" horse," she said. "I planned to keep him as a sales project. However over time we formed a really strong bond and friendship. He is the king of our stable and has a loving nickname - Kebab."
When asked what attracted her to Nabab, she replied, "when it comes to horses, the main trait I am looking for is the brain. The exterior can be modified with correct training and gaits can be improved if the horse shows its willingness to work."
Lithuanian Trailblazer at Warp Speed 9
Vanagaite made her international show debut on the 7-year Nabab in 2020, competing him in the small tour at the CDI Ruila in Estonia. They won their first Prix St Georges with 70.588% and were second in the Inter I Kur to Music. They qualified for the 2020 World Young Horse Championships in Verden, but the event was cancelled due to the corona pandemic.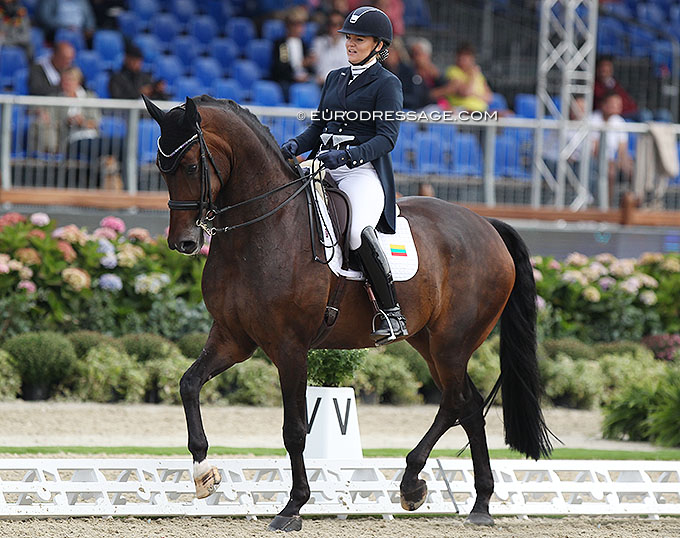 In April 2021 she moved Nabab up to Grand Prix level and had her debut at the CDI Zakrzow in Poland where her first Grand Prix score was 65.457%. Justina spent 2021 gaining mileage at the CDI's in Parnu, Brno and Ypaja before becoming Lithuania's first ever representative at a European Dressage Championships in Hagen (GER). They scored 66.227% in the Grand Prix and were 58th. 
In 2022 Justina put the pedal to the metal and went full speed on the 9-year old Nabab, competing him at 10 CDI's including the World Championships, in a period of seven months time.  She began her warp speed 9 campaign in Herning in March 2022 and went from there to Zakrzow, Parnu, Samorin, Brno, St. Margarethen, and Perila, winning five classes.  She wrote history for Lithuania as only their second rider ever in a World Championships, succeeding Julia Vysniauskas who rode at the 2006 World Equestrian Games in Aachen. In Herning Justina and Nabab were 49th in the Grand Prix with 69.596%. 
Just three weeks after Herning, Vanagaite travelled to Samorin, where she won the World Cup Qualifier, immediately followed one week later by the CDI Bialy Las in Poland on her way back home to Lithuania. She also scored a double victory there with 71.261% in the Grand Prix and a 74.930% winning freestyle score. 
"I am the first Lithuanian rider to represent my country in the European Championships and the second in a World Championship. It's quite impossible to put my emotions into words, but I am enormously grateful to have the opportunity to compete among the best and absorb all the knowledge, emotions and memories," she said thinking back on her spectacular show year. "I am also enormously happy that I am experiencing this with him."
Spoiled by Riding
According to Justina, Nabab is a special character in the barn. His nickname is Kebabėlis which is Lithuanian for the middle eastern meat dish Kebab.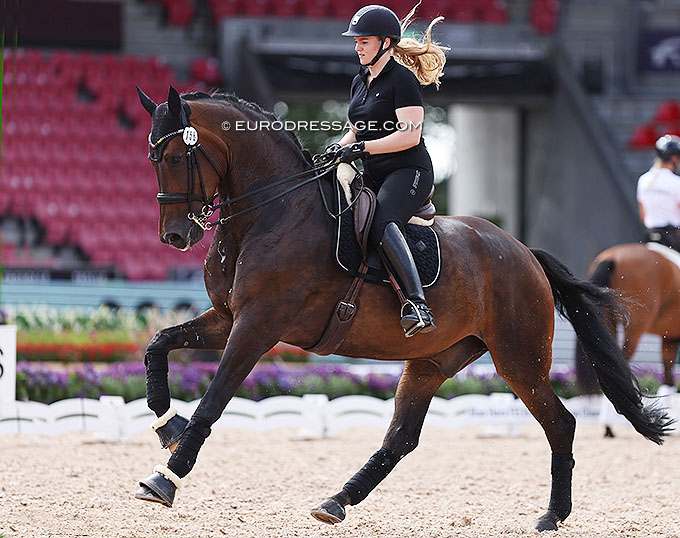 "Nabab is a truly unique horse. I jokingly say that the less I ride him the less I "spoil" him," Justina explained. "After each international show, he gets at the very least a week off from riding every time we get back home. During his time off he only goes to the paddock and is lightly lunged on a halter. If the show is on a more physically demanding side, Nabab gets at very least 10 days off."
The dark bay has a playful character and Justina prefers to vary her work with him.
"He is most willing to work when we are keeping things light, playful and simple," she said. "For example, after coming back home to Vilnius from Herning I only rode him once before departing to Šamorin. He was off for two weeks.  Of course, that doesn't mean that he does nothing. He keeps himself busy in the paddock or on a lunge line and is taken care of by equine physios at the very least once a month. I take the physical well-being of my horses very seriously, but their mental state is my top priority as well."
Olympic Ambition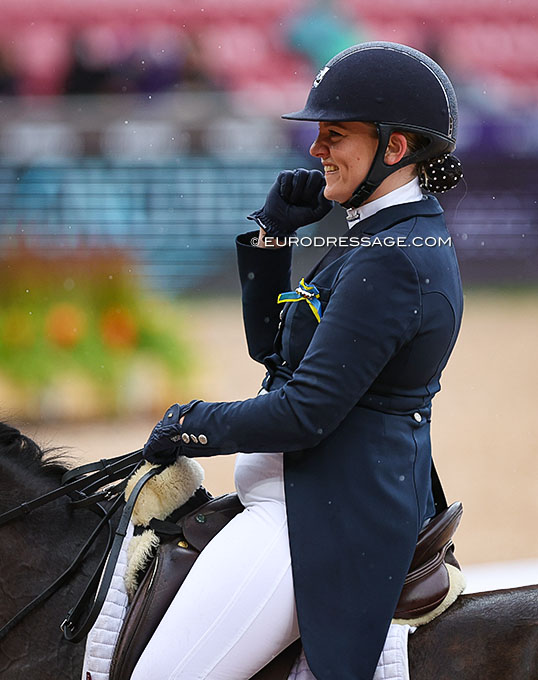 With her career kicking off at top speed, Vanagaite has her mind set on  Omaha and eventually the Olympics in Paris. 
"My plans for the future are of course to continue having fun and enjoy time spent with Nabab and my other horses," she concluded. "Career-wise, I would love to qualify to compete in the World Cup Finals in 2023 and, of course, Paris 2024 is our next top ambition."
Photos © Astrid Appels
Related Links
Eurodressage Photo Database: Justina Vanagaite
Zaneta Skowronska Claims Third Title in Career at Polish Championships during 2022 CDI Bialy Las
Nominative Entry List for the 2022 World Championships Dressage
Complete Participants' List for 2020 World Young Horse Championships Published
BWP Licensed Stallion Mentor Sold to Sandra Sysojeva
Lithuania Celebrates Dressage Come Back with 2012 CDI Vazgaikiemis
Airisa Penele Putting Latvia on the International Dressage Map