KWPN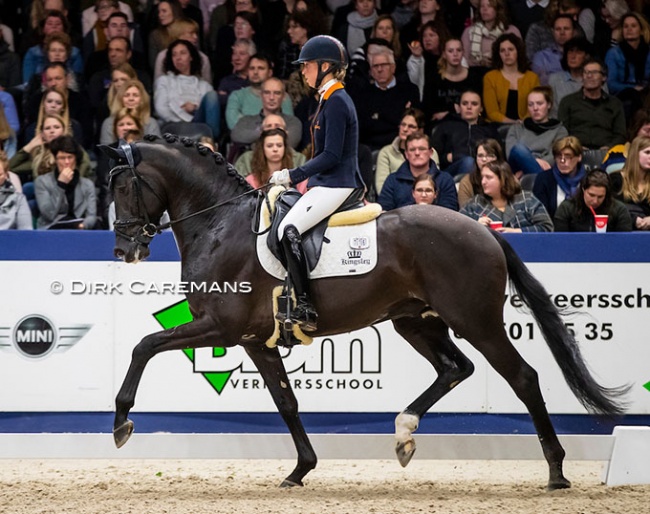 The 8-year old KWPN licensed Joyride E.H. has been sold from Belgium to Spain. Belgian Under 25 team rider Nico Nyssen acquired the black, who is now a gelding. 
Joyride is a Dutch warmblood by Ampere out of Vidora EH (by Jazz x May Sherif). He is bred by the Van Engelshoven couple of the De Engelse Hoeve in Grashoek, The Netherlands.
Licensed
Spanish dressage rider and horse dealer Victor Petit Ferrer bought Joyride as a youngster and presented hi for licensing at the 2017 KWPN Stallion Licensing, where he was accepted. 
He did his first saddle training with Peter Wetzelaer and became the second highest scorer of the 2017 KWPN Autumn Stallion Performance Testing with 84 points. He received 8.5 for walk, 8 for trot, and 8.5 for canter, suppleness and rideability. 
In January 2018 he was approved for Oldenburg breeding
Lina Uzunhasan - Kirsten Brouwer - Gonzalo Castilla
Although Spanish owner, Joyride stayed in The Netherlands and first stood up for stud at Stal van de Sande.
In March 2018 Turkish-American dressage rider Lina Uzunhasan took over the ride on Joyride with the plan of presenting him in the Pavo Cup and KWPN Stallion Competitions.
However, after a few months it was Kirsten Brouwer who began competing the young stallion in 2018 and they finished fifth at the 2019 KWPN Stallion Competition Finals.  In the late spring of 2019 Brouwer presented him for Dutch team selection for the World Young Horse Championships but he wasn't picked. 
By the end of 2019 it was Spaniard Gonzalo Castilla who rode the horse on the 2019-2020 KWPN Stallion Competition circuit and contested the 2020 Stallion Competition Finals, but they were not placed. Afterwards the black moved to Spain to owner Petit and his partner Lucia Gallardo in 2020. He was not competed in Spain.
Sold to Belgium
Joyride E.H. has sold to Belgian Under 25 rider Nico Nyssen, who is building a business as a horse dealer while at the same time being the young horse rider at Edward Gal and Hans Peter Minderhoud's Glock stable.
Nyssen announced the purchase of Joyride on social media: "After a few months in training with me, we decided to buy this amazing horse. He has all the qualities to be my next grand prix horse! It's still a long road a head but I'm very excited about the future," he said. 
Photo © Dirk Caremans
Related Links
Young KWPN Stallions Ready for 2020 KWPN Stallion Competition Qualifiers
Long List After Second 2019 Dutch WCYH Team Training and Observation Trial
Long List After First 2019 Dutch WCYH Team Training and Observation Trial
Jameson, Imposantos, Hermes Win 2019 KWPN Stallion Competition Finals
Lina Uzunhasan to ride Joyride
For Ferrero Winner of the 2017 KWPN Autumn Stallion Performance Test
Twenty Colts Entered for 2017 KWPN Autumn Stallion Performance Testing
Twenty-Two Colts Picked on Second Pre-Selection Day for 2017 KWPN Stallion Licensing
Jameson, Champion of the 2017 KWPN Stallion Licensing