Equipment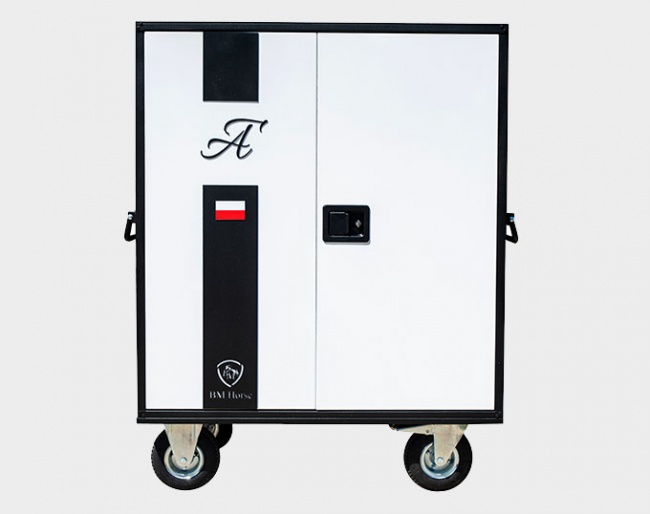 BM Horse, a Polish company that has an established a solid reputation in designing and building high-end stable equipment, is proudly presenting its newest saddle box, the Imperial Carbon. 
BM Horse produces and sells high-end stable products; from arena levellers and solariums to saddle boxes and all kind of stable equipment.
Based on the many years of experience with their own horses and stable, they took the initiative to create their own range of safe, durable and functional products. In the last four years their success has led to an expansion of their product range and increased distribution across Europe, with Germany, Denmark, Sweden, Finland, France, UK and Ireland as main buyer countries. 
Imperial Carbon Saddle Box
The Imperial Carbon Saddle Box is the newest model in their saddle box range.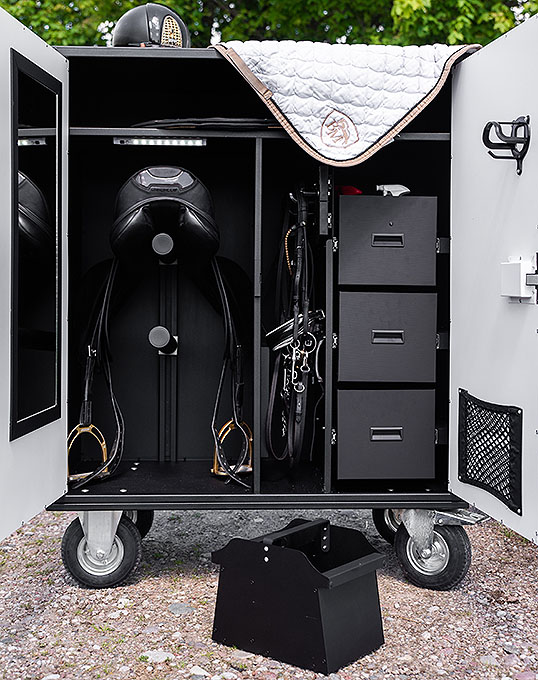 "This saddle box was made for customers who appreciate a luxurious look and spectacular effects in its details," said Anna Tyrkiel of BM Horse. "The box is ultra convenient, easy to move, there is tons of storage space with the drawers and hangers, and it has the expensive look with all its carbon details."
With pumped wheels for easy rolling and a black key lock for safety, this saddle box is the perfect travel companion to horse shows. There are two aluminium saddle holders, a sliding hanger for the bridles and halters, three deep drawers with spacious compartments for liquids and utensils, and there is a LED lamp with sensor which switches on in the dark.
"There is a big vertical mirror on the left door, framed in a luxurious way with the highest quality carbon," said Tyrkiel. "On the right door we put the hanger for the bridles and a special mesh organizer, in which you can put more items like cleaning cloths or personal belongings. The storing opportunities are endless." 
The bottom drawer fits a "warm-up box" with compartments for brushes and products, which can easily be taking straight to the warm-up, as well as fitted back into the drawer for secure travel. 
BM Horse Products Available for Order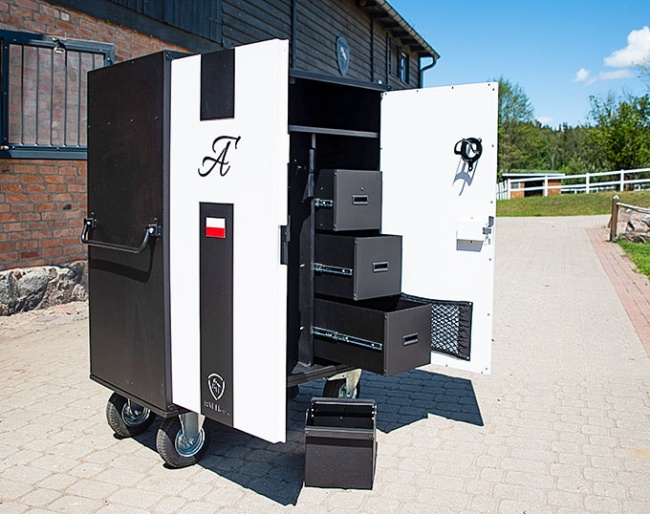 The Imperial Carbon saddle box is fully made of aluminium and weights 65 kg.  
"The saddle box is made of aluminium to make it as light as possible," Tyrkiel explained, adding "it's also super strong, because we have managed to strengthen it with a double layer of material on the door.  The low weight makes the transport of these saddle boxes convenient and trouble-free."
The Imperial Carbon saddle box and all other BM Horse products can be viewed in detail on the official website at www.bmhorse.com
For more information, reach out directly at: