Hof Kasselmann Hybrid Auction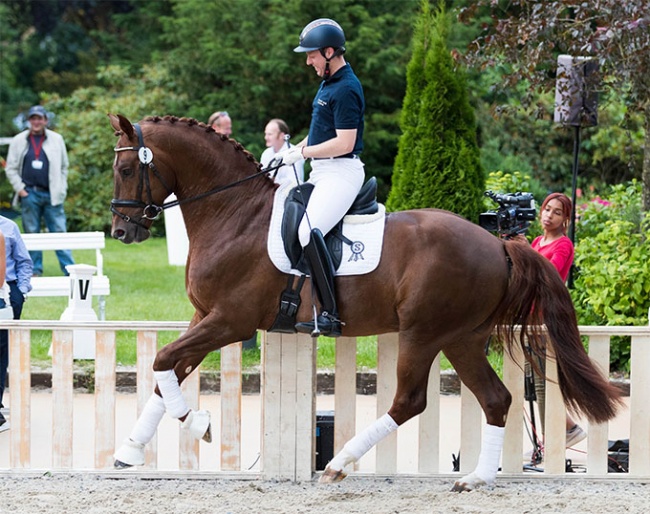 Twenty young dressage and jumping horses, bred and produced by Hof Kasselmann and Stable Paul Schockemöhle, were auctioned on Friday evening 17 June in the 2022 Hof Kasselmann & Schockemöhle Hybrid Auction in the gardens of Hof Kasselmann in Hagen.
Jumper Price Highlight 
Future hopes for the dressage arena as well as for the showjumping ring were among the auction candidates. The most expensive lot was Carepetit PS  (by Chac Boy), who was deemed worthy of 285,000 euro to his new owners. The half-brother of the already over 1.50m successful Chaccare and the 1.45m experienced horses Lintina and Chafleur was practically born to jump.
Offspring by Chac Boy was highly coveted as Chactazio PS attracted the attention of several buyers, who fought for the winning bid until the very end. In the end, the young Chac Boy stallion was knocked down to Denmark for 225,000 euro.
Dressage Bred Valerioll, Second Best Seller
The most popular dressage offspring was a son of breeding stallion Vitalis, who was so successful under Isabel Freese. With catalogue number 9, Valerioll was the second horse to enter the auction floor in the idyllic garden arena of the Kasselmann family. The close relationship to the Nürnberger Burg-Pokal winner and Junior European Champion QC Flamboyant OLD suggests a promising future for Valerioll. He sold for 267,000 euro to Great Britain.
Paul Schockemöhle was pleased to see the success and the idea of his breeding confirmed: "Many horses come from very proven lines and that is how we want to continue."
International Interest
Of the 20 young horses sold, some will start their journey abroad: Customers from the USA, Denmark, Sweden, Portugal, Switzerland, the Netherlands or Korea invested in the high-quality collection.
In total, the Hybrid Auction, which was held during the Youth Nations Cup tournament Future Champions, achieved a turnover of 2,456,000.00 Euros. The international clientele had to spend 1,252,000.00 Euros for the ten dressage horses sold, the ten jumpers were worth a total of 1,204,000.00 Euros to their buyers.
Hybrid Auction at Future Champions
The warm summer weather attracted a large number of interested buyers to the garden of the Kasselmann family, where guests could enjoy the famous hospitality of the owners. Ullrich Kasselmann was very satisfied with the result:  "The Future Champions event means that we have the customers on site who are looking for horses and we wanted to take advantage of that. The atmosphere we created here was really unique. That we were still able to show our three-year-old dressage horses under saddle is extraordinary."