Black Horses Auction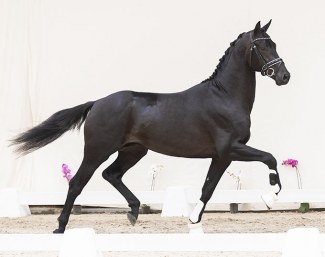 While Everdale is performing at the Olympics in Tokyo, his son Noir BH sold as price highlight in the 2021 Black Horses Auction for no less than 161,000 euros.
The 3-year-old stallion is bred out of the famous Landsvrouwe line and was sold to a Belgian investor. 
"It went super," said Black Horses owner Jan Vink. "We had a lot of foreign interest, but also a number of Dutch buyers. It were two exciting evenings", Vink refers to the dressage- and jumping auction on Friday 23 and Saturday 24 July. The Black Horses auction horses will leave for Germany, Belgium, Slovakia, Poland, France, the United States and Iran, and some will stay in the Netherlands.
Buyers from the highest level
The buyers consisted of private persons, dealers, but also top riders. In the dressage horses, a horse went to one of the Netherlands' best dressage riders and in the showjumping auction, one even went to a German Olympic and World champion. "It is always nice when you receive interest from top riders and especially when they also buy a number of horses," stated auction organiser Peter van der Waaij.
Everdale stallion for 161,000 euro
The Everdale x Vivaldi stallion Noir BH was the top-seller on Friday evening for 161,000 euros.
The majority of the dressage horses were sold between 10,000 and 30,000 euros with an average price of around 20,000 euros.
For example, 31,000 euros were paid for the 5-year-old Forty daughter Lolita BH - the half-sister of Zuidenwind. And for her sister Nouvelle BH (by Gribaldi) 16,000 euros were paid. The Damon Hill son Nesto BH, bred out of the Small Tour mare Dendy, went for 15,000 euros.
Related Links
2021 Black Horses Auction: Biddings on Dressage Horses are Open!
Black Horses Auction - Dressage Collection in the Spotlight ft. Gribaldi, Damon Hill, Indian Rock and Many More
2021 Black Horses Auction: 49 dressage and show Jumping Horses to be Auctioned
Black Horses Sells Dressage Stock in Online Auction, Endy Top Seller