Reproduction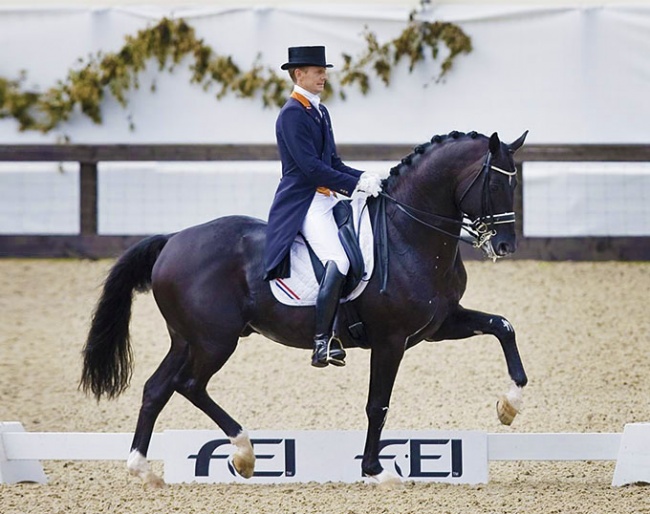 The Dutch equine reproduction center Holstud announces that there is still a certain amount of semen available of the superb stallion Totilas, who passed away untimely on 14 December 2020.
Totilas lives on in his offspring. The legendary black stallion has proven his worth as a breeding stallion with numerous of his offspring now reaching Grand Prix level. His son Total Hope won the 2019 Nurnberger Burgpokal for Developing Prix St Georges horses in Germany. 
Totilas has sired numerous licensed sons - Toto Jr, Tolegro, Total U.S., Total Hope, Top Gear, Governor, Trafalgar, Topas, King Karim, Konig, Gaudi SSF, Timolin, Mansion, Total McLaren, and many more - and therefore makes a valuable choice as sire for your mare
Frozen Semen at Holstud
In 2010, when this black pearl conquered the World Equestrian Games in Kentucky, a considerable amount of Totilas' semen was collected at Holstud in The Netherlands.
This frozen semen is of the highest quality, as shown in 2011 when more than 90% of the mares who were bred to Totilas produced healthy foal(s).
"The collection during that time frame was quite simple due to the fact that Holstud and Totilas were stationed at the same location," said Holstud's Jorgen van der Holst. "From the moment of the collection until the present day this Totilas semen has always been under the careful supervision of Holstud."
Research has shown that the sperm from 2010 is still of pristine quality.
Breed to Totilas in 2021
After further evaluation of the situation and because of the high value of Totilas' semen, the owner and Holstud have made the decision that the semen will only be available through the ICSI fertilization process.
This week, the terms and conditions as well as the price,will be disclosed.
All information will be provided by Holstud
Holstud
KI Station in Lunteren
Mare base is in Nijkerk
The Netherlands
Tel: +31 6 54 30 36 39
E-mail:  info@holstud.nl