2018 CDI Wellington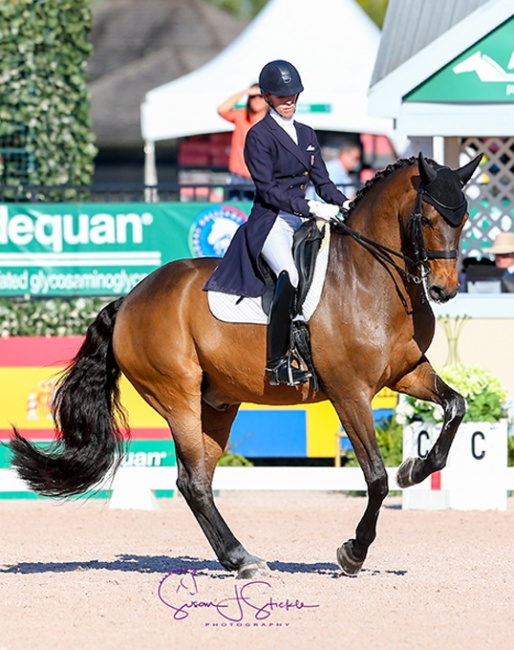 In both CDI4* grand prix classes of the day, it was the last horse who took home the winning sash and rug. Olivia LaGoy-Weltz (USA) was the beneficiary in the Grand Prix for Kur 4* putting an unassailable 73.783% on the score board, while Canadian Brittany Fraser won the Grand Prix for Special 4* with 71.957%. In the two Grand Prix 3* classes Beatrice Marienau and Tinne Vilhelmson-Silfven topped the board. 
Week 10 of the 2018 Global Dressage Festival at Palm Beach International Equestrian Center in Wellington, Florida, began on 14 March 2018.
Olivia LaGoy-Weltz and the 14-year-old Lonoir cruise to victory with a mistake-free ride in the Grand Prix for Kur 4* and will now contest the Friday night freestyle under lights. LaGoy-Weltz and her own Lonoir, a 14-year-old Danish warmblood gelding by Le Noir, have won four of their last five CDI starts — interrupted only by Adrienne Lyle (USA) on Salvino.
"We managed to get everything in that test," said LaGoy-Weltz, who is based in Virginia, referring to mistakes made in previous tests this season. "It seems like it's been a case of if we get one thing, then something else goes away. There's still stuff that can be better; he can pirouette for an eight in training, for example, but in there he was anticipating them and making them a hair too small. But I was super happy with his rideability and relaxation today.Watch the winning test here!"
"In Wellington, I keep him over at Oded Shimoni's place and go to Debbie McDonald's for lessons," she explained. "If I'm riding at Oded's then either he or Robert [Dover] is keeping an eye on me, so the past few weeks I haven't been allowed to get off the straight and narrow."
LaGoy-Weltz's ultimate aim for the season is the FEI World Equestrian Games (WEG) in Tryon, North Carolina, in the fall, and she is conscious of peaking at the right time."There's still a lot to improve, but we're stepping in the right direction and things are becoming a little less exciting than they were in the first two shows," she added. "It's really crucial to try to make sure your curve goes up and up to that spot and it's quite a few months that we're working over; starting here and wanting to continue to make things better. We're heading in the right direction — even though there is a bit more homework to do."
The all-American, all-female top three featured Arlene 'Tuny' Page, whose 70% on Woodstock, a dainty 15-year-old by Havel, was good enough for second. Katherine Bateson-Chandler was a whisker under 70% in third, finishing on 69.696% with her own Contango gelding Alcazar after she took an uncharacteristic wrong turn.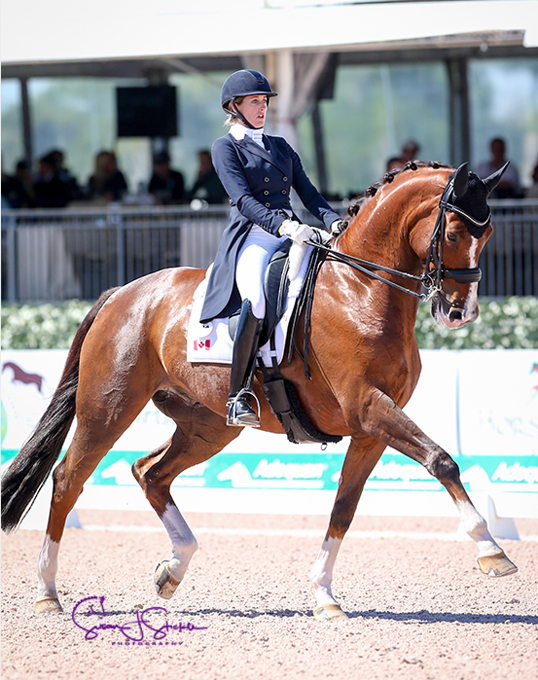 From last draw of 11 starters in the Grand Prix for Special 4* Canada's Brittany Fraser's 71.957% — a personal best in the grand prix test for her and the 13-year-old All In — was enough to grab victory by 0.1% from Shelly Francis (USA) and Danilo, who had led the class from the outset. Fraser's trainer Ashley Holzer — a four-time Canadian Olympian who now rides for the United States — finished third on Havanna 145 (70.783%).
"That was awesome," enthused Fraser. "I had a really good feeling coming up to this show — we were working on getting the piaffe a little more confirmed — and every time I sent him forward, he came right back to me. He was really on my aids and it was the first time we've won a grand prix. On the last center line he was right there for me; I aided and he did it. It's his third year at grand prix and I feel he finally knows his job and feels more confident in what he's doing. I'm so happy!"
Fraser bought the horse as a five-year-old from the Equine Elite Auction in the Netherlands, after riding him "for 10 minutes". Even then, the big-gaited horse had immense power.
"At five he was already huge, but awesome, and felt like a rocket ship taking off," recalled the 29-year-old, who was logging her first win of the season on the Tango gelding. "I started at first level with him and worked my way up. He's been an amazing horse for me and I'm so thankful."
Fraser has been based in New York with Holzer for the past five years, but in September 2017 she and her husband Marc-Andre Beaulieu bought a house in Montreal.
"I'm married now and thought that I need to start my own business and do my own thing, and took All In there for a rest in the fall after competing in Europe last year," she said. "Then I came down to Wellington to train with Ashley in December. But because Ashley has half the grand prix horses in all these classes, Jacquie Brooks has been amazing to step up and help me. We all work together and it's an amazing, supportive team. That's how you make it."
She has not decided yet whether to compete on the European circuit in the summer of 2018, and it is not mandatory for Canadian riders wishing to put themselves forward for selection for WEG in September. The pair's next stops include the Tryon CDI in April and Ottawa CDI in May.
Vilhelmson and Marienau In Charge at 3* Level
Sweden's Tinne Vilhelmson-Silfven brought Benetton Dream FRH back into the international arena for the first time in over a year and won the Grand Prix CDI3* (for special) with 71.522%. She and Lovsta Stuteri's stallion held the lead from first draw at 8am, just 30 minutes after the sunrise in South Florida, thanks to the recent change in the clocks for daylight savings.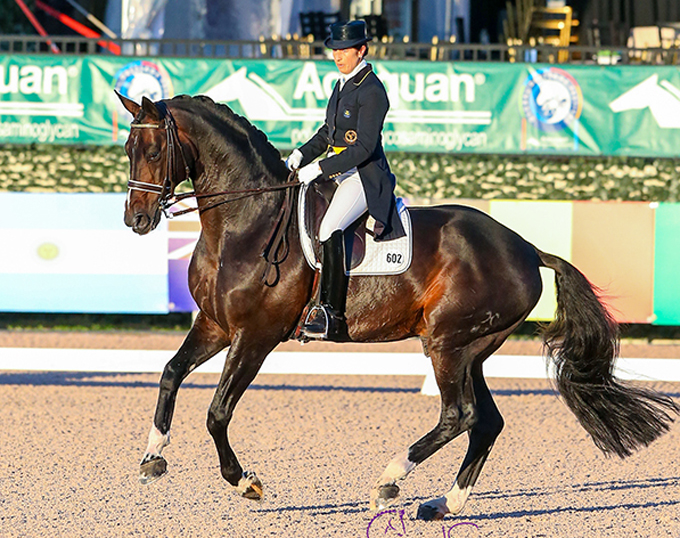 Despite a year off due to injury, this was the Brentano II son's second highest score in the grand prix test, and his first international win since his hugely successful young horse class days. This is the 14-year-old's fourth year in a row contesting the big tour classes at the GDF in Wellington.
Megan Lane (CAN) and her own 17-year-old Caravella came closest to beating Vilhelmson-Silfven — and was even trending higher at some points in the test — but had to settle for second place with 71% after a break to canter on the final center line. Third place went to the USA's Adrienne Lyle, who was riding Elizabeth 'Betsy' Juliano's 11-year-old mare Horizon at international grand prix for the first time. The pair scored 70.109%.
It was another all-American podium in the FEI Grand Prix I3* ( for freestyle), with Beatrice Marienau and her own Stefano , by Gribaldi, taking the spoils with 68.174%. Stefano was the equal oldest horse in the class, at 19, and he has been competing at international grand prix since 2010. Bianca Tota filled second on her own Cadento V (66.804%) in the horse's third ever FEI test, and first-drawn James Koford was third on Sherry Koella's striking colored Friesian sport horse mare, Adiah HP (65.804%).
GDF press release by Alice Collins - Photos © Sue Stickle
Related Link
Scores 2018 CDI Wellington