Eurodressage Market - TV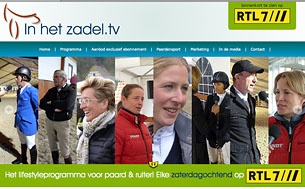 Horse loving Netherlands will be happy with a new morning show about horses called "In Het Zadel" to be broadcast every week on RTL7, starting 29 July 2013. The tv-show will be hosted by Manon Thomas.
Attention will be paid to high performance horse sport in Europe and interviews with big names such as Isabell Werth, Gerco Schröder, Albert Zoer, Laura Kraut, Nadine Capellmann and Michael Whitaker have already been taped.
InHetzadel.TV follows horse sport lovers and provides remarkable stories. The program pays special attention to trends, equine legal cases and horse science. The equestrian rider and horse lover will be treated to master classes, reflections and analysis, all on an international level. The In Het Zadel-camera team has already filmed in several countries to offer an international view on the sport.
The tv-show starts running on 29 June 2013 each Saturday morning between 07.30 and 08.00 uur on RTL7.
The program will be supported by a weekly print magazine 'InHetZadel' published as of 1 July 2013. According to the makers of In Het Zadel, the joint effort between the tv-show and print magazine will provide a very special visual show.
In Het Zadel is produced by EJBN and Orange Bag media, known for its many tv-productions on car sports for the Dutch TV-channel RTL5.
If you have any questions or wish to get some more information, please don't hesitate to call Eric, +31-651271231 or mail to info@ejbn.nl.
For more information, visit www.inhetzadel.tv