Germany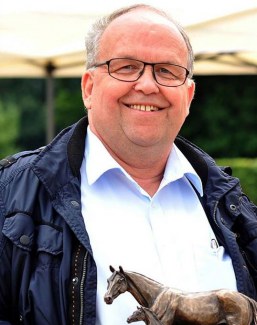 Swiss Urs Schweizer has taken up a second job as breeding consultant at Gut Neuenhof alongside his job as ceo at Gestut Nymphenburg.
After having been managing director of the Wespe family's Dressage Performance Centre Lodbergen for eight years, Schweizer left Lodbergen to focus on his own, small private breeding yard Kabayo. 
On 1 September 2018, Schweizer started working as chief executive officer at Helmut von Firkcs' Gestut Nymphenburg. As Nymphenburg will not be standing any stallions in 2019, Schweizer was able to go for a second job.
He has now joined the Schürner couple's Gut Neuenhof (home to Escolar) and will assist stud manager Volker Hagemeister as a breeding and marketing consultant. 
"Helmut von Fircks has closed his stallion station for 2019, so I have no conflict of interest for Stud Gut Neuenhof and his stallions to do the breeding advice," Schweizer told Eurodressage. "In both studs, I work as a freelance employee in the form of a consulting mandate - so it will not be a problem to get both jobs under one hat and I'm looking forward to my new job at Gestüt Gut Neuenhof."
Related Links
Urs Schweizer Becomes Chief Executive Officer of Gestut Nymphenburg
Schweizer to Hand Over Management of Dressage Performance Centre Lodbergen