Auction News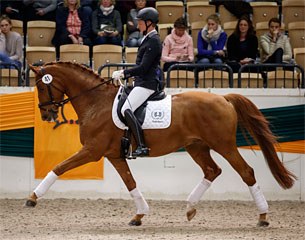 The formerly licensed stallion and now gelding Tudor became the top seller of the Trakehner auction of sport horses and non licensed stallions held during the 2017 Trakehner Stallion Licensing days in Neumunster, Germany, on 22 October 2017.
Hendrik Schulze Rueckamp auctioned off the Trakehner sport horses for the first time this year. He substituted for Uwe Heckmann, who had fallen ill.
The now 6-year old gelding Tudor (by Iskander x Sixtus), who is bred by the Gellhaar family and acquired by Gut Staffelde as a foal for 15,500 euro in 2011, sold for 80,000 euro to Berlin.
The second most expensive horse was Massimiliana, bred and owned by Roselind Seewald, Geldern. She was secured by clients from Schleswig-Holstein for 60,000 euro.
Just eight riding horses were auctioned and they achieved an average price of 34,562 euro.
In the auction for non-licensed stallions Luise Bredemeier's 2.5 year old colt High Dream (by Saint Cyr x Summertime) was the top seller of the non-licensed stallions. The full brother of High Motion, the 2014 Trakehner Reserve Licensing Champion, sold for 23,000 euro.
Buyers paid an average price of 14,400 euro for the unapproved stallions.
Photo © Stefan Lafrentz
Related Links
Tudor, Top Selling Foal at 2011 Trakehner Foal Auction in Hanover
Trakehner Sire Kentucky Moves to Gestut Staffelde
His Moment Proclaimed Champion of the 2016 Trakehner Stallion Licensing
Iskander Passed Away