Germany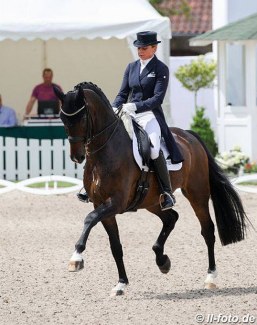 At the 2019 German Dressage Championships in Balve, Germany, Dorothee Schneider was bestowed with the title of Riding Master. She is the 35th German dressage rider that has received this prestigious title based on her lifetime achievements as a rider and trainer. 
The 50-year old Framersheim based rider received the title from the a commission of members from the German Professional Riders Association (BBR) and the German Equestrian Federation. 
This year two more riders got the title: Wolfram Wittig and Jochen Vetters. 
Dr. Harold Hohman, vice chair of the German Equestrian Federation and president of the Hessian equestrian federation, honored Schneider in a short ceremony in Balve. 
Dorothee was trained by her father, professional rider Hans-Eberhard. At the beginning of her career she mainly rode Trakehners and her debut in Grand Prix sport was on the halfblood Van Deyk. She won the Bundeschampionate on Kaiserkult and took him to Grand Prix. Although trained as a professional banker, Schneider focused on her riding. She has been a long-time member of the German team at the European Championships, World Equestrian Games and Olympic Games.
Source: St. Georg - Photo © LL-foto
Related Links
Jochen Vetters Named Riding Master
Wolfram Wittig Bestowed with "Riding Master" Title
Ingrid Klimke Receives Riding Master Title
Hubertus Schmidt Honored as "Riding Master"
Klaus Balkenhol Proclaimed Riding Master
Gertrud Knopfhart Passed Away