Denmark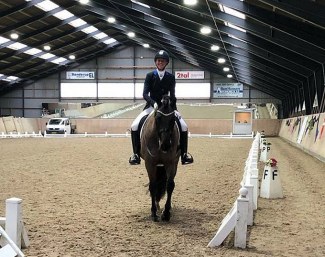 Agnete Kirk Thinggaard's announced shift in focus from her Grand Prix horse Jojo AZ to Atterupgaards Orthilia has been short lived. Jojo made his return to the show ring at the national show in Hedensted.
In June 2018 Thinggaard announced that her now 16-year old Hungarian sport horse Jojo AZ (by Ginus x Justboy) would become the schoolmaster for her husband Claus Thinggaard, but she added at the time that it was not "a permanent retirement from international competition".
The Danish Olympian had decided to shift the main focus on her now 14-year old Oldenburg mare Atterupgaards Orthilia, who missed out on 2018 WEG team consideration as she was still recovering and in the build-up phase of training after an injury. Agnete and Orthilia's last start was in the Grand Prix at the CDI Herning on 20 October 2018.
Agnete has not yet competed internationally in 2019, but she has ridden at two national shows. In January she rode her rising stars Edelman and Blue Hors Zatchmo in Esbjerg and last weekend, on 9 and 10 February 2019, she saddled Jojo for the Grand Prix at the CDN Hedensted and won the class with 73.3%. 
"I have gained very little Grand Prix experience during 2018 and I felt that I needed to go out and be "on the stage" again," Agnete told Eurodressage. "Jojo is fit, healthy and happy - ready to work - so I decided to do a few shows with him again. I love riding him, he is my very best friend and I missed him a bit."
When Eurodressage asked if her husband won't be upset he lost his schoolmaster, Agnete joked, "my husband will get him back, when I am done. Now it just feels right for me to do it. And then we will see what happens."
The Hedensted Grand Prix featured some big name Danish riders with Anna Kasprzak coming in second on Rock Star (72.200%) and Marianne Helgstrand riding Emile Faurie's 2017 British European Championship team horse Lollipop to a third place (71.300%). Kasprzak was fourth on Quarton (70.567%) and Nanna Skodborg Merrald rode Allan Gron's former GP schoolmaster Wasabi to a fifth place (69.067%).
Related Links
Thinggaard's JoJo AZ Slows Down a Gear, to Become Schoolmaster
Thinggaard Pullls Orthilia Out of 2018 WEG Team Contention
Fiona Bigwood's Atterupgaards Orthilia Sold to Agnete Kirk Thinggaard