2018 French Young Pony Championships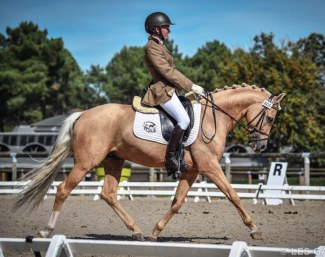 The 4-year old Mr Miagai S, the 5-year old Darkonlight Tartifume, and the 6-year old Hesselteich's Domino became the winners of the 2018 French Young Pony Championships held in Saumur, France, on 7 - 9 September 2018.
Ten ponies contested the 4-year old championship and Margot Frattinger steered the German bred palomino Mr Miagi S (by FS Mr Right x Don William) to the title with a 76% in the preliminary round and 78% in the finals. The pair had Maria Wack on the French bred Ehrentusch Fast (by Under Cover Fast x Soliman de Hus) right on their heels. They got silver with 75.8% and 77.2%. Dorothee Benedet and the French bred Edelweiss Vici (by Quoutsou x Machno Carwyn) earned bronze with a 73.6% score in both rounds.
The 5-year old division was the biggest one of the Championship with 16 participating combinations. Charlotte Daval steered the French bred Darkonlight Tartifume (by Conteuyr x Dubbel LL's Swifty) to the title after scoring 78.4% and 77.2%. Jill Sihalathavong and Dragon Ball de Mel (by Aron NSL x Kiss Me de Villee) finished with silver after posting 80.9% and 72.1%, while FEI pony rider Lou Morali rode the German riding pony Dollar FD (by Champion de Luxe x Vazy du Viertot) to bronze with 75% and 75.4%.
Floriane Peligrain and the German bred Hesselteich's Domino (by Donnerwetter x Lucky Lao) bested the field in the 6-year old division. The pair earned the gold medal with 75.4% and 81.8%. The same rider also grabbed the silver on the German Riding Pony stallion Hesselteich's American Pi (by A Gorgeous x Donnerblitz). This palomino pony got 75% and 74.2% for second place overall. Veronique Brasiles and the AES registered Copyright Le Courtal (by Hilkens Black Delight x Boss) scored bronze with 76.4% and 71.6%. 
Results - 2018 French Young Pony Championships
4-year olds
1 MR MIAGI S (by FS Mr Right x Don William) - Margot FRATTINGER - 76.0 % 78.0 % --- 77.0
2 EHRENTUSCH FAST (by Under Cover Fas x Soliman de Hus) - Marie WACK - 75.8 % 77.2 %---  76.5
3 EDELWEISS VICI (by Quoutsou x Machno Carwyn) - Dorothee BENEDET - 73.6 % 73.6 % --- 73.6
4 ENVOYE SPECIAL DU LUY (by Quoutsou x  Thunder de Blin) - Olivia RENARD - 70.8 % 76.2 % --- 73.5
5 EXTRAZIA DE CAUX (by Agility de Caux xRatzia D'Ihia) - Celine SALLES - 72.6 % 71.8 % --- 72.2
6 EADWELLE D'ARENGUE  (by Under Cover Fast x Oufkir) - Emmanuelle PLEE - 73.2 % 69.4 % --- 71.3
7 EPONA D'HEOLAN (by Cathael Caradog x Coednewydd Black Magic)  - Maud POULIN - 71.2 % 71.2 % --- 71.2
8 EOL ISTAR (by Rockenrol Gevaudan x Helios Love de Ce) - Katell JEZEQUEL - 70.7 % 68.6 % --- 69.7
9 EWOKS DU FIEF (by Quintus d'O9 x Dyffrynaled Gari Tryfan) - Laura COLINOT - 69.4 % 67.4 % --- 68.4
10 SIDNEY DU FEUILLARD (by Hilkens Black Delight x FS Champion de Luxe) - Maud FUSCO - 66.8 % 65.0 % --- 65.9
5-year olds (top 10 only)
1 DARKONLIGHT TARTIFUME (by Conteur x Dubbel LL's Swifty) - Charlotte DAVAL - 78.4 % 77.2 % --- 77.8
2 DRAGON BALL DE MEL (by Aron x Kiss Me de Villee) - Jill SIHALATHAVONG - 80.0 % 72.1 % ---  76.1
3 DOLLAR FD (by Champion de Luxe x Vazy du Viertot) - Lou MORALI - 75.0 % 75.4 % ---  75.2
4 DAKOTA DES RENERIES (by Zomerdijk's Wieroch x Mercredi de Mars) - Orianne AUBERGER - 76.8 % 72.2 % --- 74.5
5 DEDICACE LE COURTAL (by Hilkens Black Delight x Boss) -  Ombeline GROSSE - 73.2 % 74.2 % --- 73.7
6 DRUIDE D'HEOLAN  (by Cathael Caradog x Coednewydd Black Magic) - Maud POULIN 7- 3.2 % 72.4 % --- 72.8
7 CHOCOCCINO DU HANS (by Champion de Luxe x Domingo) - Joelle PAGANI - 72.4 % 73.0 % --- 72.7
8 DADDY COOL MILLE (by Mon Nantano de Florys x Kooihuster Teake it Easy) - Emmanuelle PLEE - 71.0 % 72.2 % ---  71.6
9 CHEYENNE (by Champion de Luxe x Nanduc) - Marie VARIN - 71.2 % 72.0 % ---  71.6
10 DESIRE DE THOUARE (by Forban Pondy x Passing Sale) - Sarah LEGRAS - 69.8 % 71.4 % --- 70.6
6-year olds
1 HESSELTEICHS DOMINO (by Donnerwetter x Lucky Lao) - Floriane PELIGRAIN - 75.4 % 81.8 % ---  78.6
2 HESSELTEICHS AMERICAN PI (by A Gorgeous x Donnerblitz) - Floriane PELIGRAIN - 75.0 % 74.2 % ---  74.6
3 COPYRIGHT LE COURTAL (by Hilkens Black Delight x Boss) - Veronique BRASILES - 76.4 % 71.6 % ---  74.0
4 CREME ET OR D'HERBORD (by Flatteur x Derbino) - Ariane ALAZARD - 71.6 % 73.4 % --- 72.5
5 DUNIA (by Djbouti x Priory Prickle) - Alice DELRIEU - 66.6 % 68.2 % --- 67.4
6 PAV EARLY SHIRLY (by Strahlemann x Nico the Champ) - Cecile PIZZERA - 68.6 % 65.4 % --- 67.0
7 CHARMEUR DE THOUARE (by Forban Pondy x Bogdan de Nautiac) - Romain OLIVIERO - 63.6 % 61.4 % --- 62.5
Related Links
Delyr des Bourdons, Chtromae Linaro, Beltmeyer Linaro Win 2017 French Young Pony Championships
Orchard NL, Nobless Vaness, Dirla Win 2016 French Young Pony Championships
Scores: 2004 French Young Dressage Pony Championships