2018 Polish Dressage Championships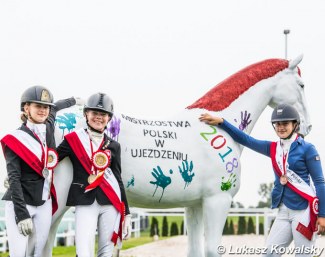 Children rider Tatiana Bierieznow, junior rider Alicja Pachulska, young rider Aleksandra Lesner, and Grand Prix rider Katarzyna Milczarek were the winners of the 2018 Polish Dressage Championships held in Radzionkow, Poland, on 30 August - 2 September 2018. 
The Polish Championships were hosted at Cichon Dressage and took place at the same time as the CDI Radzionkow. The Pony championships were held before the summer and there was no Under 25 division this year.
Six combinations competed in the children's category for 12 to 14 year olds and Tatiana Bierieżnow took the highest step on the podium for the title. Aboard Romantica she won all three rounds with 68.539%%, 67.308%, and 68.500% to place far ahead of the competition with a total of  204 347%. The silver medal went to Maja Baranowska on Samurai (196 478%), while Valeria Chabotar and Scipio got bronze with 194,115%.
Eleven junior riders gathered in Radzionkow for the Nationals and three Polish team riders that competed at the 2018 European Junior Riders Championships covered the podium. Alicja Pachulska and her 9-year old Oldenburg bred Bentamo took highest honour after scoring 67.364%, 69.206%, and 71.885% to total 208.455 points. She had Małgorzata Kowalska and the 13-year old Rhinelander bred Raikano's Son (by Raikano x Werther) right on her heels with 207.518 points, while Julia Rogowska and her 14-year old Hanoverian gelding Da Capo (by De Niro x Caprimond) got bronze with 199.786 points.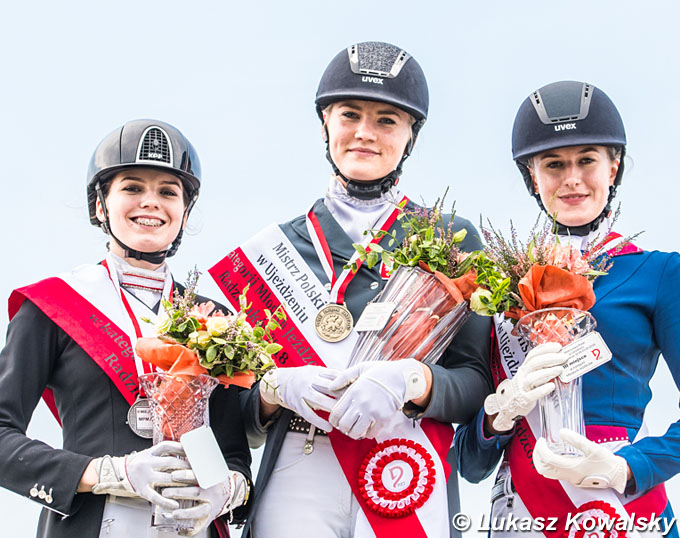 Twelve young riders competed against each other for the title and it were three routiniers on the podium.  Aleksandra Lesner and her 8-year old Dutch warmblood Force bested the field with scores of 68.412%,  69.000%, and 67.890%. She totaled    205.302% points and stayed little over one percentage point ahead of Michalina Terlecka and her 8-year old Hanoverian mare Suleyken (203.399 pts). Zuzanna Haber  and the 9-year old Hanoverian gelding Don Crusoe (by Don Crusador x Favretto) got bronze with 199.263 points.
At Grand Prix level the German based Katarzyna Milczarek and her 12-year old Oldenburg stallion Dżeko (by Dimaggio x Continue) were a league of their owner and won all three rounds. They posted 68.630%, 70.717%, and 74.100% on the board to finish on a total of 213.447 points for gold. This was Milczarek's 23rd Polish national title in her career! Rishat Sabitov and the 13-year old Polish bred Azzaro (by Rubin x Montevideo) were good for silver with 199.064 points, while show host Mateusz Cichoń, who trains with Andreas Helgstrand, scored the bronze medal with 198.825 points. Cichon competed two horses in the Grand Prix Championship: the 16-year old Swiss bred Darlings Dream (by Day Dream x Acapulco) and the 11-year old Hanoverian bred Herzregent (by Hotline x Alabaster).
Photos © Lukasz Kowalski - PHOTO GALLERY at the bottom of this page
Results - 2018 Polish Dressage Championships 
Children Riders
1. Tatiana Bierieżnow - Romantica - 68.539%   - 67.308%   - 68.500% ---   204 347%
2. Maja Baranowska - Samurai  -  68.923%-    63.269% -   64.286%  ---      196 478%
3. Valeria Chabotar - Scipio -   67.346% -   64.269%  -  62.500%   ---    194 115%
4. Helena Kozłowska - Emol -   67.692% -  64.000%  -  61.107%   ---    192 799%
5. Aleksandra Błachno - Deisi -   64.423%  -  63.654%  -  62.143%   ---    190 220%
6. Nadia Paszylk - Winterkoning -   61.885% -   63.385%  -  61.893%  ---      187 163%
Junior Riders
1. Alicja Pachulska - Bentamo -  67.364% - 69.206% -  71.885% ---   208.455%
2. Małgorzata Kowalska -  Raikano's Son  - 66.424% -  69.029%  - 72.065% ---   207.518%
3. Julia Rogowska -  Da Capo - 64.454% - 65.147% - 70.185% ---   199.786%
4. Julia Szymańska - AllYouNeedlz Firfod  - 64.515%-  65.118% - 64.685% ---   194.318%
5. Weronika Frąckowiak -  Nobius  - 62.152%  - 62.559% -  66.390% ---   191.101%
6. Kinga Paszkiewicz - Presja -  63.121% -  62.088%  - 65.190% ---   190.399%
7. Klara Woźnicka - Go Go Borneo  - 62.152%  - 62.471% -  63.625% ---   188.248%
8. Maja Jankowska  - Candy Boy - 57.606%  - 61.735% -  65.945% ---   185.286%
9. Natalia Sznigier - Dream Discovery  - 58.439%  - 60.147% -  63.350% ---   181.936%
10. Zofia Stachnik  - Mafia P  - 61.091%  - 59.117% -  x ---   120.208%
11. Maja Klich - Amaretto  - 57.576%  - 56.729% -  x ---   114.305%
Young Riders
1. Aleksandra Lesner - Force-  68.412% - 69.000% - 67.890% ---   205.302%
2. Michalina Terlecka - Suleyken - 67.500% - 65.059% - 70.840% ---   203.399%
3. Zuzanna Haber  -  Don Crusoe - 63.853% - 66.735%  - 68.675% ---   199.263%
4. Julia Moczak  - Dream Rubina - 65.765% -  66.353% - 65.145% ---   197.263%
5. Alicja Trawińska - Diego Ramirez - 65.294% -  61.765% -  66.395% ---   193.454%
6. Jagoda Dąbrowska- Attack With Me, Margot - 63.235%  - 63.353% -  66.535% ---   193.123%
7. Michał Cichoń  - Fuerstentraum -  64.265%  - 63.088% - 61.470% ---   188.823%
8. Urszula Krzewicka - Cherry Cola-  59.941%-  62.941%  - 64.740% ---   187.622%
9. Karolina Zawada - Laudani- 58.706%  - 60.235% - 61.145% ---   180.086%
10. Marcelina Woźny - Lanzelot - 63.882%  - 59.824% -  x ---   123.706%
11. Jadwiga Ptaszyńska  -  Vulcano Hippica - 59.500%  - 57.235% -  x ---   116.735%
12. Aleksandra Ordon - Don Glory - 55.147% - 59.853% x ---   115.000%
Grand Prix
1. Katarzyna Milczarek - Dżeko   - 68.630%   - 70.717%   - 74.100%  --- 213.447%
2. Rishat Sabitov - Azzaro -  64.326%  -  65.413% -   69.325%   --- 199.064%
3. Mateusz Cichoń - Darlings Dream, Herzregent -   63.978%  -  64.587% -   70.260% ---   198.825%
4. Tomasz Kowalski - Iglesias van het Bevrijdthof  -  63.413%  -  64.130% -   64.235%  ---  191.778%
5. Luiza Rutkowska - Supra    62.261%-   63.174% -   64.500%  ---  189.935%
6. Marcin Woldański - Ajanos-Star  -  59.348% -   60.326%  -  63.285%  ---  182.959%
7. Mirosław Betka - Adrenalin, Follow Me  -  62.435%  -  60.848% -   55.325% ---   178.608%
8. Klaudyna Pisarska - Rafaello PG  -  ELI   - 61.196% -   59.225%  ---  120.421%
9. Agnieszka Domagała - Don Kennedy  -  61.109% -   55.630%   - x ---   116.739%
10. Paula Mańczak - Williams Junior -   56.500%  -  57.783%-    x  ---  114.283%
11. Marta Ginda - Finest    - ELI -    56.239% -   x  ---  56.239%
Related Links
Cybula, Kowalska, Haber, Milczarek Win 2017 Polish Dressage Championships
Zofia Baran Wins 2017 Polish Pony Championships
Haber, Jasinski, Cichon, Szulc Win 2016 Polish Dressage Championships
Gawecki and Lukasik Win 2015 Polish Dressage Championships
Dysarz Wins her Fourth Polish Indoor Dressage Championship