Denmark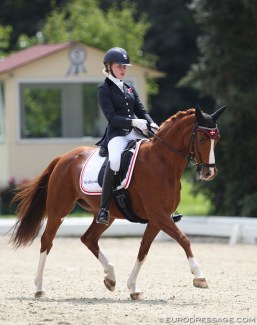 The Danish Equestrian Federation and team trainer Jette Nevermann Torup have selected the pony team that will represent Denmark at the 2018 Nordic Baltic Championships in Drammen, Norway on 28 June - 1 July 2018. 
Following the results achieved last weekend at the 2018 CDIO-P Hagen in Germany, Nevermann was able to draft her Nordic Baltic team as well as select the first three riders for the 2018 European Championship team. The fourth team rider for the Euros will be decided after Drammen. 
The Danish team for the Nordic Baltic includes:
Alexander Yde Helgstrand - Adriano B (reserve pony Claire)
Dagmar Sofie Oxlund - Campari W
Silke Andersen - Nyholts Dundee
Sophia Winther Andersen - Der Harlekin B
The reserve is  Mathilde Kalstrup Jensen on Cake Royal. 
Already sure of a spot on the Danish team for the 2018 European Pony Championships in Bishop Burton (UK) in August are:
Alexander Yde Helgstrand - Adriano B (res: Claire)
Frederikke Gram Jacobsen - Gee Gee
Maja Emilie Leth -  Goldfevers Hella Bella
The candidates for the fourth and reserve Euro team spot are Dagmar Sofie Oxlund (Campari W), Silke Andersen (Nyholts Dundee) and Sophia Winther Andersen (Der Harlekin B). The definite names will be announced after Drammen.
Photo © Astrid Appels
Related Links
Danish Youth Teams for 2018 Nordic Baltic Championships Selected
Finnish Youth Teams for 2018 Nordic Baltic Championships Announced
Swedish Youth Teams for 2018 Nordic Baltic Championships
Norwegian Teams for 2018 Nordic Baltic Championships Announced