Norway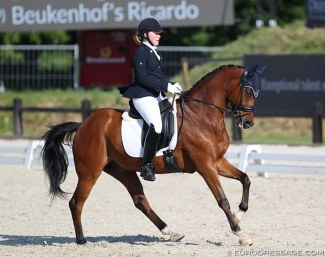 The Norwegian equestrian federation has announced the youth teams that will compete at the 2018 Nordic Baltic Championships held in Drammen, Norway, on 28 June - 1 July 2018. 
Norway will be fielding riders in all divisions: ponies category 1 and 2, children, junior and young riders. 
The Norwegian team riders are:
Ponies - cat 1
Emma Borchgrevink - Herikos Bredager
Alma Løvås-Sandvik - Gold Queen
Dina Ødegård-Martinsen - Beukenhof's Ricardo
Madelen Olsen - Schermeer's Hof Simba (reserve pony Reality)
The first reserve is Sarah Jordan Kraavik (Røgild's Boromir), the second reserve is Benedicte Eggers Staalesen (Mr Magic), the third reserve is Emma Spook-Fintl (Emely's Surprise). 
Ponies - Cat 2
Tone Mette Boye - Gjerdals Firefly
Ingeborg Cecilie Engebretsgård - Micis Napoleon
Pernille Grønneberg Poulsson - Enets Lucas
Mali Vigre Vølstad - Eponas Brenin Mathrafal
The reserve is Camilla Sveinar on Septun
Children
Emma Løkken - Katholm's Minot
Junior Riders
Kristiane Askim Hillern - Schnells Happy Birthday
Mathilde Merethe Klaesson - Sandbæks Rio-El 
Carmen Grønvold Johannessen - Don Chameur 
Anine Mørch Aas - Maserati
The first reserve is Siri Thelle Tønnesen (Bonifatius), the second reserve is Therese Bjerkan (Dejá-Vú) and the third reserve is Julia Hammer (Vimogårdens Ricca Donna).
Young Riders
Vilde Antonsen - Don Dino 
Marie Håland - Werdell 
Cathrine Oppegaard - Smedegaardens Lucia 
Malene Broholm Nielsen - Wik's Lewis
The reserve rider is Stine Olsen Lund (Ravell's Hexia)
Photo © Astrid Appels
Related Links
Danish Youth Teams for 2018 Nordic Baltic Championships Selected
Team Denmark In Charge at 2018 Nordic Baltic Championships for Grand Prix Riders