2018 CDI Kristiansand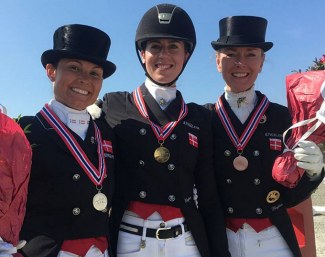 Team Denmark proved that they were in charge by winning all gold medals at the 2018 Nordic Baltic Championships for senior and Under 25 Grand Prix riders. The 2018 edition of the senior Nordic Baltic Championships was held at the 2018 CDI Kristiansand in the south of Norway on 10 - 13 May 2018. 
The senior team championship was contested over the Grand Prix and fifteen riders from four nations participated. Denmark led the way with 2017 World Cup finalist Mai Tofte Olesen and her 16-year old grey Danish warmblood Rustique (by Rubin x Midt West Ibi Light) as the class high scorers with 70.565%. Rikke Svene and Finckenstein (70.500 2nd) and Carina Cassoe Kruth on May Day Graftebjerg (69.370% 5th) contributed to that gold with a total of 210.435 points. The Swedish team landed silver with 206.283 points, while Norway got bronze with 195.218 points.  
In the individual competition, the Grand Prix Kur to Music counted for the medals and the podium was entirely Danish with the three highest scores only fractions apart from each other. Carina Cassoe Kruth and her own 15-year old Danish warmblood mare May Day Graftebjerg (by Dream of Heidelberg) grabbed the gold by winning the Kur with a 73.325% score. Carina's team mate Rikke Svane and the 16-year old Trakehner stallion Finckenstein (by Latimer x Kennedy) scored silver with 73.195%. Mai Tofte Olesen and Rustique finished with bronze on 73.085%
Denmark on Top in Under 25 Championship
The Under 25 team championship, which was contested over the Short Grand Prix, Denmark also reigned supreme. Only two countries, Denmark and Sweden, competed for team medals as host country Norway only fielded two combinations. 
The Danish charge was led by Victoria Vallentin on Andreas Helgstrand's 12-year old Oldenburg stallion Ludwig der Sonnenkonig (by ) with a winning score of 71.564%. Routinier Nanna Skodborg Merrald and the 9-year old Gorklintgaards Quantico (by Quaterback x Carpaccio) added a 69.564% and Michala Mejlgaard Jensen on her 15-year old Hanoverian gelding Trebiz contributed 67.308% to the team score of 208.436 points. The Swedish team earned silver with 199.872 points in total. Their leading rider was Nina Rademaekers on the 15-year old Oldenburg gelding Dorano (by Dormello x Silvio) with 67.667%.
For the individual Under 25 medals Vallentin was again wielding the axe of power on her big chestnut. She scored a winning 74.420% in the freestyle for the gold medal. Merrald and Quantico finished with silver on 72.985%. Swedish Nina Rademaekers disrupted the Danish whitewash and got bronze on Dorano after posting 71.330% on the leader board.
Photos © Casper Cassoe
Related Links
Scores 2018 CDI Kristiansand
Danish Teams for 2018 Nordic Baltic Championships Selected
Leth, Jespersen, Nilausen , Gulli, Ljungkvist, Telde Win Gold at 2017 Nordic Baltic Championships
Hyrm, Mejlgaard, Lyager, Andresen, Dolk, Darcourt Kur Gold at 2016 Nordic Baltic Championships
Golden Glory for Sorensen Sisters, Christensen, Dolk, Torup and Telde at the 2015 Nordic Baltic Championships
Anna Svanberg, Individual Swedish Rider, Wins 2014 Nordic Baltic Championships
Lena Leschly Amand Proud of her Perfect Match, Leads Denmark to 2013 Nordic Baltic Victory
Scores: 2012 Nordic Baltic Championships
Scores: 2011 Nordic Baltic Dressage Championships