2015 Nordic Baltic Championships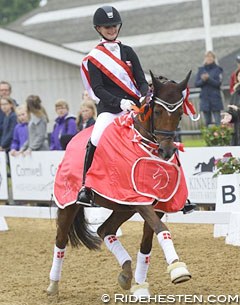 The smallest of Scandinavian countries famous for it pastries and sausage wagons played host to the 2015 Nordic Baltic Championships (NBC) on 24 - 28 June 2015. Denmark hosted the 2015 NBC in Aalborg and aside from the team competition where the host nation took the majority of medals, the Kur winners were declared the Individual Champion of each division.


The FEI pony division was divided into two categories based on the height of the ponies. Louise Christensen took gold in category one (D-ponies), winning the Kur with 77.875% on board her 12-year old Welsh stallion Vegelins Goya (byVerona's BO-GI x Leuns Veld's Gibby).
"Before the NBC I competed in Hagen and it went really well so I felt that Goya was ready to give all he had," Louise told Eurodressage. "He was in a very good mood and was ready to make a good performance. He listened to all my aids. Goya is really a rider's best friend; a real star, and 77,87% in the freestyle is not bad at all!"
According to Louise, her chestnut stallion Goya is very calm and not aware that he is a stallion. He has an extraordinary ability to learn and remember.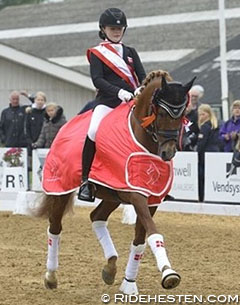 "He is unique," said Christensen. "It was a very special experience in Denmark and I was of course very happy. It was also great to win the team competition with Victoria Christine Hanssen, Sara Hyrm and Natalie Hering. We had a great team feeling. The weather was okay and Aalborg Riding center had made a great effort to make the NBC a success, and it really was!"
In the FEI pony level category two for smaller ponies another Dane took victory. Anne Sophie Sorensen and the 13-year old Jumanji (by Jacobspeel's Rocky x Lola) won the Kur with 73.073%
"It was so nice to win at the Nordic Baltic Champions. Gold medals are always very nice," said Anne. "My pony jumanji was cool as always and we enjoyed to ride in the arena."

Sorensen added that Jumanji always does his best and  is a pleasure to ride every day. "It's always great to win, but for me we did the best we could, we couldn't have done more than that, and it also brings a big smile to my face when the Danish national melody comes over the loud speaker," she explained. "The atmosphere was great and the weather too, Aalborg did a good job!"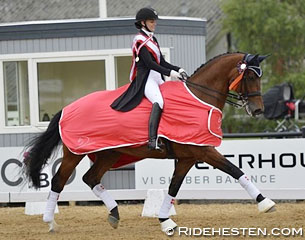 In the Junior division Swedish rider Lina Dolk claimed victory on Jouleen af Hogberget (by Biggles) with a kur score of 72.225%. Danish Young Rider Alexandra Sorensen and her 12-year old Danish warmblood Camiro Mandoe (by Future Cup) scored 75.375 to take the Young Rider kur gold medla.
In her first year as a young rider, Alexandra was particularly excited. "Camiro was so nice at the championships. He was in good shape, and it was a pleasure to ride him in Aalborg," she said. "This year is my first year as Young Rider, so it is still a bit difficult for me and my horse."
Not expecting at all to win the Championship, Alexandra was very surprised and of course very happy. "The atmosphere was very lovely, and we were lucky with the weather," she added.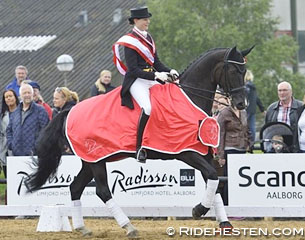 Under 25 Gold medalist from Denmark, Carina Nevermann Torup, said her 11-year old Lykkes de Niros (by De Noir x Sydney) has really developed this year. With a Kur score of  72.500%, she knows there is more to come.
"I had a really good competition in Aalborg and my horse just  keeps on getting better and better in the arena, said Carina. "He is a horse with a big personality and he loves to show off and be at competitions."
Carina has now won the championships four times on four different ponies/horses.
"It is also great that there is getting more and more focus on the U25 groupn" she explained. "Unfortunately it's my last year but it's a super introduction to Grand Prix."
In the senior division Swedish routinier team rider Minna Telde returned to the show ring after giving birth to her second baby. Aboard her number one Grand Prix horse Santana (by Sandro Hit) she scored a very tidy 78.975% to roundi off a stand out Nordic Baltic Championship for 2015 with individual gold.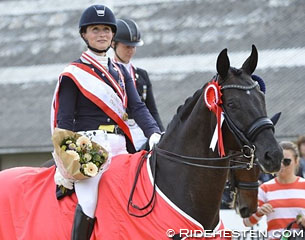 "I am so glad to be back in the saddle and in the arena again," Minna told Eurodressage. "The Nordic Baltic Camps were our first show back after our daughter was born two and a half months ago and it felt very good to go out and compete and also to achieve our best score to date in the Grand Prix and the Kür."
Minna said Santana was really happy to compete again as well and the black Oldenburg knows he was going for the gold himself.
"He gave me such a nice feeling in the test. He was so relaxed but still with all the power that he has," said Telde. "It felt so good to win and hear the Swedish National Anthem.  The biggest thanks to the whole team, without them this would not be possible.  We had a great weekend and saw many good tests. It's also amazing to see what the para dressage riders are able to do with their horses."
by Sarah Warne - Photos © Ridehesten
Related Links
Scores: 2015 Nordic Baltic Championships
Norwegian Teams Picked for 2015 Nordic Baltic Championships
Finnish Teams for 2015 Nordic Baltic Championships Announced
Danish Teams Picked for 2015 Nordic Baltic Championships
Aalborg to Host 2015 Nordic Baltic Championships