Germany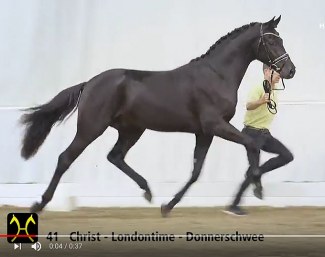 Diaconcello became the high scoring stallion at the 2018 Adelheidsdorf 14-day stallion performance test which took place on 6 - 19 April 2018. Costa Brava was the best scoring dressage bred stallion in the testing.
36 stallions participated in this suitability test and two of them dropped out. The group included a mixture of dressage and show jumping bred with the jumpers significantly standing out and scoring the highest overall marks.
For licensed stallions to retain their licensed status, stallions have to score at least 7.5 overall, or 8.0 or higher in either the dressage or the jumping phase. 
The five best scoring horses were all jumpers! The top scorer was Diaconcello (by Diacontinus) with 8.45 points. A Belgian warmblood bred colt by Royal Feu as well as a nameless Action Breaker colt both landed 8.35 points. A nameless Colestus colt scored 8.23, while the jumper Karat du Plessis (by Paddock du Plessis) finished on 8.20 points.
The best scoring dressage horse was Michele Widner del Pino's Hanoverian colt Costa Brava (by Christ x Londontime x Donnerschwee), who earned an 8.0 total with 8.06 for dressage and 7.78 for show jumping. The black colt was first named Christiano but due to a name conflict with a Holsteiner, he has been renamed Costa Brava. By Your Side (by Benicio) totaled 7.95 points. Van Primero (by Van Vivaldi x Stedinger x Don Primero) earned the highest dressage score of 8.59 points, but his overall was just 7.68 points after an unimpressive jumping phase (6.45). Furst Samarant (by For Romance x Fürst Nymphenburg x Samarant) earned an 8.58 dressage score, but overall he finished on 7.80 with a 6.88 jumper phase.
Several dressage stallions scraped by and only passed because their dressage mark was over 8.0 (while their overall was below 7.5 due to a poor jumping test!): Zonith (by Zonik), Maracana (by Millennium x Lord Loxley), Follow Him's Schönweide (by Follow Me), Zuckerberg (by Zack), and the KWPN bred Kingston JZ  (by Toto Jr x Turbo Magic), all made it thanks to their dressage score.
Three dressage trained colts failed the testing: Furst Aurich (by Finest), Don Riccione (by Damsey), Eulenspiegel (by Embassy II).
Related Links
Benefit, High Scorer of 2018 Schlieckau 14-Day Stallion Performance Test
Dia Corrado, Top Scorer of 2017 Adelheidsdorf 14-Day Suitability Test
Chapeau Ciaco, High Scorer of the 2017 Adelheidsdorf 14-Day Stallion Suitability Test