German Breeding News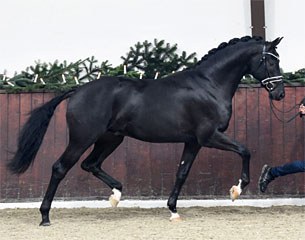 The show jumping bred Dia Corrado became the high scorer of the 14-Day Suitability test that took place in Adelheidsdorf, Germany, on 3 - 16 May 2017. A group of 33 colts participated in the testing, two dropped out.
Dia Corrado (by Don Diarado) was the high scoring horse in the lot with a total of 8.45 points. He scored 7.29 for dressage and 9.43 for show jumping. He got 9s for character, 6 for trot, 8 for canter and 7 for walk. With an 8 for rideability, a 10 for jumping in freedom and 8.25 from the test rider he finished on the high score. 
The best scoring dressage stallion overall was the Oldenburg bred Finest Selection (by Follow Me x Lauries Crusador xx x Donnerhall). He got an overall of 8.20 with 9.29 for dressage but a poor 6.65 for show jumping. The horse got 9s for character, 9.5 for trot, and 9 for canter and walk. The 5,5 for jumping in freedom pulled the score down significantly. The name of this colt is registered as "Finest Selektion" with the German FN.
Thiago (by Totilas) only barely scraped by. His overall was 7.35, which is too low to stay licensed, but his 8.08 dressage score saved him. Thiago got 6.10 for jumping. Also Daytona (by De Niro) made it thanks to his dressage score of 8.2, because his jumping mark was 5.68 and his overall just 7.25. The same counts for an Escolar offspring who got 7.35 overall, but 8.09 for dressage. Trakehner Kacyra (by Saint Cyr) made it by the skin of his teeth with his 7.50 overall.
Three dressage stallions failed the test as they did not score 7.5 overall, or higher than 8.0 in either dressage or show jumping: The 2014 born Oldenburg colt by San Amour x Furst Romancier x Cordial Medoc (6.55), the Hanoverian bred Furstino (by Furstenball x Rohdiamant x Ex Libris) with 6.45 points and the Westfalian Gordon Gekko (by Grey Flanell x Donnerhall x Rubinstein) with 6.73 points. 
Related Links
Karajan, Top Scorer at 2017 Schlieckau 14-day Stallion Suitability Test
Chapeau Ciaco, High Scorer of the 2017 Adelheidsdorf 14-Day Stallion Suitability Test
Crimetime GT Wins 2017 Marbach 14-Day Stallion Suitability Testing
Zoom, High Scorer of the 2017 Neustadt/Dosse 14-Day Stallion Suitability Test
German Stallion Performance Testing Undergoes Further Changes, Suitability Tests in 2017