New Zealand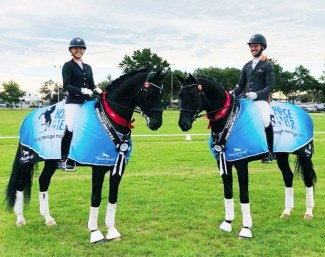 New Zealand Grand Prix rider and brand new 2018 HOYS title winner John Thompson disclosed some of his weddings plans, after getting engaged to his girlfriend, FEI dressage rider Holly Leach, in the summer of 2017.
At the press conference held at the end of the 2018 Horse of the Year Show in Hastings on 16 - 18 March 2018, Thompson hinted that the wedding might take place at Takapoto Estate, which recently held its inaugural show jumping competition and a WEG fundraiser. 
"They have very kindly offered, so it could be," Thompson told New Zealand equestrian journalist Jess Roberts. When asked if they have already set a date, he replies "well maybe January. I'll leave it at that before my family reads some article somewhere that i've got a wedding and they haven't been invited."
'It's very exciting and I'm very lucky to have Holly," John added.
The couple runs the dressage training business JHT Equine together and they are based in Gordonton, Waikato (NZL).
Photo © Libby Law
Related Links
Thompson Wins 2018 New Zealand Horse of the Year Show
Fanfare MH, Aroha MH, HP Fresco Win 2018 New Zealand Young Horse Championships
Stoneylea Welt Princess, HP Fresco, River Park Luciana Win 2017 New Zealand Young Horse Championships
Thompson Chases WEG Qualification Scores at 2017 CDN Hamilton Equidays
John Thompson Wins the 2016 New Zealand Grand Prix Championships
John Thompson Wins Horse of the Year Show at 2016 CDI Hastings