2018 World Cup Finals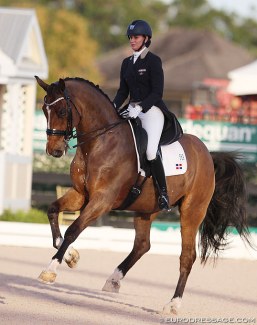 The Dominican Republic's Yvonne Losos de Muniz has secured the highest place on the FEI Dressage World Ranking in February as a World Cup Finals' candidate, making her eligible for the one and only starting place allocated to a non-league rider. Losos de Muniz has achieved this top position not just on one, but on two horses; with Foco Loco W and Aquamarijn.
Bborn in Nigeria to Canadian parents and married to Eduardo Muniz from the Dominican Republic, Yvonne Losos de Muniz is based in Wellington, Florida, in winters and spends her summers in Europe with her trainers in Germany and Spain.
Yvonne has been competing as an international high performance rider for almost twenty years, but 2018 has been especially magical for her. Aboard her top horse, 13-year old Belgian warmblood gelding Foco Loco W (by Sierappel x Wendekreis), she has finally unlocked that 70% magical barrier at Grand Prix level and scored no less than three Grand Prix victories at the 2018 Global Dressage Festival in Wellington this winter. 
Losos de Muniz and Foco Loco W are now ranked 81st on the FEI World Ranking and with her second ride Aquamarijn she is ranked 130th, the second highest place for a non-league rider. The FEI allocates one starting place to non-league National Federations at the 2018 World Cup Finals for "the athlete with the highest ranking on the February of the current year FEI World Ranking List, and who comply with art. 9.4 based on application from the respective NF." Yvonne has secured that spot and she announced her official application for that starting place with the FEI.
Arriving at the Next Level 
Losos de Muniz attributes her most recent success in the show ring to an adamant chiseling and fine tuning of her own riding skills, while keeping the work for her horses consistent and fun.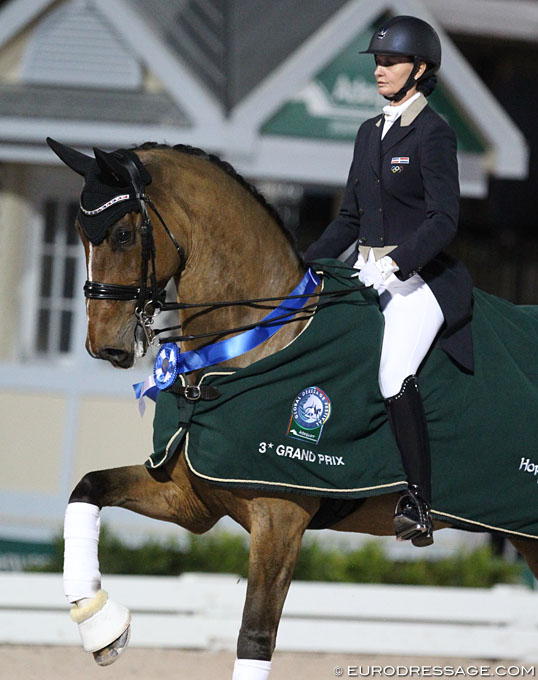 "I think my good results this season both with Foco Loco and Aquamarijn reflect the consistent work I have been doing with them at home," Losos de Muniz told Eurodressage. "Getting them fit, happy, and comfortable ensures horses that are able to gradually produce more accurate and consistent results. I am a great believer in not schooling horses incessantly-if a movement is done well, leave it there and keep your horse fresh and stress free."
Her partnership with Foco Loco W has been an exciting roller coaster which began in 2014 with the 2016 Olympic Games set as ultimate goal. The rider fulfilled her life-long dream when she competed in Rio. A self-imposed pressure to achieve that personal goal dropped from her shoulders in Rio.
After the Games she handed the ride on Foco Loco W to Spanish Borja Carrascosa who trained the bay gelding to the next level at Grand Prix and  was rewarded by the judges with consistent marks over 70% on the European World Cup circuit. It attracted interest of buyers and Losos de Muniz came close to selling her horse. After a deal fell through, she realized that this situation was serendipity and Foco Loco was, in fact, a match made in heaven. She reunited with the gelding, segueing into her most successful time ever in the international show ring in Wellington this winter.
"I have been able to present more accurate, expressive tests which allow the judges to reward what they see with consistent scores over 70%," said Losos about her recent score hike after years of dabbling in the mid sixties. "I think it's not that the judges were unwilling, it's that I needed to prove that it was for real. It might require a bit more effort for a rider from a non-traditional country but in general the judges do a great job and if you ride well, you score well."
Unlocking the Secret to Success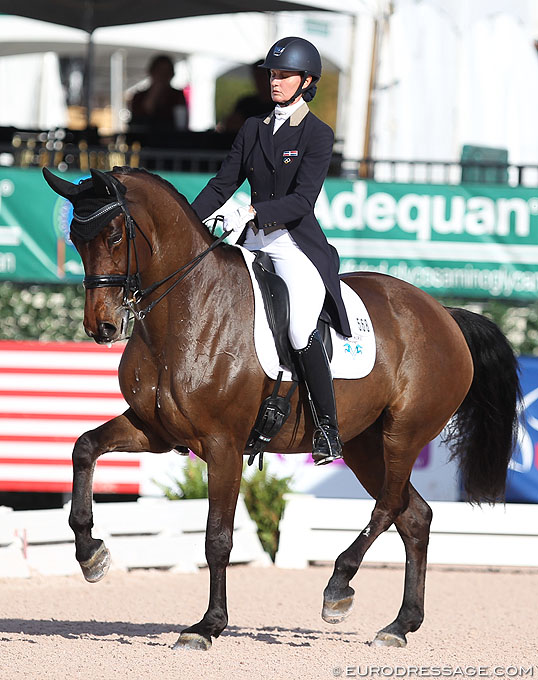 Yvonne Losos de Muniz has been working hard with a string of different trainers to improve her riding, gain mileage in the show ring, and build up expertise. In the past she has worked with Carl Hester and Jan Bemelmans, and is now getting help from Kathy Priest in the U.S.A. as well as from her euro-coaches' team Ton de Ridder and Jose Antonio Garcia Mena.
"I have been very very lucky to have a group of coaches that guide me consistently. Kathy priest is my best friend, an amazing horse woman and rider. When I am in Florida she is my constant eyes on the ground and always has solutions to help me improve," Yvonne explained. "I also have to mention Spanish team rider Jose Antonio Garcia Mena, who is a friend of many years and last summer visited me in northern Spain to help. He has incredible feeling and empathy for the horses, and really secured many technical details in my riding. With Ton de Ridder, who also started helping me last summer and whom I have known and respected for a long time, I found a trainer that is methodical, precise, and knows how to prepare every aspect of our sport-from daily training, the warm-up, and final execution in the ring. Plus I have been fortunate that Alexandra Simons de Ridder, his wife, was visiting in Florida and gave me many suggestions. How often do you get a German Olympic gold medalist in your corner? Its unbelievable."
Paris and Beyond
With eight CDI Grand Prix tests down his belt between January and the beginning of March 2018, Foco Loco W now gets a well earned break with paddock time and hacks for him to recharge his batteries and refresh his mind.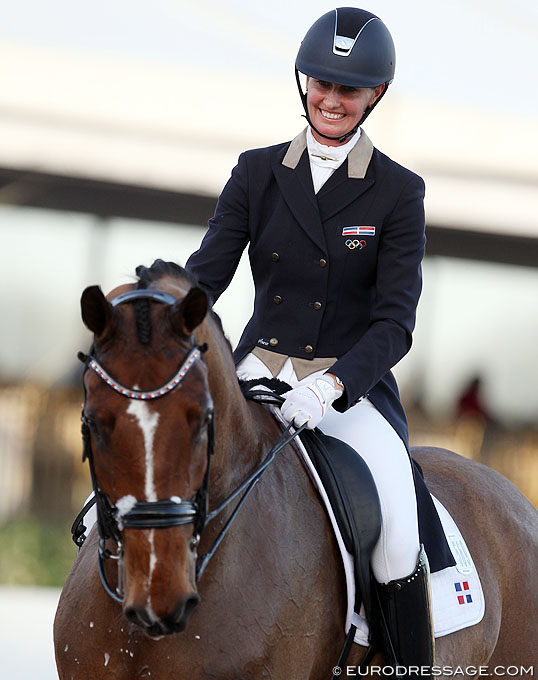 Therefore, Yvonne's preparatory path to World Cup Finals in Paris begins with a break after which she will prepare her horse in close collaboration with Ton de Ridder.
"He's exhausted from the show schedule and needs a break," said Yvonne frankly. "Ton will be back to Florida before we leave for Europe and in early April I will be stabled in Aachen, so I can train with him daily."
After the World Cup Finals, Yvonne will stay in Europe and return to the North of Spain where she has her summer base. Her Spanish retreat will be short, though, as a more than busy summer of intercontinental Championships awaits her with Foco Loco W, Aquamarijn, and her small tour horse Gorklintgaards San Tiago. 
"I will continue working with Ton and Jose and plan to do a CDI in Segovia and a couple more in central Europe before the World Equestrian Games," she said. "I also have the Central American and Caribbean Games in Colombia in July, so it will be a busy summer!"
Photos © Astrid Appels
Related Links
Losos de Muniz Wins 3* Grand Prix for Kur at 2018 CDI Wellington
Foco Loco W Reunited with Owner Yvonne Losos de Muniz
Yvonne Losos de Muniz Returns to the Ring with New Found Confidence and Horses