2014 CDI-W Devon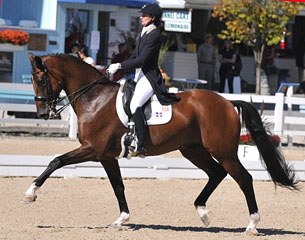 Making her surprise comeback to the sport of dressage after losing her fight against the FEI to claim her spot at the 2012 London Olympics, Dominican Republic's Yvonne Losos de Muniz has returned to the arena with some talented small tour horses. Losos de Muniz made her jack in the box come back producing promising results first at the 2014 CDI Saugerties on 19 - 21 September 2014 and then at the 2014 CDI-W Devon on 25 - 28 September 2014.
"My national federation asked me this year if I would consider competing again. I really did not feel interested or ready to go back in the ring, but a few months ago while on a horse buying trip for some of my clients, I saw a very promising young horse in Belgium that seemed to have the ability to be competitive at international level," Yvonne told Eurodressage.
Craving the kick of competition, Yvonne admitted her new partner Foco Lowo W rekindled that part in her. After much deliberation with her family and her federation, she decided to give it another try and see how far they could go.
In a public statement issued after a negative CAS Tribunal ruling on her eligibility to compete at the Olympics, Losos de Muniz vouched never to compete again. "The last two years were and still are very, very difficult," Yvonne admitted. "I was absolutely devastated when the CAS tribunal ruled that we were right in our claim, yet they decided to do nothing about the end result. Just like that, your dreams and hopes are gone. As an athlete that has worked hard and sacrificed for so many years, you feel terribly disappointed, and you lose all your faith in the system and the sport. I don't wish it on anyone to be honest, and to this day try my best to not dwell on it. I can only hope things have changed for the better in the sport. Fortunately, there's more in life beyond horses and competing, and I have taken the last couple of years to enjoy them and get my personal focus back."
Yvonne has two new partners-in-crime that have given her that boost of energy and confidence to put herself back out there in the show ring. In Belgium she found Foco Loco W, a 9-year old Belgian warmblood stallion (by Sierappel x Wendekreis x Grande) from the same dam line as Beatriz Ferrer-Salat's Olympic medal winning Beauvalais. At the time was not looking for a horse for herself, but for her client. "The horse was huge, over 18 hands, very powerful yet super sensitive and clever and always willing to work for his rider. It's everything I look for in a horse," said Losos de Muniz.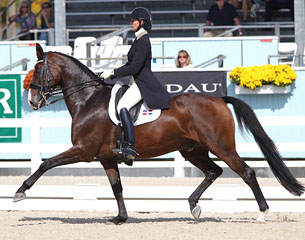 Yvonne says that Foco Loco W, who was previously competed by Nick van Laer in Belgium, is probably the most talented horse she has ever ridden and that  everything comes easy to him.
"He has so much power and rideability that he will be competitive internationally, in my opinion. It's a question of taking it very slowly with him so he doesn't overwhelm himself. Plus his name in Spanish means "crazy flashlight", which always makes me laugh. Who would come up with such a name?"
Her second find is the 13-year old Dutch warmblood Urban (by Obelisk x Blanc Rivage), a more experienced ride which Yvonne secured in August. He is a horse that has shown quite a bit in England. "It was actually my coach Carl Hester that suggested I should consider him as an additional horse to get some more time in the ring. Urban's turning 13 this year, and he is a very attractive horse with super gaits," she said.
With two more horses currently in work, Yvonne will receive a further in training from her Chilean clients, whom are coming to Florida to get ready for the 2015 Pan Am Games. "They have some very interesting horses with lots of quality, so it will be great fun to develop them," she added.
Fortunate to train an incredible group of riders from Chile - "they are actually more friends than clients," she said - Yvonne coached the Chilean national team at the recent South American Games, where they got the team bronze medal and qualified for the Pan Am Games. "As for myself, this summer I spent some time riding with my friend and coach Carl Hester in England, who whipped me into shape once again!"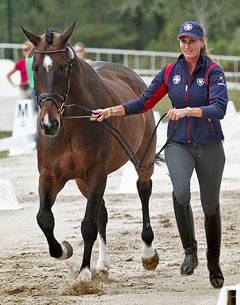 Making her debut return to dressage at the CDI Saugerties, Yvonne admitted the CDI was quite scary, and although she had done some small national shows in England over the summer while at Carl's place, Saugerties was her first CDI in over two years. "I felt tremendously rusty in the ring. In addition, it was the very first time I had shown Urban, so that was an additional challenge, I had no idea what to expect," she confessed.  At Saugerties Yvonne finished in 8th in the Intermediaire I on Foco Loco W with 64.474, and 9th on Urban with 64.035%. She travelled on to Devon, which was yet another first for her. Yvonne still felt very unsettled in the ring and knows she has much room for improvement. "I was very happy to have some of my Chilean riders- Virginia, Loli and Anita- come visit during the show. They were so supportive and always great company, which was very comforting."
Agreeing with her federation to compete in the Central American and Caribbean Games in Veracruz, Mexico, in November, Yvonne will do this in her attempt to qualify for the 2015 Pan Am Games. "It will be challenging since there are many talented riders with top horses in the host country, as well as in Colombia, Venezuela and other nations in the region. After that event I will be participating in the Florida show season, hopefully moving up to the Grand Prix at some point. I will also be coaching my clients in Florida, which will be great fun. Plus my daughter Sylvia wants to show, so that will be very exciting for me," she said with a positive kick.
With no long-term plans in place, Yvonne told Eurodressage that if she qualifies for the Pan Am Games, it will be very exciting to participate as they will be in Canada, where her parents live.  "If my horse is doing well at Grand Prix, I might compete in some events in the US and Canada before next summer, but as of right now I am taking things very slowly.  First I need to get back in shape and polish up my test riding, I forgot how much there is to do during those 6 minutes in ring," she joked.
Text by Sarah Warne for Eurodressage
Related Links
Scores: 2014 CDI Saugerties - Scores: 2014 CDI-W Devon
Statement by Yvonne Losos de Muniz on CAS Ruling
Equestrian Community Integrity Unit Dismisses Yvonne Losos de Muniz' Complaint
Equestrian Community Integrity Unit Dismisses Complaint by Yvonne Losos de Muniz
FEI Secretary General Ingmar De Vos Defends FEI's Handling of DOM-BRA Case
Yvonne Losos de Muniz Loses WEG Mount Optimus Prime