2018 CDI Bawley Point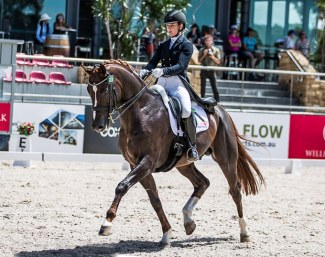 Australian Alexis Hellyer and Bluefields Floreno achieved a banging trifecta at the 2018 CDI Bawley Point, throwing herself into the mix as a hot candidate for Australian World Equestrian Games' team selection.
For the second consecutive year, Terry Snow hosted a CDI at his state-of-the art facility Willinga Park in Bawley Point, Australia. On Sunday the Grand Prix freestyle was spoiled by torrential rain, but hundreds of spectators still braved through and watched the kur.
For Hellyer the more than 10-hour drive to Willinga Park paid off. Aboard the 13-year old licensed Baden Wurttemberger stallion Bluefields Floreno (by Florencio x Roy Black x Akzent II) she won the Grand Prix with 69.76%, the Special with 69.23% and the Kur to Music with 75.53%.
"I was really pleased with Floreno at Willinga Park CDI," Hellyer told Eurodressage. "Although he is still green at Grand Prix Floreno felt really positive throughout the tests. I was hoping for good scores but overwhelmed by the freestyle result."
Imported to Australia in 2008 by Lys and JJ Fuchs' Bluefield warmblood stud, Floreno first made it to the big time under German Janina Kletke. The pair successfully competed at international small tour level in 2013 and 2014 in Australia. Hellyer was matched to the liver chestnut stallion little over two years ago.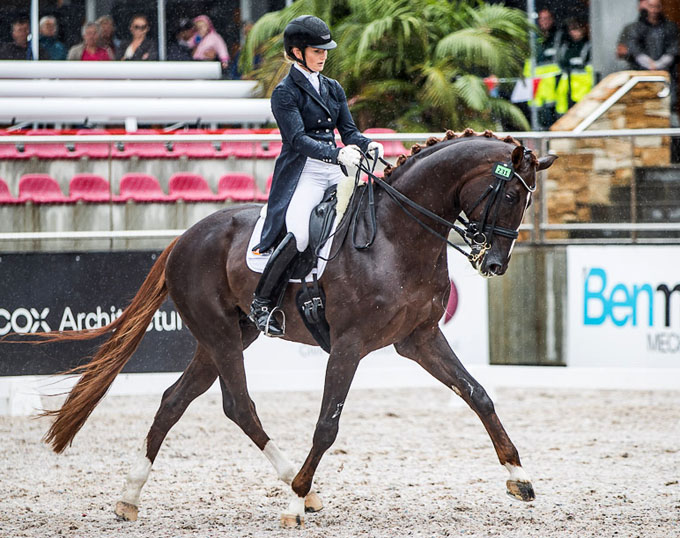 The 29-year old is a seasoned competitor in Australia, starting Waca W as a 4-year old and taking him through Young Riders up to Under 25 Grand Prix. Bred by The Horse Magazine's Chris Hector, Waca W (by Weltmeyer) did his last show in 2015 and he passed away a year ago.
Alexis has been training with her fiancé Elliot Patterson on a daily basis. Pettersen and Hellyer met as young rider rivals on the show scene in 2010, when Alexis was being coached by Tor van den Berge and Christine Crawford. On Valentine's Day 2018, the 26-year old Elliot proposed.
"I try to attend as many external clinics as possible," Alexis added. "Tessa Frank in particular has been helping me with this horse on her trips to Australia."
With her solid upper 60 and mid 70 percentage marks at Bawley Point, Hellyer is now seriously in the running for a WEG team spot as one of 10 riders who have achieved the Australian Minimum Eligibility Standard for WEG. 
"I aim to compete in as many CDI competitions in Australia as I can with this horse to gain more competition experience," said Hellyer who does have the WEG dream in the back of her mind. "I would love the opportunity and we will wait and see how Floreno progresses over the year."
Photos © Stephen Mowbray
Related Links
Scores 2018 CDI Bawley Point
Janina Kletke's Life in Australia Off to a Big Start
Hellyer and Kletke Win First FEI Classes at 2013 Australian Dressage Championships
Young Girl Power at the 2012 CDI Sydney