2012 CDI Sydney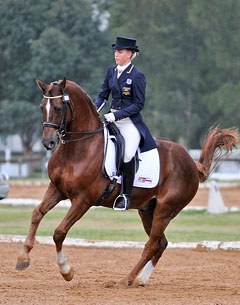 After deciding to do a couple of stories on the Young Guns of Australian dressage, I then had to decide who was to be included. Number one, they had to be competing at the Sydney CDI and secondly they had to have a proven track record. The guys were pretty straight forward but for the girls it wasn't that easy.
There are quite a number of young female riders who fit the bill. After a lot of deliberation, I decided to go with Megan Bryant and Alexis Hellyer as they are two riders out of the five that have qualified to compete in the Under 25 Grand Prix (along with Jodie Newall, Stephanie Spencer and Victoria Welch). Last but not least I decided to include Robbie Soster as she has been selected for the 2012 National Futures Squad which is part of the National High Performance Dressage Program.
Robbie has been going to the Sydney CDI for many years. Initially it was as a spectator and then as years passed Robbie ended up in the arena instead of the stands. In her short 22 years she has achieved a lot. She has been on the NSW State Dressage Squad four times, been the NSW State Young Rider twice, on the National Youth Development Squad three times and now the National Futures Squad.
Robbie's highlight to date is winning the Inter 1 and the Inter 1 freestyle at the 2012 Bradgate Park CDI*** on her Small Tour horse Robali Razzamatazz. "It was really exciting! Some of the horses we beat, I've admired for years. It was great fun!" The on the other hand her most embarrassing time was cantering in a Prep Test – oh well, you have to take the good with the bad.
Like most elite riders, Robbie has a good team around her. For ten years, she has been training with one of Australia's most respected trainers, Miguel Tavora. Her other eyes on the ground are Grand Prix rider Sue Hearne, Robbie's boyfriend David McKinnon who is also a Young Gun. Then, of course, there's her mother, Ali. "Mum's great. She has a good eye for a horse and has always put me on horses that are talented."
At his years CDI, Robbie will be competing in the Prix St Georges and Intermediate I on her very impressive Robali Razzamatazz. I have a feeling it won't be long before this combination makes the move to Big Tour. "I am taking my time with him and I am sure we will get there. I hope all my horses might have the potential to get to GP, but lets face it, you never know their potential and you never know what might happen in the mean time. It's a long journey."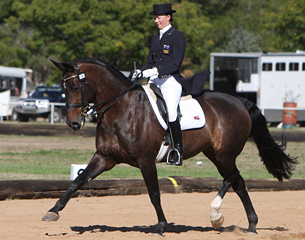 Our second and youngest Young Gun is 20 year old Megan Bryant who in 2010 represented Australia at the FEI Young Rider World Cup Final in Germany on her mare Donnabella. Megan is quite extraordinary as she is not only part of the 2012 National Elite Youth Squad for dressage but
also for Eventing. "When I was younger I did more Eventing until my horse got injured and was left without a horse, so I started riding my Mum's Novice dressage horse. He couldn't really jump so I just did dressage with him and within a year we were competing Inter 1. Now I have a team of dressage horses which take up all of my time but I still enjoy the Eventing which is always a nice break from Dressage."
Like all the Young Guns, Megan has aspirations to compete internationally at Big Tour. Megan is one of the lucky ones who owns most of the horses she competes on. "Horses are very expensive and usually to buy one I have to sell another, when I bought Donnabella I had to sell one of my very good eventers. I also breed a few horses. Who knows, maybe one of them might take me all the way. The most exciting foal we've breed so far would be Donnabella's embryo transfer colt. He's a stunner!"
As Megan lives a few hours from Sydney, regular lessons are not easily accessible. So who keeps her on the right track? "I would like to say my Mum but she is very busy and doesn't get to watch me at home much, but I try to get lessons from Roger Fitzhardinge every few weeks but it is hard when your coach lives over 4 hours away, so a lot of the time I have to be my own eyes on the ground and work things out for myself." Roger Fitzhardinge is known for having a great eye for what the judges are looking for. On many occasions it is Roger who is at the side of the warm up arena calling last minute adjustments for some of Australia's top performers.
At this year's Sydney CDI, Megan will be competing on two horses - Northern Xanthus III in the Under 25 Intermediate II and the Grand Prix. She will also be competing on Donnabella in the Prix St Georges and CDI-Y. Last year at the CDI, Megan and Donnabella won the International Prix St Georges which was one of the highlights of her riding career. This young lady seems to be destined for the international stage but will it be in dressage or eventing?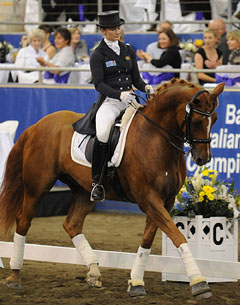 The third Young Gun is Alexis Hellyer. Alexis has had a very successful coulee of years with her Weltmeyer gelding, Waca W. She has placed and won numerous Small Tours and also a couple of the FEI World Cup Young Rider Final qualifiers.
It was only a couple of weeks ago that I chatted with Alexis about competing in the under 25 Grand Prix. "I've had such a hard time because of all the rain. I haven't yet had the chance to compete Waca in Grand Prix. We have to get a score of 60% to qualify. We'll do our first Under 25 GP in a couple of days. We'll see how go?" I kept my eye out for the results and was very pleased to discover Alexis scored a 64.953 for her first outing with Waca W. Well done!
As a result this CDI is very special to Alexis. "I've had Waca W since he was 4 years old, so competing in the under 25 Intermediate II and under 25 Grand Prix is pretty cool. I've had two other horses compete at Grand Prix level but Waca is the first horse I have produced from a young horse with some awesome help along the way from Tor van den Berge, Christine Crawford and the list goes on... This is the first year the Sydney CDI has offered these classes. It's going to be a great help to make the transition from Small Tour to Big Tour."
Photos © Venhaus - Fitzhardinghe - Wilson
Related Links
Young Guns at the 2012 CDI Sydney
2012 CDI Sydney Opens Gate for New Big Tour Horses to Win Trophies