U.S.A.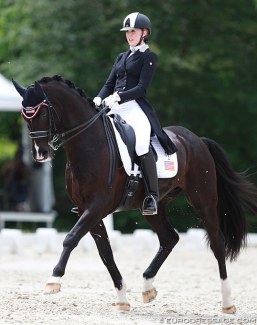 American Young Rider Lauren Asher has decided to retire her 18-year old Hanoverian licensed stallion De Noir from competition sport. 
De Noir is a 2000 born Hanoverian by De Niro out of Maharani (by Matcho AA x Akut).
The black was first licensed with the Hanoverian society in 2002 and sold to Norwegian Kristen Andresen and Danish Ib Kirk of stallion station Katrinelund in Denmark. De Noir became the champion of the 2003 Danish warmblood stallion licensing and became the dressage high scorer in the 30-day stallion performance test (score 914.7). He also did the 70-day performance test and obtained a score of 812.75 points.
De Noir was the youngest sire ever to receive elite status by the Danish warmblood society. He produced more than 1200 offspring, registered in Denmark. His most famous offspring is U.S. A-team Grand Prix horse Rassing's Lonoir (Olivia Lagoy-Weltz).
In 2013 De Noir sold to the U.S.A. as a gelding. He was acquired by Norwegian Anne Solbraekke, who trains with Mette Rosencrantz. The Swedish Rosencrantz competed De Noir at small tour level from 2013 through 2015. At the end of 2015 the San Diego based youth rider Lauren Asher purchased him as a schoolmaster. 
"I was looking for a Young Rider's horse, and the horses I had seen in Europe all had failed the vetting," Asher told Eurodressage. "A good friend of mine, Veronica West, who rode with Mette at the time, told me that De Noir was for sale along with a couple of other good horses. So my father and I drove up to LA to see him the next day. The first ride wasn't spectacular by any means, if anything, my ride on the other sale horse was better than on De Noir. Mette told me at first me she wasn't sure I would click with him, but when I sat on him, there was just something about him, his presence and self confidence. My dad told me as we were discussing it on our drive back to San Diego, that he could tell De Noir was the one. And he was right!"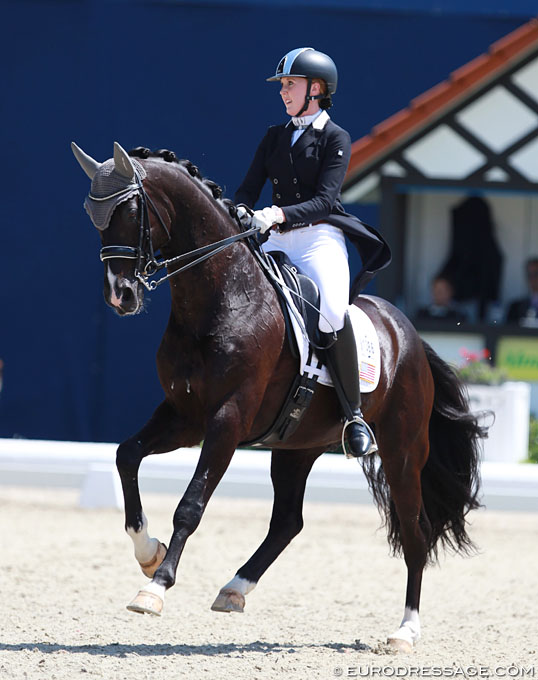 Asher grew up outside of Denver, Colorado, but moved to California in 2015 to study business at the University of San Diego. She put her studies on hold though to fully pursue a career in riding. Trained by David Blake, Asher and De Noir had two very successful show years in 2015 and 2016. Asher made her international debut on De Noir at the 2016 CDI Burbank, where she won both classes.  She also reigned at the CDI San Juan Capistrano and Del Mar.
In 2016 Asher moved her horses to Holland for summer training and competed at the CDI Compiegne and CDIO-YR Hagen. In Holland she first worked with Bob Tenwolde but in 2017 she moved to Coby van Baalen's yard. She is currently spending her winters at her own yard, Southfields Farms, in Wellington, Florida. 
An injury at the end of 2016 kept the pair from finishing that show year. De Noir was treated in Florida by Dr. Alex Rey and returned to fitness. He spent the spring of 2017 in Europe but several months later in the summer the old injury began to niggle again. 
"I sent him early to Florida for treatment from Dr. Rey, as one last effort to get my best friend back in sport. When I arrived in Florida, though he looked fit, when I was riding him, he just didn't feel himself, and was telling me it was time," Asher explained. "One of the things I love most about De Noir is his proud competitive spirit - he always was so keen to work and show-off, he always loved drawing a crowd or a fan club. I have always said, that any time I had with De Noir was a gift - he has done so much for me, and not just for me, but for the countless riders before me, and also for the breeding in Scandinavia."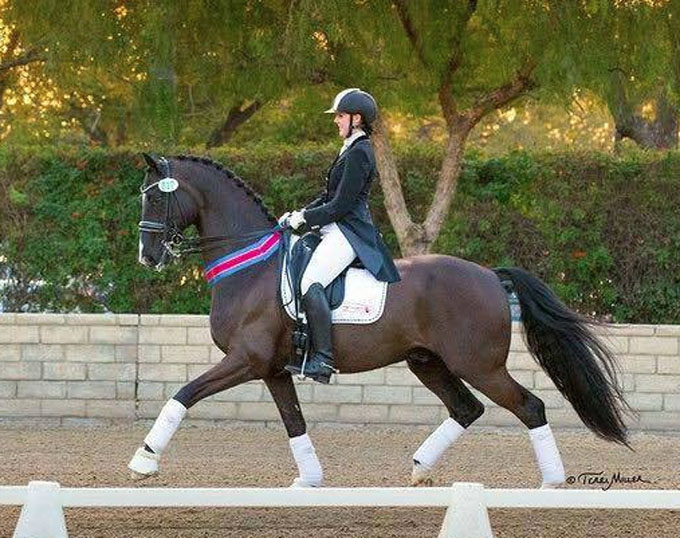 Asher cites that her greatest memory of De Noir is her time with him in California. "We got our personal best scores together at CDI Del Mar! I look back fondly on our time in California, lots of happy memories for us there and I really miss it. De Noir was the horse that really helped take me to the next level of competition and helped me fulfil so many of my dreams. With De Noir, he always gave me the feeling everything was possible, and that was really special!"
Asher has a 3-year old De Noir x Akinos coming along that will be saddle broken in spring.
Photos © Astrid Appels - Terri Miller
Related Links
Eurodressage Photo Database: De Noir
Asher, Davis, Gluch Make Euro Tour Show Debut at 2016 CDIO Compiegne
De Noir Sold to the U.S.A.
2005 Hanoverian Foal Champion by De Noir