2018 CDI-W Temecula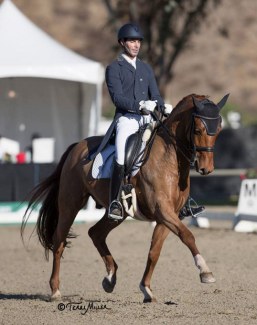 Nick Wagman's Ferano made a strong debut at international small tour level, winning the Prix St Georges and Intermediaire I at the 2018 CDI-W Temecula hosted at Galway Downs on 4 - 6 January 2018. For Wagman, who has spent 8 years working in Holland before returning to the U.S.A., Ferano could be the equine partner that might make his Grand Prix dreams come true. 
At the 2018 CDI-W Temecula, the 8-year old Dutch warmblood (by Scandic x Parcival) did not let stage fright get too much in the way of producing two solid rounds. He won the Prix St Georges with 67.500% and in his first ever Intermediaire I he scored 69.088% for the trophy.
"I was very pleased with him both days," Wagman told Eurodressage. "Ferano is a hot horse, and in the past could be a bit spooky. He's matured a lot and is coping better and better in new environments. In the Prix St Georges our trot tour was very strong, but we had some unfortunate mistakes in the tempi changes due to some tension. The Intermediare I was held at night under large lights powered by generators. I wasn't sure how Ferano would handle the atmosphere as many horses were impressed with the surroundings. He handled it beautifully and put in a very good test. My feeling was great. Only our extended canter got away from me when Ferano's exuberance couldn't be contained and he threw in some changes."
Ferano is owned by Elizabeth Keadle and she bought him in The Netherlands as a 5-year old. He has been in training with Wagman ever since. 
"He was purchased with the intention of being the new ride for Elizabeth, who is an accomplished rider herself, but has exceeded our expectations as a potential Grand Prix horse, so will remain with me to further develop," Wagman explained.
The 44-year old Wagman made a name for himself as a professional dressage working in The Netherlands as an assistant trainer twenty years ago. From 1993 till 2000 he rode sales horses and breeding stallions for Ad Valk and was coached by his former partner Gerard Hogervorst. Wagman first captured the spotlight aboard the renowned stallion Krack C with whom he won the Pavo Cup Finals two years in a row. Anky van Grunsven took over the ride on Krack C in 2000 when Wagman decided to return home to the U.S.A.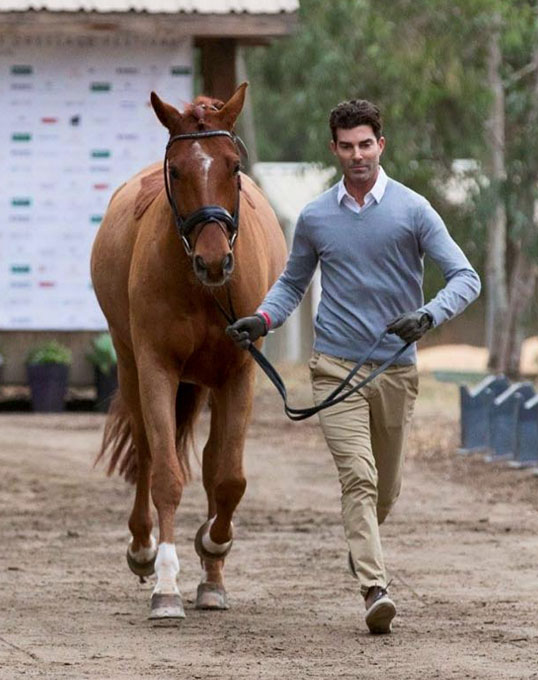 Starting from scratch in California, Wagman slowly built his own business in Rancho Santa Fe. In the past  17 years he has competed no less than 45 horses at national level in the U.S.A. since his return home. Aboard his own mare Uforia (by Negro x Fruhling) he picked up CDI competition in the mid 2000s. His most recent international equine partners are small tour horses Zenith (14yo, by Painted Black x Krack C) and Don John (10yo, by Johnson x Goodtimes).
Just recently, Marie Meyers begun coaching him on his top horses.  "It's proving to be a fantastic fit," he added. When asked if he has Grand Prix and U.S. team aspirations, Wagman acknowledges that the hope is there, but the road long.
"My goal is to ride internationally, and to represent the United States," he said. "I hope to qualify Ferano for the Intermediare 1 National Championships this year, and move him up to Grand Prix after. I also have two other horses beginning their Grand Prix careers with me, so I'm happily busy. It's extremely rewarding to find myself in this position on horses I've developed from the beginning. Who knows what the future has in store? Right now, I'm enjoying the journey."
Photos © Terri Miller
Related Links
Scores: 2018 CDI-W Temecula
California Dreaming for Sarah Runge
KWPN Stallion Krack C to Anky van Grunsven