2018 CDI-W Temecula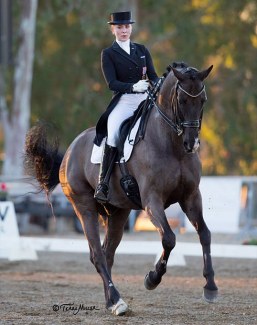 German Under 25 Grand Prix rider Sarah Runge has made her California dream a reality. She packed up her horse Dark Dynamic and instead of picking the obvious choice of going to Wellington, Florida, she opted for Californian sunshine instead. At the 2017 CDI-W Temecula at Galway Downs on 4 - 6 January 2018, Runge made her U.S. show debut in the senior division. 
The 24-year old Runge is originally based in the Dusseldorf area and trained with Claudia Haller before switching to Johann Hinnemann eight months ago.  She has not regretted that decision and the transfer in coach brought about the added perk of a show season in California.
Hinnemann's son Stephan and his wife Natalie Hamilton, who is a dressage rider, live in Murietta, which is to south of Los Angeles. They relocated from Minnesota to a property there in 2014, close to their coaches David and Kathleen Raine. Johann now prefers to spend his winters in California and this year Runge joined him on the adventure to the American West Coast. 
"I learn so much from him and the training is so nice and friendly for the horses," Runge told Eurodressage. "I'm so glad to have a trainer like him now!"
Runge brought along her top ride,  the 15-year old Hanoverian gelding Dark Dynamic (by Don Vino x Hohenstein), which she bought from Nadine Capellmann a year ago. The pair rode one CDI in 2017 at Nieuw en St. Joosland and mainly focused on competing in the national Under 25 classes in Germany.
However, 2018 has more in store and her first competition in California took a good start. The pair was fourth in the Grand Prix with 65.913% and second in the Grand Prix Special with 68.021%.
While in the U.S.A. Runge is combining her horse with a trying to lift off her career in the music business. 
"I"m doing the last work for my music album here in LA,"  said Runge. "And visit my father's company. I've been in California last year as well for some film productions at Universal." When asked what type of music she is recording, Runge replied, "there will be some different kind of songs to record, but the most of them will be pop msuci and some of them hip/hop-reggaeton, but with a lot of pop."
She will stay a further two months in California and compete at all the West Coast Dressage Festival CDI's. "I'm going to stay till the end of February to ride also three more shows in Del Mar," she added.
Photo © Terri Miller-Steiner
Related Links
Scores: 2018 CDI-W Temecula
Nadine Capellmann's Dark Dynamic Sold to Sarah Runge