The Netherlands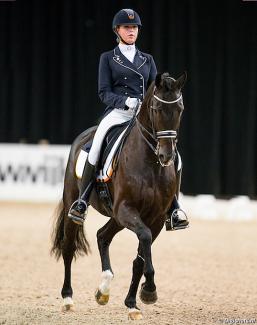 Former Dutch junior rider team member Diana van den Bovenkamp is on the road to recovery after a horse kicked her in the face in November 2016. 
On 8 November 2016, the 19-year old Van den Bovenkamp was kicked in the face during a lunging session. She was hospitalized at the clinic in Utrecht, The Netherlands, for eight days.
Diana sustained multiple fractures to her face, including her nose, cheekbone and lower jaw, and her upper jaw was shattered. She was operated on and was kept on intubation for several days until the swelling in her throat went down. 
While Diana is back in the saddle, she is still experiences the consequences of the accident on a daily basis. "Not a day goes by that I am not in pain," Diana told newspaper De Barneveldse Krant. "But I'm happy to be still alive so I shouldn't complain too much."
Diana had to rest at least six weeks before she was even allowed to handle horses again. "At first, I couldn't ride intensively at all because of the pain to and in my head," she explained. Especially breathing is difficult for her.
Diana has to carry braces to stabilize her mouth and jaw, before she will undergo first reconstructive surgery nexy year.
"The braces I have in my mouth first need to do their job. I will need to take two years into account before everything is mended," she said.
Diana has been focusing in some teaching as well as training and competing horses Evita and Artistic, as her team horse Corvette has been recovering from an injury. Evita, with whome she won bronze at the Dutch Championships, has been sold to Spain.
Photo © Digishots
Related Links
Diana van de Bovenkamp Discharged From Hospital
Diana van de Bovenkamp Stable but Still in Intensive Care
Diana van de Bovenkamp Hospitalized After Kick from Horse