2017 Norwegian Young Horse Championships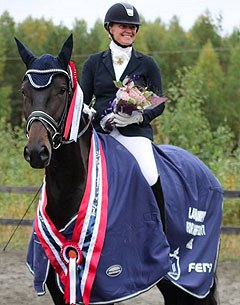 The 4-year old Berge's Roxette, the 5-year old Jinx, and the 6-year old Dice became the winners of the 2017 Norwegian Young Horse Championships held at the Nes Riding Club in Arnes, Norway, on 22 - 24 September 2017.  The 4 and 6-year old division were judged by Danish Dennis Fisker in combination with Langkowski and Ødemotland. The 5-year old division was judged by Fisker, Ødemotland and Karlsen.
Brand new Norwegian Grand Prix champion Louise Almlund Løkken continued her success also in the young horse arena. Aboard the Norwegian warmblood bred Berge's Roxette (by Romanov x Weltjunge x Akinos) she won the 4-year title with a 78.200% score in the Finals. The silver medal went to Elina Lundblad on the Norwegian bred Skjæløys Zackarias (by Zack x Depardieu x Chrevi's Cavallo) with 75,800 %. Sandra Nicoline Birkeland and the Danish bred Roholts Sizzling Hit (by Sandro hit x Wolkentanz I x Lanthan) collected bronze with 74,800 %.
In the 5-year old division Fredrikke Dorati Bjerkåsholmen topped the board with a 77.600 earning ride on the Norwegian bred Jinx (by Jazz x Depardieu x Manstein). Louise Almlund Løkken scored her second medal of the weekend, a silver for her second place finish on the Norwegian bred Berge's Gold Wanilla  (by Mr Gold G x Weltjunge x Akinos). The pair scored 76,800 in the finals test.  Former young rider Catharina Lorentzen Lund and the Norwegian bred Thiara de Lorentzia (by Zack x Omas Lemond x Hojvangs Lukas) scored bronze with 73,600 points.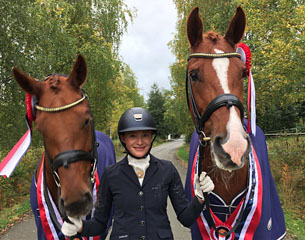 The 6-year old division was the smallest with only seven combinations in the Finals.  Fredrikke Dorati Bjerkåsholmen is making her year working at Andreas Helgstrand count as she put her experience into practice. Aboard the Hanoverian bred Dice (by Desperados x Lanthan) she scored 76,600 % and took first place. Runner-up Silke Tornvik posted the exact same score on the board but it landed her and the Norwegian bred Maro's Fabergée (by Fassbinder x Romanov x Blue Alert xx) second. On the heels of that duo was the bronze medal getter Moy Susanne Birkenes with the Danish bred La Costa Majlund (by Lancelot x Sir Oldenburg x Cannon Row xx) on 76,200 %.
Photos © Elizabeth Farbrot
Results - 2017 Norwegian Young Horse Championships - Arnes
4-year olds
1. Louise Almlund Løkken - Berge's Roxette  - 78,200 %
2. Elina Lundblad - Skjæløys Zackarias - 75,800 %
3. Sandra Nicoline Birkeland - Roholts Sizzling Hit - 74,800 %
4. Sandra Nicoline Birkeland - Jotunheimens Hero - 74,200 %
5. Pål Gumdal Vuttudal - Senzation Desire - 72,400 %
6. Alexandra Andresen - Dille Belamigo - 71,600 %
7. Helena Sofia Trulsen - Da SilvaZalig - 70,600 %
8. Elisabeth Katerina Dahl - Waresca Ramona - 69,000 %
9. Anna Svanberg - Tobajo Pallad - 67,000 %
10. Sandra Nicoline Birkeland - Myra's Danzita - 64,000 %
11. Martine Simonsen - Alby's Zara - 63,800 %
5-year olds
1. Fredrikke Dorati Bjerkåsholmen - Jinx - 77,600 
2. Louise Almlund Løkken - Berge's Gold Wanilla - 76,800 
3. Catharina Lorentzen Lund - Thiara de Lorentzia  - 73,600 
4. Vilde Røinås - La Schuzel Sirik - 72,800 
5. Rebecca Lucretia Rowley - Loreley's Rhapsody - 70,000 
6. Ida Mari Borge Hovi - De Fleur - 68,400 
7. Beate Kåsa Stensrud - Lillebergs Cathageno - 66,600 
8. Synnøve Primdahl Christensen - Zalento - 66,400 
Siri Daatland - JJ Duun - RET
6-year olds
1. Fredrikke Dorati Bjerkåsholmen - Dice - 76,600 %
2. Silje Tornvik - Maro's Fabergée  - 76,600 %
3. Moy Susanne Birkenes - La Costa Majlund - 76,200 %
4. Trude Kasparek Hestengen - Strandagergårds Deluxe  - 75,400 %
5. Catharina Lorentzen Lund - Stall-K's Sunny Girl - 66,800 %
6. Anniken Eide - Twilight  - 65,800 %
6. Silje Chatrin Mevik Bjørnvik - Lautus - 65,800 %
Related Links
Johannessen, Fjornes, Gulli, Rode, Lokken Win 2017 Norwegian Dressage Championships
Three Youngsters Shine at Only Norwegian Selection Trial for 2017 World Young Horse Championships