British Breeding News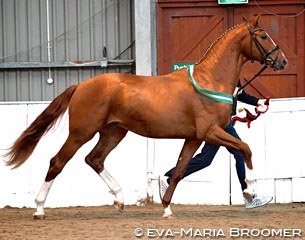 Woodlander Wild Love and Woodlander Gloria earned top honour in the dressage divisions at 2017 British Futurity Championships. One hundred horses contested 15 classes at the 2017 Great British Mare Foal & Youngstock and Futurity Elite Championships, held at Moreton Morrell College in Warwickshire on 9 September 2017.
Despite the early start and late finish, punctuated by two dramatic thunderstorms, our breeders were not deterred from travelling from as far afield as North Yorkshire, Devon and Cornwall, to present the best of British horse breeding in the main arena in front of German judge Katrin Burger.
Open to all British-bred mares, foals and youngstock up to 3 years, of all disciplines, breeds and types, there was a class and championship for everyone. With generous prize money on offer for both horses and ponies, all horses placed 1st and 2nd went forward to the final championship judging.
Top honours and an impressive haul of awards went to Lynne Crowden's young stallion Woodlander Wild Love (by Woodlander Wild Child), who won both the 2-year-old Futurity Dressage class and the Futurity Dressage Championship.
Hannah Markham's Woodlander Gloria (by Grey Flannel out of Hope of Glory) won the Great Britian Mare and Foal Reserve Champion's title and was named "Best Dressage Horse". Gloria was also Dressage Reserve in the Futurity Championship.
In the morning qualifiers of the Foal Championships Fortuali GF (by Follow Me out of Dolita), bred and owned by Sandy Senior, placed first and Caoline Leigh's Mr Smart SHS (by Sir Donnerhall out of Wiegro) was second.
In the Futurity Elite Championship Zahra Sadry's Reggatta d Blanc (by Revolution out of SPS Zandra) won the dressage title ahead of Sandra Tinker's Fosshey Sir Don Delicisou (by Sir Donnerhall out of Delta).
In the Great British Mare Foal & Youngstock Championship Nicole Nelsen's Tramontana For Elfenblume (by For Romance out of Damina) topped the leaderboard ahead of Sandra Tinker's Fosshey For Fun (by For Romance out of River Riva). The Champion foal was also named reserve dressage champion behind Woodlander Gloria.
The supreme show champion of the 2017 BEF Futurity Championships, however, was a show jumper: Lisa Maynard's 3-year-old stallion, Balou For Pleasure (by Balou de Rouet).
Results can be viewed here.
Text by Gail Kingswell Truemen, edited by Eurodressage - Photo © Eva-Maria Broomer
Related Links
Valentina, Force Majeure, Latavris, Gulfstream, Sugar Pie High Scorers at 2016 BEF Futurity
British Bred Dressage Horses Claim Premiums in 2015 BEF Futurity Series
British Bred Youngsters Stand Out in 2014 BEF Futurity Series
British Bred Dressage Horses Top 2013 BEF Futurity
Six Elite Premiums Awarded at 2013 BEF Futurity in Hartpury