British Breeding News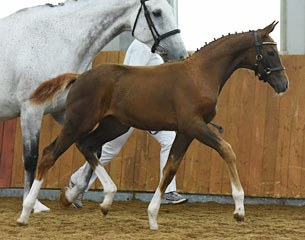 Dressage foals and youngsters once again dominated the top scores at the 2016 British Breeding/British Equestrian Federation Futurity. The top 5 scores awarded across the ages and disciplines went to dressage foals and a total of 20 dressage youngsters were awarded elite premiums for a variety of studbooks.
An elite premium indicates that the horse has the potential and outlook to perform at international level in their chosen discipline. The BEF Futurity Evaluation series aims to identify British bred young potential sport horses and ponies destined for careers in dressage, eventing, showjumping or endurance.
A total of four evaluators assessed the dressage youngsters this year: Dan Greenwood, Katy Holder-Vale, David Trott and Lesley Peyton-Gilbert.
Katy Holder-Vale said: "Each year the preparation, breeding and producing of the young horses brought forward for the Futurity improves and so we see an increase in the quality of the animals. The breeders are understanding better what they need to do.
"Horses that really stood out for me this year were, the foal that gained a very high score at Tall Trees (Force Majeure) and two two-year-old colts that have since been for stallion licensing with the British Warmblood Society. (Words of Love and Tramontana Gulfstream)."
Sarah Oppenheimer's dressage filly foal, Headmore Valentina (by Vilancio x Rubinstein) earned the highest score awarded in 2016 with an elite premium of 9.70. This is the joint third highest all-time Futurity score.
A delighted Sarah said: "We thought she was a bit special. I am chuffed to bits that she has received this Futurity score as we think she is outstanding. Valentina's dam, Rubinsteena has previously produced two national champions and two runners up." Rubinsteena is the dam of Half Moon Frizzante, National Winter Open Elementary Champion in 2011 and former National 6-year-old champion, Headmore Wimoweh. Sarah added: "Wimoweh and another daughter of Rubinsteena's, Headmore Davina have both qualified for the 2016 National Championships."
Valentina was born via embryo transfer as Rubinsteena was unwell last summer, she is back in foal to Belissimo M for 2017.
Sarah will retain Valentina, she continued: "She will go on to have a ridden career. We are increasingly using embryo transfer so the mares can continue their ridden careers. We have had lots of interest in Valentina, but she will be staying with us."
The first ever Futurity Overall Supreme Champion back in 2005 was bred by Sarah, she was Headmore Dream On, by Keystone Dimaggio. Headmore Dream On has gone on to compete at young riders and international level.
Jennie Loriston-Clarke's filly foal, Catherston Temptation (Timolin x Laurentianer) scored an elite premium of 9.50.
Jennie said: "Temptation is a lovely filly and she showed herself well, which is half the battle! Her mother Lambada breeds a very nice type of horse. Catherston Tango, her foal from 2015 scored a higher first premium last year."
Catherston Temptation will be brought on for the future. Jennie continued: "We have some lovely horses in this country, we always register ours with the Sports Horse Breeding Great Britain as I think it is so important to promote our British bred horses, and not have British bred horses registered with a foreign studbook."
Chris Hood travelled down to Tall Trees in Cornwall with her dressage colt foal, Force Majeure (by For Romance x Stedinger) for an elite premium of 9.45. Futurity evaluator Katy Holder-Vale was particularly impressed with the colt's uphill, supple and balanced paces.
Force Majeure is owned and was bred by Chris, a management consultant who is in just her second year of breeding. She said: "We knew he was special when he was born. His dam, Summertime attained a higher first Futurity premium as a two-year-old and then sustained an injury as a five-year-old so we started breeding from her." Summertime bred a colt by Woodlander Wild Child last year that has been sold to Spain.
Chris plans to take Force Majeure to Germany for stallion licensing with the Oldenburgs and he will then eventually compete and hopefully get on to the equine pathway. Chris continued: "The Futurity is good for British breeders, it provides an honest evaluation of the horse's future potential. There are things you cannot change, but can improve in future bloodlines. There are now some amazing British bred horses out there and as many of us breeders no longer ride, we are breeding for riders who will make the most of our horses."
Heading the dressage two-year-olds in 2016 was, Nicole Nelson's colt, Tramontana Gulfstream (by Grey Flannel x Patron) with an elite premium of 9.15. Nicole said: "Tramontana Gulfstream was fantastic at the Futurity, I am chuffed with him. It was the first time he has ever been out and his attitude was great. He has always been really balanced with a good hindleg. His trot at the Futurity was spectacular."
Tramontana Gulfstream is out of a Patron mare, Patron Saint who is the dam of another Futurity elite scorer of Nicole's, Tramontana Silk. Nicole added: "Tramontana Gulfstream comes from a brilliant family. He may go for a stallion licence with the Oldenburgs, but as he has such a good brain he needs to be ridden."
Lynne Crowden's two-year-old colt, Words of Love (Woodlander Wavavoom x St Moritz) followed up the elite Futurity premium of 9.33 he earned as a foal with 9.10. Lynne said: "He is spectacular and a really good horse. He will go for stallion licensing and I will be shocked if he doesn't license. He possibly could have shown some better trot at the Futurity but he is a big two-year-old with lots of physical developing to do. He is not dissimilar to Wild Child which is interesting as this must come from Wavavoom." Woodlander Wavavoom still has a Futurity average score of 8.86 which includes some 40 progeny.
The top three-year-old at the 2016 Futurity, was filly, Woodlander Sugar Pie (by Supertramp x Florencio) who took an elite premium of 9.10 in 2016 for her owner, Debbie Green. Lynne Crowden said: "Debbie has produced Sugar Pie really well and done a super job with her. We are delighted that her scores have improved as she has gone through the Futurity."
Woodlander Sugar Pie is out of Lynne Crowden's ultra-consistent mare, Elite Foxy Lady who's offspring also include the highest Futurity scorer in 2015, Woodlander Woodstock and colt foal, Woodlander Grand Designs (by Galaxy Win T x Florencio) who took an elite premium of 9.35 this year.
This is the first time Lynne has used the Dutch stallion, Galaxy Win T. She said: "It was a new idea, I saw him at the stallion show and thought he had the most incredible canter. This has been a good match with the quality of the mare's gaits. Sara Lucas has also bred a fabulous filly foal, Gigi, by Galaxy Win T – she was champion filly foal at the Great British Mare and Foal Show last month." Lynne said: "It proves the value of focussing on using extraordinary mares for breeding. If you breed from an extraordinary mare, you are unlucky if it doesn't work, rather than being lucky if it does."
Carsten Sandrock once again had a very busy time at the Futurity with Lynne Crowden, attending four of the Futurities. Lynne said: "Carsten is run off his feet. I wear my pedometer and average about 6 and a half miles on a Futurity day, that's just walking to and from the car park to the arena and running up the odd horse for the vet. Carsten must literally run a marathon on each of these days."
Best dressage yearling at the 2016 Futurity was a gelding, Latavris (by Lord Leatherdale x Gribaldi) owned and bred by, Rebecca Lee Woolf, Jennifer Kovalevska and Miki Savic. Latavris scored a higher first premium of 8.90. He is the first foal bred by this partnership known as Rymarque. Rebecca said: "We are very excited about the future with Latavris, I am looking forward to breaking him in and training him. This was the first time we have been to the Futurity and I found the information available and the opportunity to look at other young horses very useful."
Latavris' dam, Diva RW has had a successful young horse career with success at the Premier league at Keysoe and she was also placed in the novice restricted at the Winter Championships.
Continuing the trend for Futurity success with proven dams was Charlie Hughes', Freedom Apple who bred her fourth foal this year and also, her fourth foal to attain an elite Futurity premium. Filly foal, Deia (by Dimaggio x Fidertanz) gained an elite premium of 9.30.
Charlie said: "We cannot ask for more from Apple. She has bred a cracking youngster each time, they are all very different but all have great looseness in their movement. The Futurity is providing recognition of the quality of youngster that she breeds." Charlie bred Freedom Apple herself, she added: "Apple's dam, Sophia had a very easy, trainable temperament, she seems to have passed this on to her youngsters. Darren Mattia who leased Apple from me a few years ago has just been breaking in Apple's three-year-old daughter, Desire and she was hacking out within a week of being backed."
The BEF's Head of Equine Development Jan Rogers said, "We are increasingly noticing that breeders, buyers and riders of British bred horses are finding that a Futurity premium is a very useful aid in helping assess these horses. We are also seeing a marked improvement in the standard of youngsters entered in the futurity, which is very good news for the future of British breeding".
Futurity scores are used by many breeders as a credible marketing tool for their young horses, adding value to a young horse whilst it is still too young to have achieved a performance
by Jenny Viner - Photos © Kevin Sparrow
Related Links
2016 BEF Futurity Dates and Venues Announced
British Bred Dressage Horses Claim Premiums in 2015 BEF Futurity Series
British Bred Youngsters Stand Out in 2014 BEF Futurity Series
British Bred Dressage Horses Top 2013 BEF Futurity
Six Elite Premiums Awarded at 2013 BEF Futurity in Hartpury