American Dressage News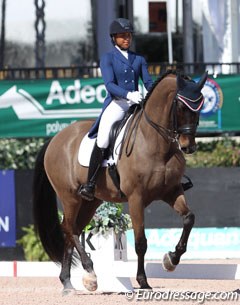 Anna Buffini's 18-year old Dutch warmblood gelding Sundayboy has been retired from competition sport after scoring a team victory and the individual kur victory in the inaugural Under 25 Nations' Cup at the 2017 CDIO Wellington on 22 - 25 March 2017.
Bred by E. van Halen in Hoogersmilde, the Netherlands, Sundayboy is by Kennedy out of Eezelma (by Zevenaar). 
The dark bay gelding was listed in the FEI database as owned by Jochen Arl and M. De Veen in 2009 before selling to Guenter Seidel's long-time sponsors Dick and Jane Brown in the U.S.A. in December 2009.  
Seidel competed Sundayboy in 2011 at internationals in Burbank, Del Mar, and Fritzens. When the Browns ended their involvement in horse sport, the gelding was sent back to Europe to be sold, where Buffini discovered him. 
The California based young rider acquired Sundayboy in January 2013 and coached by Guenter Seidel she made her CDI debut at the 2014 CDI Burbank.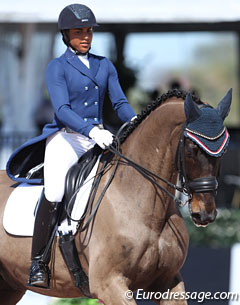 The year 2014 was their magical year as the pair won all classes they had entered at the CDI's in Burbank, San Juan Capistrano, and Del Mar. They became the 2014 U.S. Young Riders Champions. At the 2014 North American Young Riders Championships the were second in the team test to earn team gold, but they had to withdraw from the rest of the competition due to an injury. Buffini missed out on 2015, but they returned in 2016 at Under 25 Grand Prix level with stars at the CDI's in Burbank, Del Mar, and San Juan Capistrano. They finished the season on a high note winning the 2016 U.S. Under 25 Championship.
For their final season in the competition ring, Buffini took Sundayboy to Wellington to train with Debbie McDonald and compete her horse in two shows there, placing second three times and winning their final ride together in the kur to music at the 2017 CDIO Wellington.  
Buffini deliberately chose not to finish the 2017 show season but retire her horse after Wellington. 
"My original goal was to compete in Europe this year in the U25 division and I think we could have done well there but with his age and soundness issues we decided that Nations Cup will be his last show," said Buffini. "It was the first ever Nations Cup outside of Europe and a very important show for our country so I thought it was the perfect way to end his career."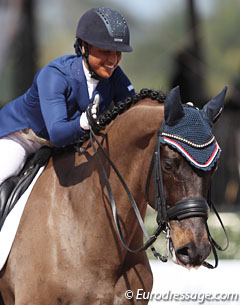 The 22-year old Anna marked 2014 as her most significant and career defining year on Sundayboy.
"Our most meaningful victory was young riders 2014," she said. "It was our first National Championship win and really put us above the radar as a top Young Rider pair in the country. He is now the most decorated Young Rider horse in the history of the USA."
Sundayboy will get to spend his retirement in the field and with light hacks at Buffini's yard in Escondido, California.
"He is coming home to San Diego with me where I will see him every day and he will go on trail rides and have lots of pasture time in the sun," she said.
Photos © Astrid Appels
Related Links
Eurodressage Photo Database: Sundayboy
Lane, Irwin, and Buffini Win CDIO Freestyles at 2017 CDIO Wellington 
Barton Wins Pony Title, Buffini Under 25 Title at 2016 U.S. Youth Riders Championships
Chamberlain and Bergeron Win Individual Gold at 2014 North American Junior/Young Riders Championships
Region 7 and 1 Win Team Gold at the 2014 North American Junior/Young Riders Championships
Peters Cruises as Buffini, Schmidt, and Dagge Claim National Titles at 2014 U.S. Championships