Belgian Dressage News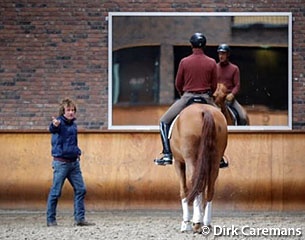 For the second time the top sport committee of the Belgian Equestrian Federation is holding a Grand Prix scouting day in search of talented combination with potential for top level.
The scouting day is led by Belgian team trainer Sjef Janssen and will be held at La Chevalerie in Sint-Genesius Rode, Belgium, on 22 May 2017. 
The day is open to combinations who are not yet confirmed at GP level, nor have competed at that level, but are schooling the Grand Prix movements. While home trainers, parents and sponsors are welcomed on that day, the session is closed for spectators.
After an individual warm, each combination will get 10 minutes to show their Grand Prix movements, which Janssen will comment on. At the end of the day Janssen will pick those pairs who will be invited to some training sessions in Erp, The Netherlands.
In May 2016, a similar scounting day was held and eight riders were selected for training. Only one combination, Katrien Verreet on Galliani Biolley, has made the transition to Grand Prix level competition so far.
Photo © Dirk Caremans
Related Links
Sjef Janssen Selects Eight Belgian Developing Grand Prix Pairs for Further Training
Belgian Grand Prix Scouting Day on 17 May 2016
Belgian Talent Team Riders Get Training from Anky van Grunsven
Ten Riders Stand Out at 2011 Belgian Dressage Talent Day in Lier