Belgian Dressage News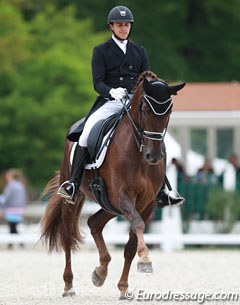 Belgian Grand Prix team trainer and technical advisor Sjef Janssen has selected eight combinations for further personal training at a Belgian Grand Prix Scouting Day held at the Royal Country Club in Overijse, Belgium, on 17 May 2016.
Twenty-six combinations, who are able to perform at a developing Grand Prix level showing piaffe, passage, tempi changes every two and single stride and full pirouettes, showed up for the scouting day.
The scouting day was a closed session with no audience allowed. Janssen assessed the riders who had to show some Grand Prix movements in a 10-minute time frame and afterwards he provided feedback.
The eight combinations of the 26 participants who are selected for further personal training are:
Cool Isabel – Aranco
Cool Isabel – Cheatodon
D'hoore Brecht – Sniper Van De Helle
Paulius Larissa – Extasy
Vanderbeeken Laurens – Happy Pia van de Bergenhoeve
Verboomen Justin – Salieri
Verreet Katrien – Bailamos Biolley
Verreet Katrien – Galliani Biolley
Photo © Astrid Appels
Related Links
Belgian Grand Prix Scouting Day on 17 May 2016
Belgian Equestrian Federation Extends Contract with Sjef Janssen